107. B6056 Main Road, Marsh Lane, Eckington Situated between the Lightwood Road and Ford Road junctions are / were several 25 ft (8 m) tubular steel columns supporting some rather elderly 90 Watt SOX lanterns, including two ELECO HW-745s, and two Thorn Alpha 1s; all of which are in good condition for their age.
The two HW-745s are pictured first; the first was located at the junction with Lightwood Road, but had been removed by 2018: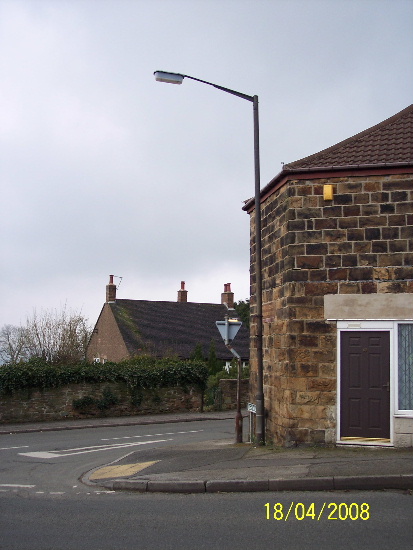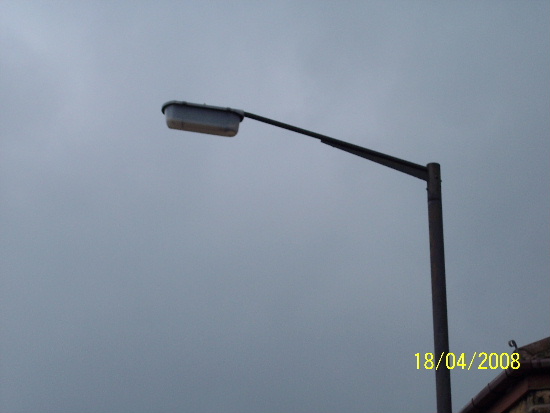 The building behind this column appears to have been a shop at some point in the past, as a sign stating that the premises is 'licensed to sell tobacco & patent medicines' can be seen behind the column. There appears to have been a doorway below the sign, though this must have been removed many years ago as the column is situated right in front of where the doorway would have been, and that hasn't been installed recently!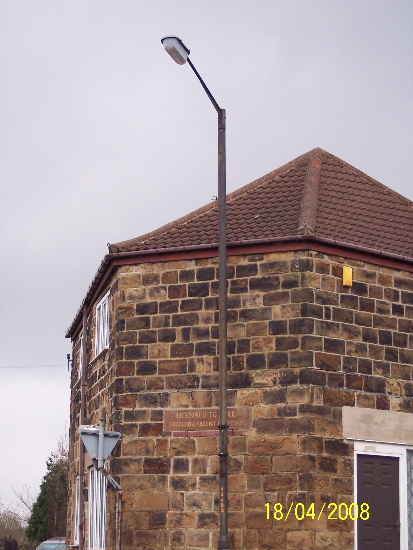 The second example had a much clearer bowl. It might have been replacement at some point, as it didn't appear to have the refractor panels of the cloudy bowls. By 2018, the lantern had been changed to a Low Carbon Lighting LuxOn Street LED lantern, although the column was the same.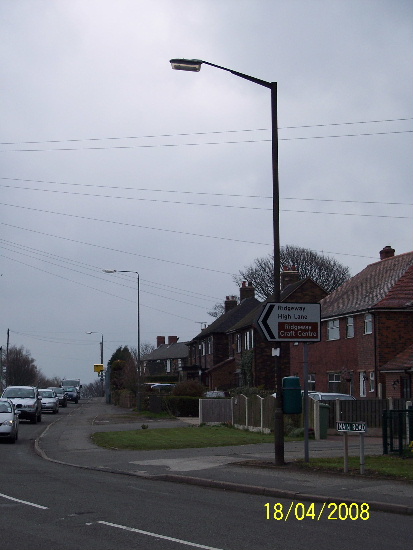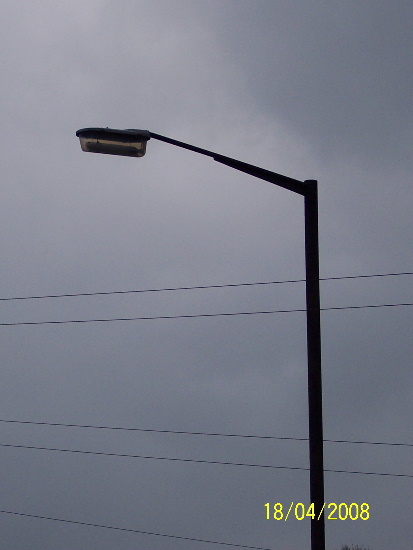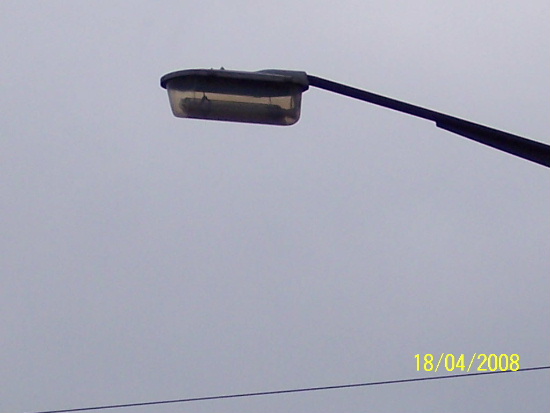 The first of the two Alpha 1s is located on Ford Road, near the Main Road junction.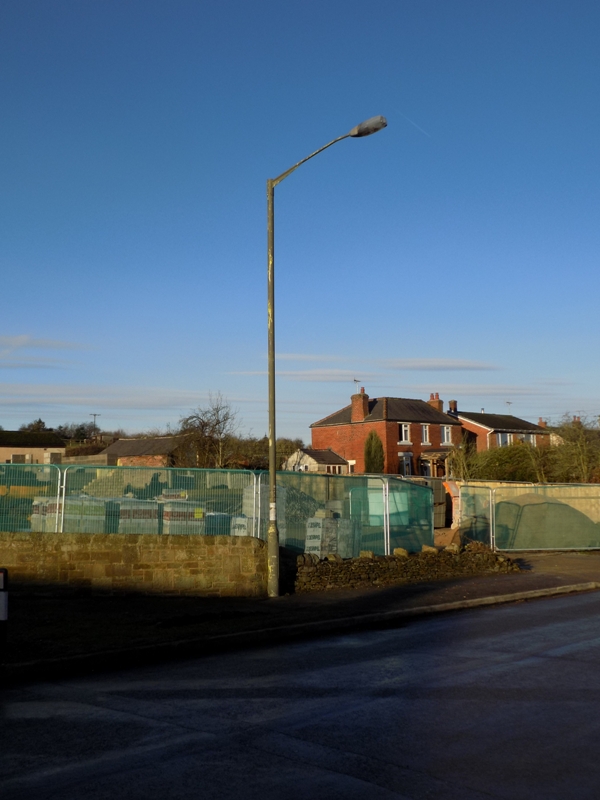 A small hole is present on the lantern's Opticell, allowing dirt and moisture into the usually-sealed optic.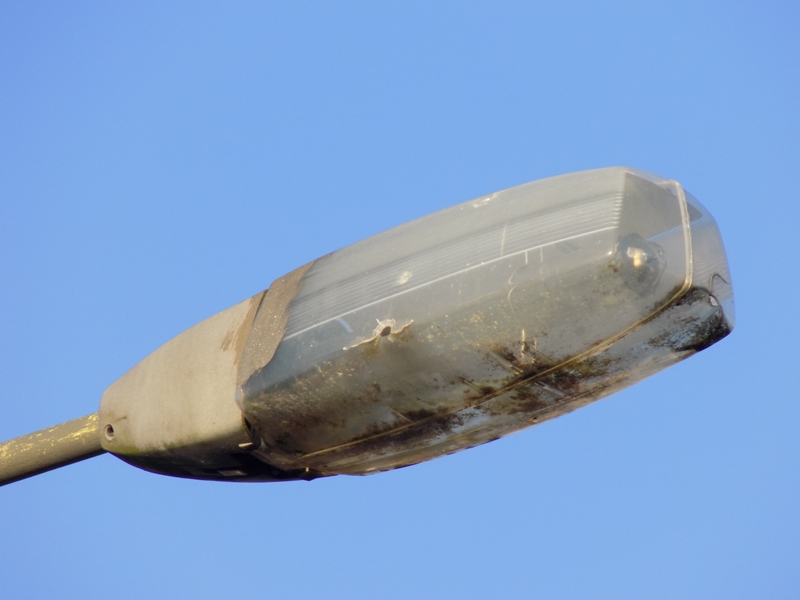 The same installation again, but pictured from a different angle.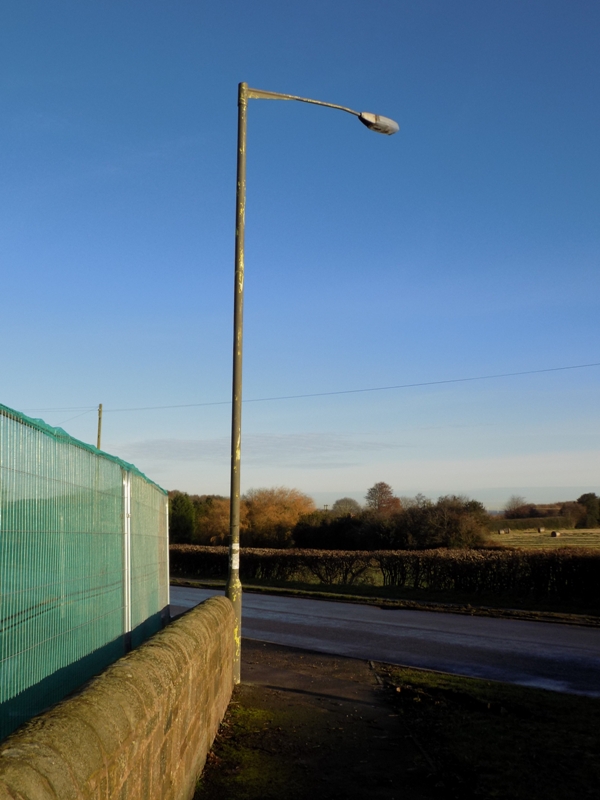 Oddly, a small portion of the Opticell is painted Derbyshire Green; the same colour applied to the bracket and column.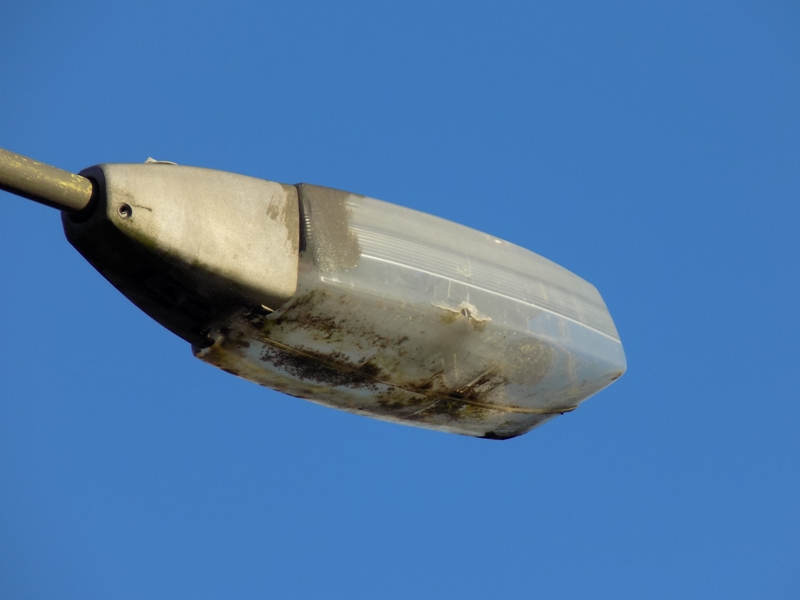 The inside of the Stewart & Lloyd column base contains virtually no original components - the Henley cut-out is a replacement, as is the Zodion SS55 two-part photocell relay, and Venture ballast. The capacitor, however, dates to November 1981, and is likely to be original to when the lantern was fitted, but the column itself could be older than this, and may have supported another HW-745 when new.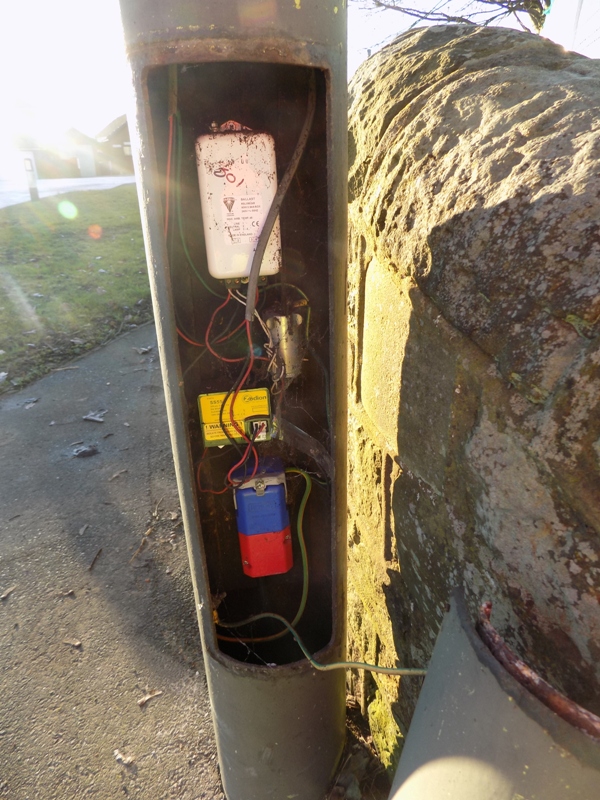 The second Thorn lantern is located back on Main Road.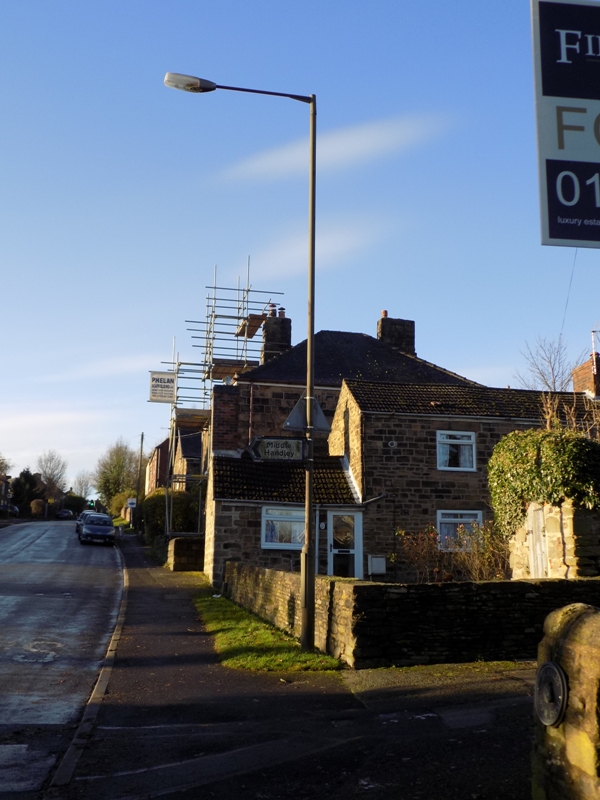 Although this lantern's Opticell is undamaged, there is evidence of water ingress here too, though this is likely to be the result of the sealing gasket having perished.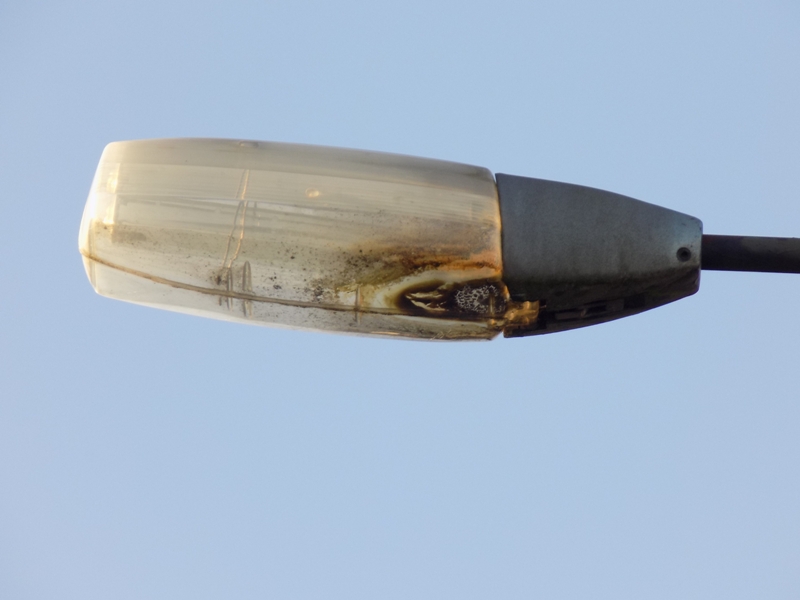 This column's base is in (slightly) more original condition, with its Lucy cut-out and ELECO Thyractor ballast. The only replacement component here is the earlier SS55 relay, which dates from 1998.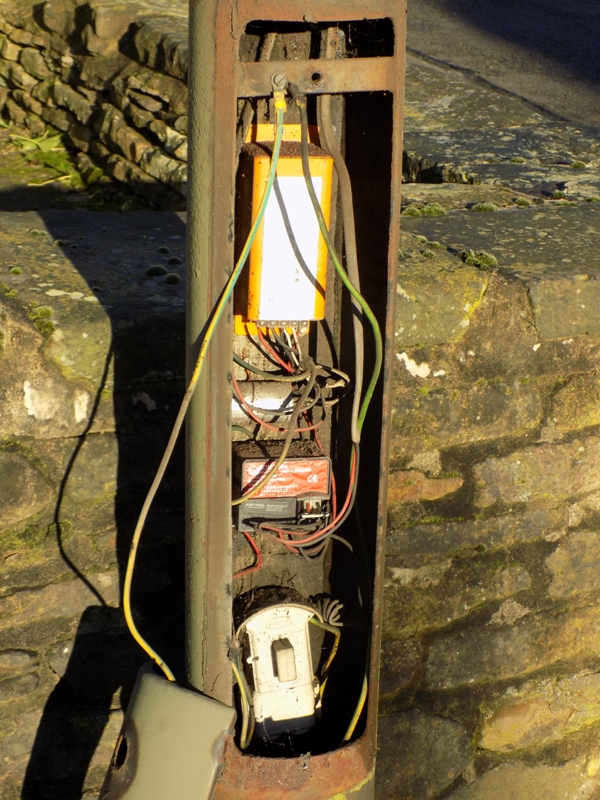 Flicking the relay's Auto / Test switch brought the lantern to life. Notice that the photocell detector is located on the side of this lantern's aluminium casting.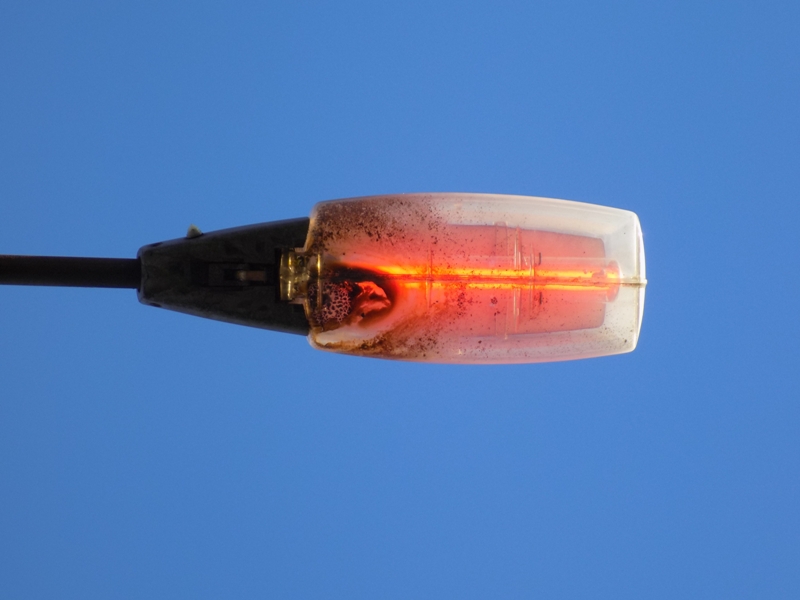 By October 2020, the Alpha 1s had been replaced with Thorn Isaro Pro-S 47 Watt LED lanterns.
---
CLICK HERE TO MAKE A MONETARY DONATION
© 2002 - English Street Lights Online