4. Silk Mill Lane, Derby City Centre A true survivor stands proud amongst its modern counterparts on the road leading to the Derby Industrial Museum (now, the Museum of Making) - a vintage cast iron column from 1893, which was made locally by the famous Handyside Foundry. The majestic column supports a lantern that, although a replica, is a close match for the carbon arc lantern that would have been fitted originally. This lantern runs a 100 Watt SON-E lamp, which is not really an accurate representation of a carbon arc lamp - a metal halide lamp with a high colour temperature would be more reminiscent.
As this installation is still a 'street' light, it was even listed on the council's inventory record in 1997:
| | | | | | |
| --- | --- | --- | --- | --- | --- |
| Seq. No. | Lamp Number | Location | Lamp Type | Watt | Isolation Point |
| 1 | 34632 | O/S EMEB | SONE | 100 | |
At the time, the lantern was not working due to failed control gear, though I like to think that it merely needed new carbon rods installing inside the housing!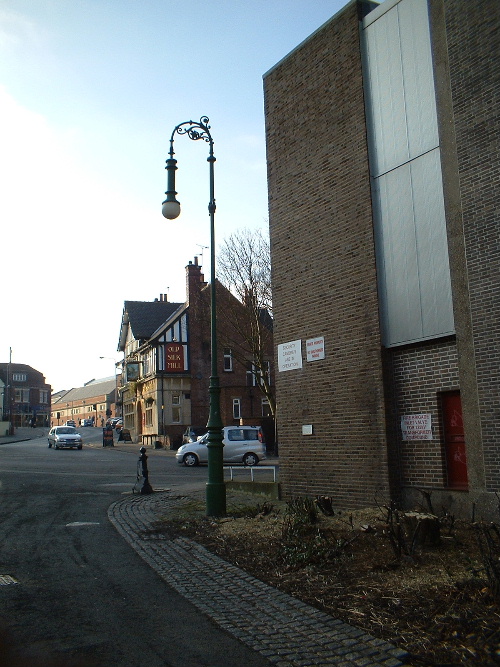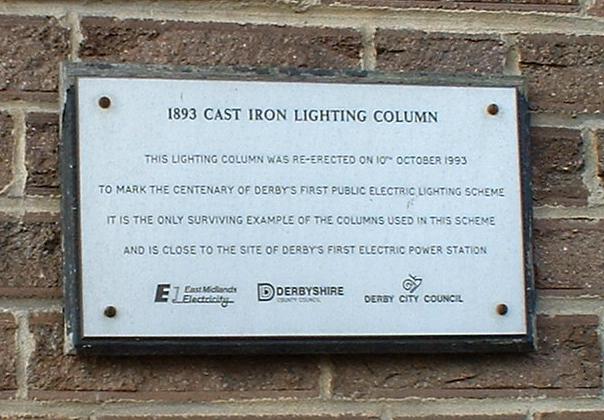 ---
The installation was still there in 2011, though it had been relocated away from the road - perhaps, someone considered that it was rather vulnerable to accidental traffic collisions at its original location! Unfortunately, the plaque seen above did not accompany the column to its revised position, so unless you know the history (or have found this site via a search engine!), the installation is largely meaningless - a shame. In 2021, I discovered that the plaque was now kept amongst the collections of the Museum of Making.
The installation contrasts sharply with the modern DW Windsor 'Milano' post-top lantern in the background.
Partially obscured by a hideous stainless steel "Tamtorque" band (due to the inspection door's lock having failed - 118 years old (at the time of photographing) is nothing!) is the Derby crest - the Buck in the Park. The significance of this crest is due to Viking invasion in AD874 - they renamed the town of Northworthy to "Deoraby", which translates as: "[The] Place of the Deer"; owing to the abundance of deer herds in the Derwent Valley at the time. Below that is the year of manufacture, and below that, the Handyside crest.
The metalwork was still in excellent condition for its age.
Shortly after taking these photographs, I briefly became an impromptu tour guide for a group of people who were visiting Derby for the day and were interested to learn more of the City's history - I'd never done anything like that previously, but loved the experience - I was surprised at how many factoids regarding the City that I could remember; I obviously paid attention during school History lessons!
---
CLICK HERE TO MAKE A MONETARY DONATION
© 2002 - English Street Lights Online