97J. Moss Farm, Off Watling Street, Norton Canes, Cannock, Staffordshire Located in the car park of the farm shop are four Revo 'Moseley' cast iron columns supporting swan neck brackets and C1440#/T 'Bell Top' lanterns, all also made by Revo; the missing digit of the lantern part code being variable, depending on the intended lamp type that the lanterns would have taken originally (whether it be tungsten filament, or mercury vapour, with the former having the suffix '7'; the latter being '8'. Fellow collector Claire Pendrous pictured the same installations in 2006, and believes that they are ex-Birmingham City Council installations; presumably, being reinstalled by the farm for use as lighting over the car park area. Sadly, the lights appear to have become neglected in more recent years, with two of the four lanterns having lost their lamps and bowls, and the bowls of the other two requiring cleaning.
Surrounding tree branches could be responsible for the damage to this first installation - the swan neck bracket is leaning backwards.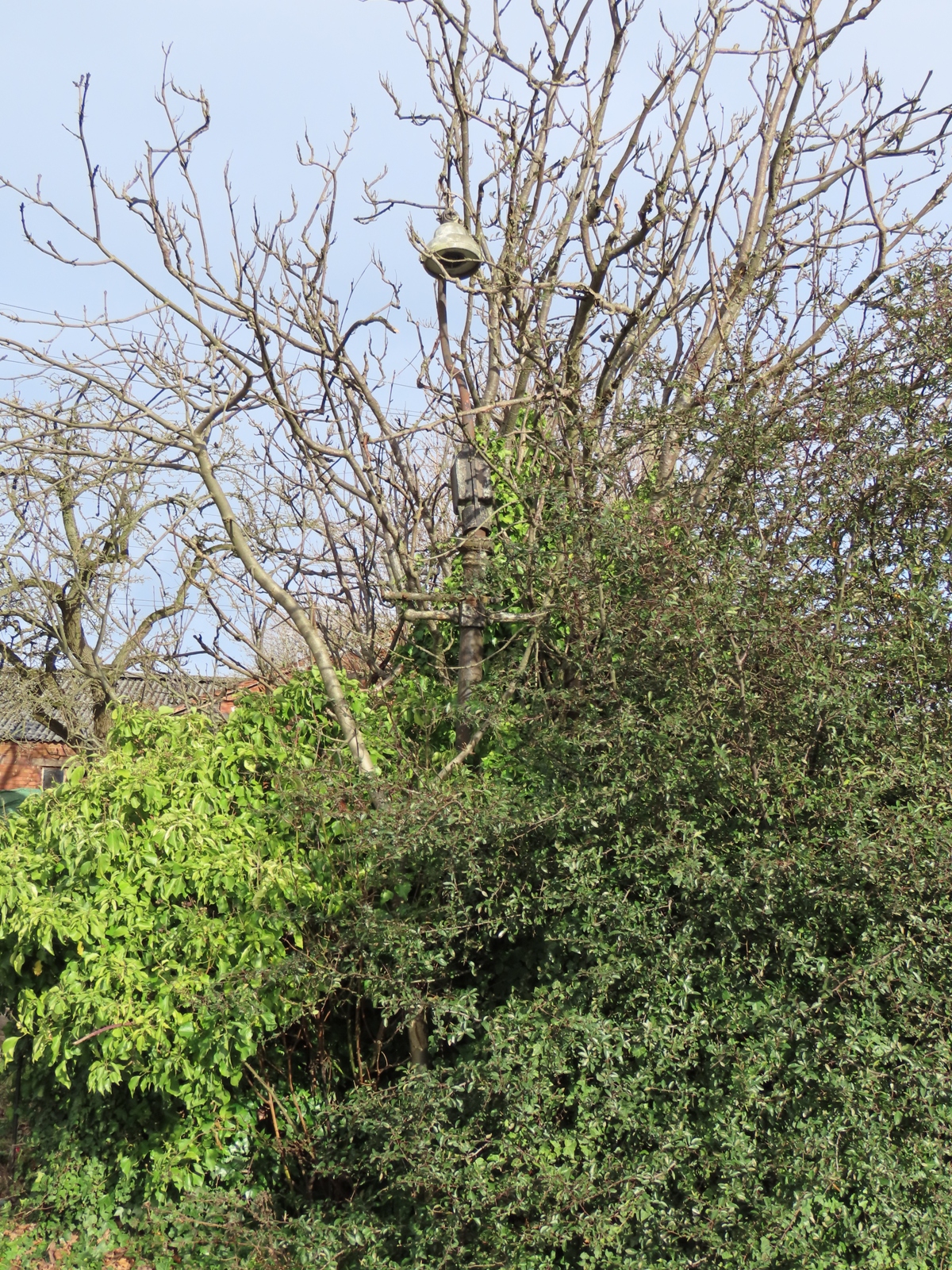 The central stem of a smashed tungsten filament (GLS) lamp remains fitted in the lantern's lampholder. This would have been surrounded by a prismatic glass refractor dome and transparent glass bowl originally. The absence of these items allows the vitreous enamelled reflector to be seen, however.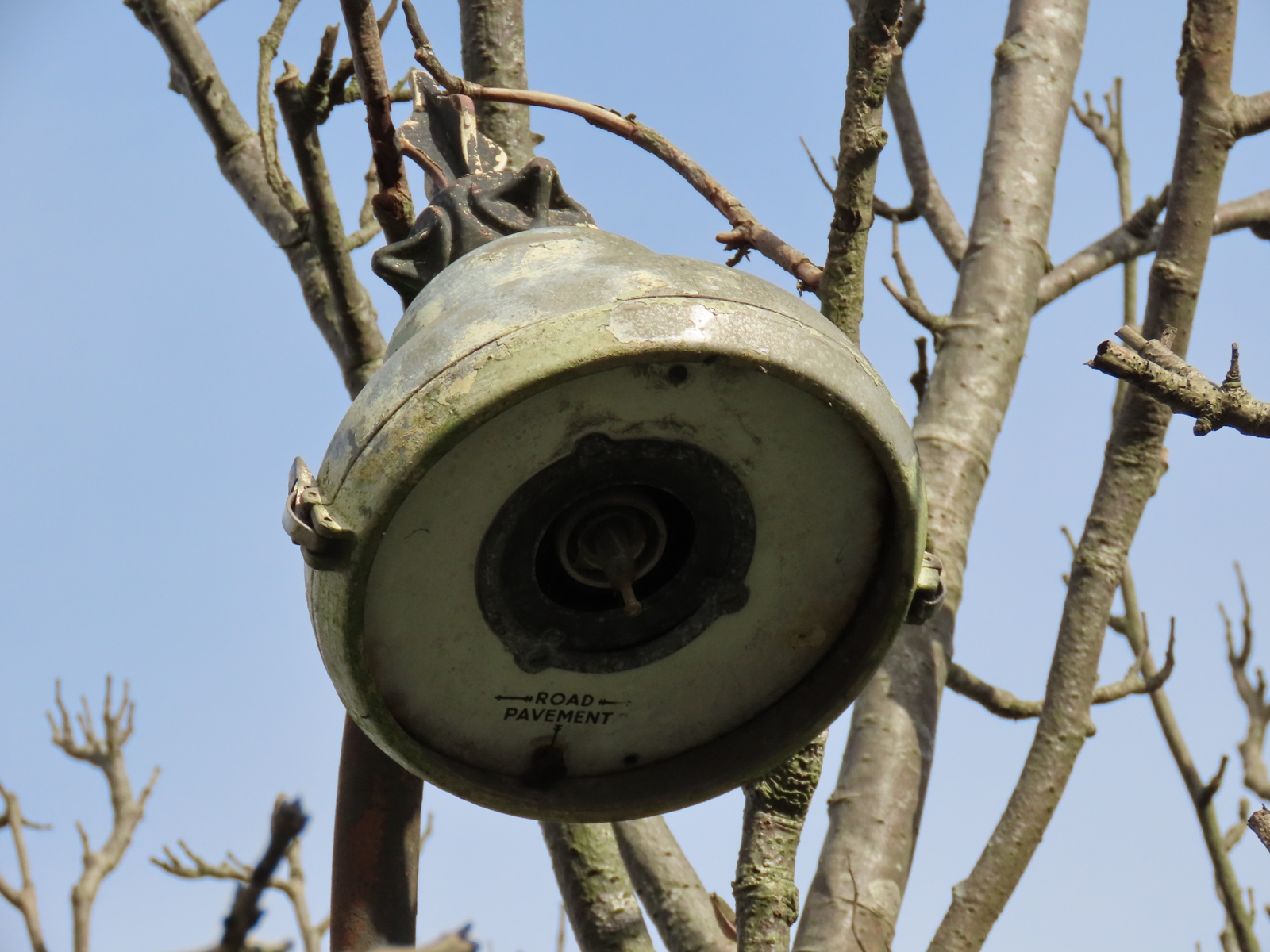 The swan neck bracket is also leaning backwards on the second column, though not as severely as on the first. These Moseley columns are all very short, and could be to the smallest design (10 ft - 3·048 m) that was produced.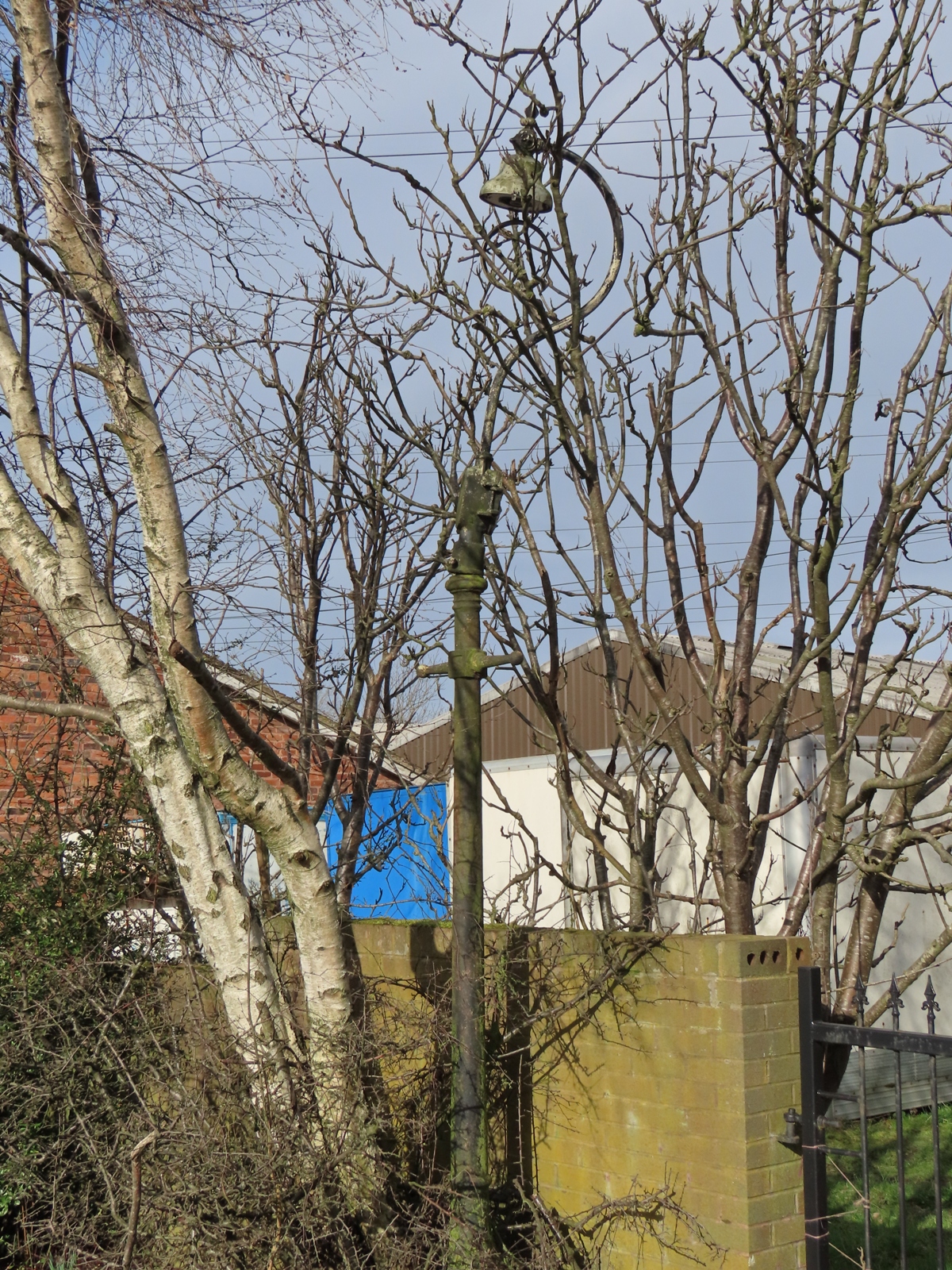 Here, the lamp is missing completely, and the bowl support ring is hanging open.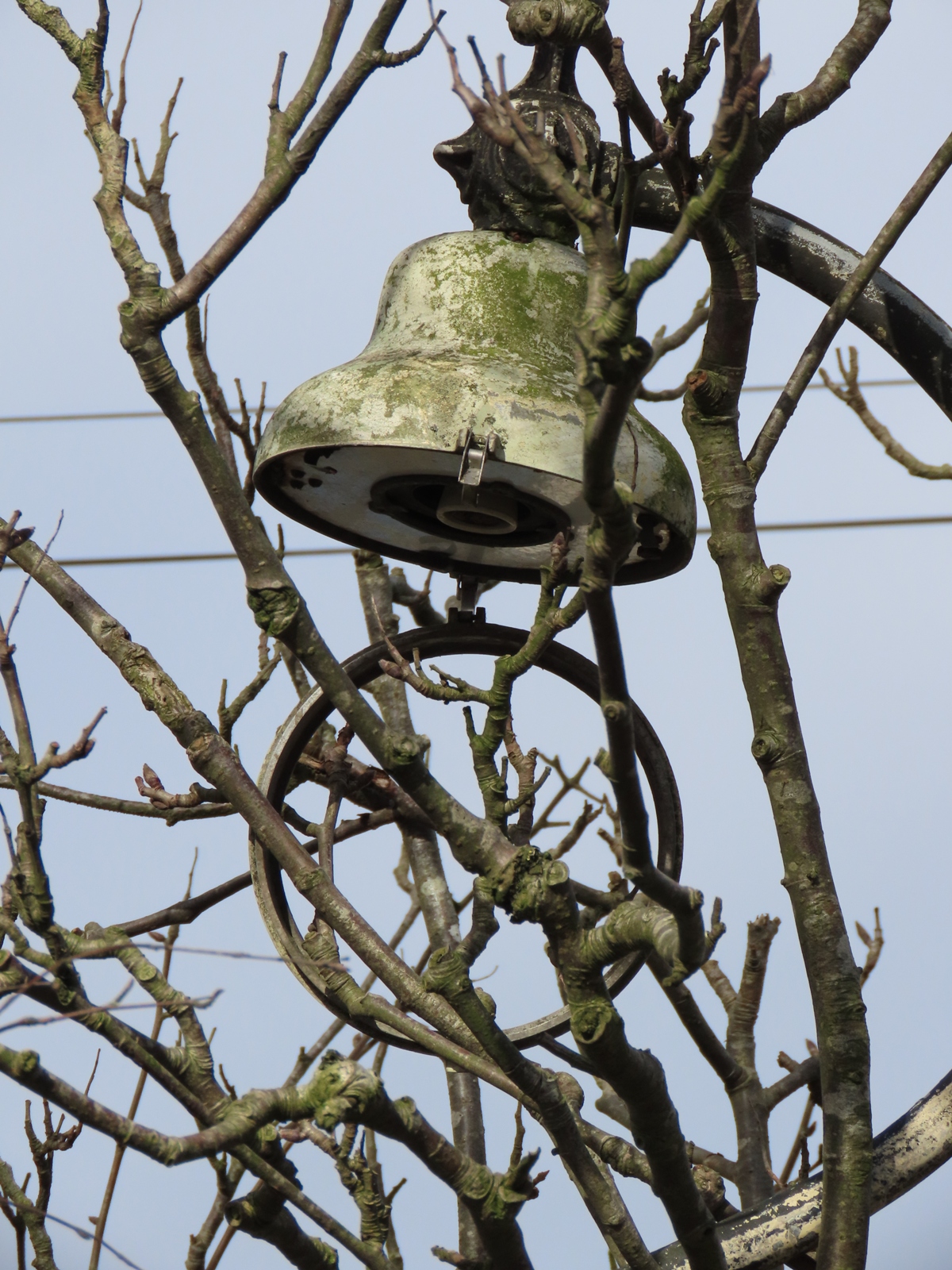 The following installation is in far better condition.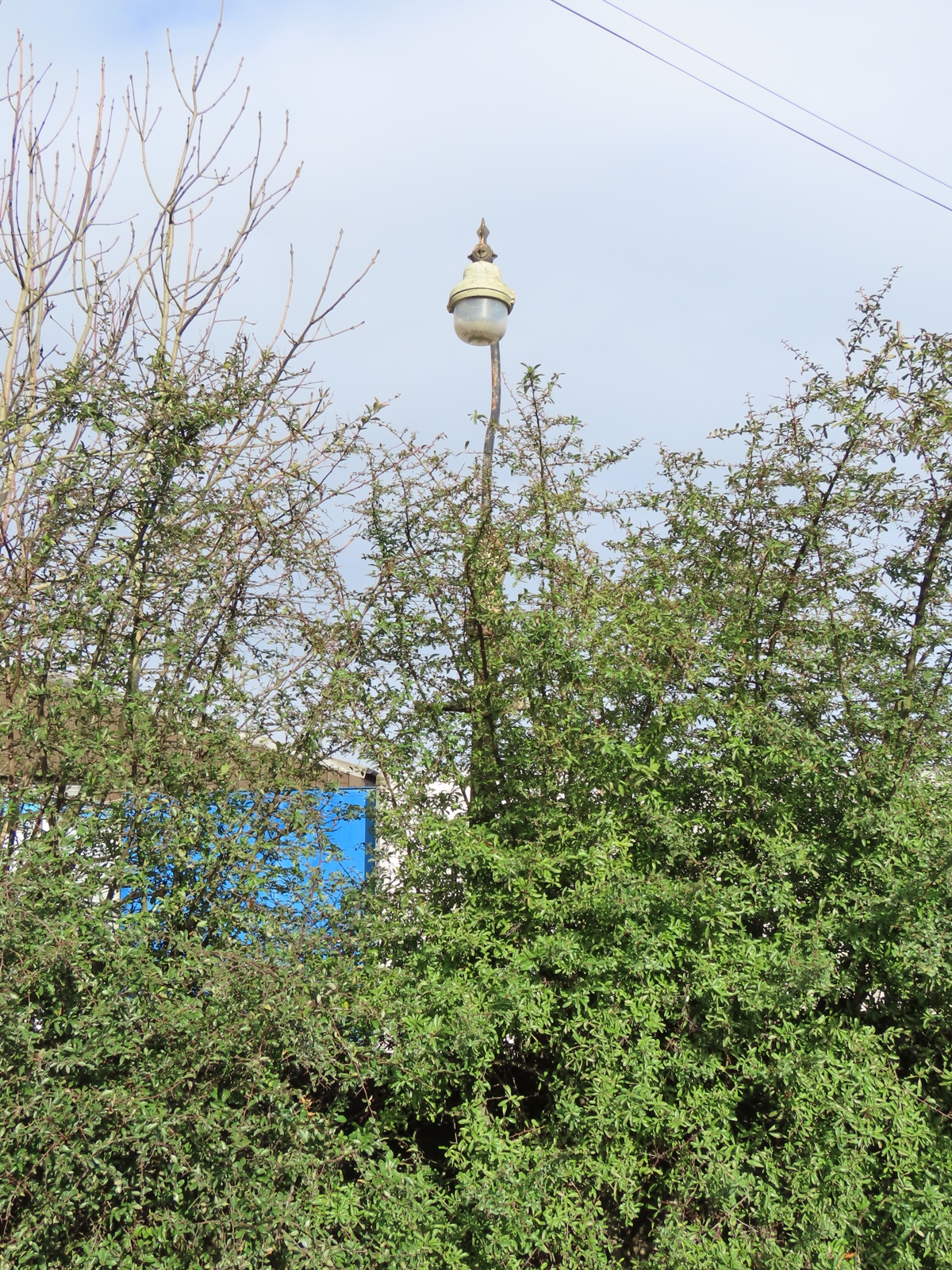 Although the bowl is grubby, an intact lamp exists within the lantern, suggesting that this example may still work.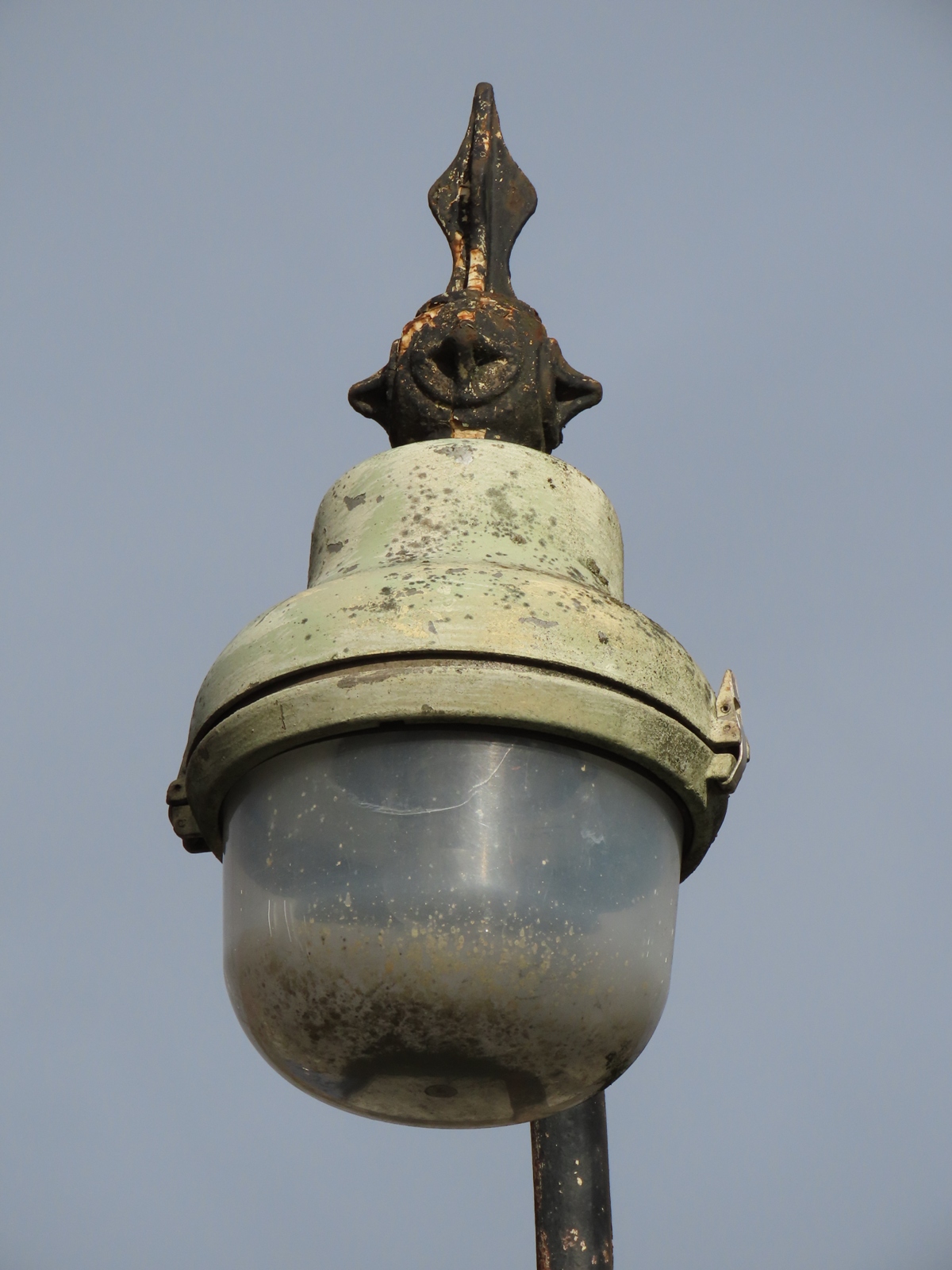 The same installation, pictured slightly more centrally.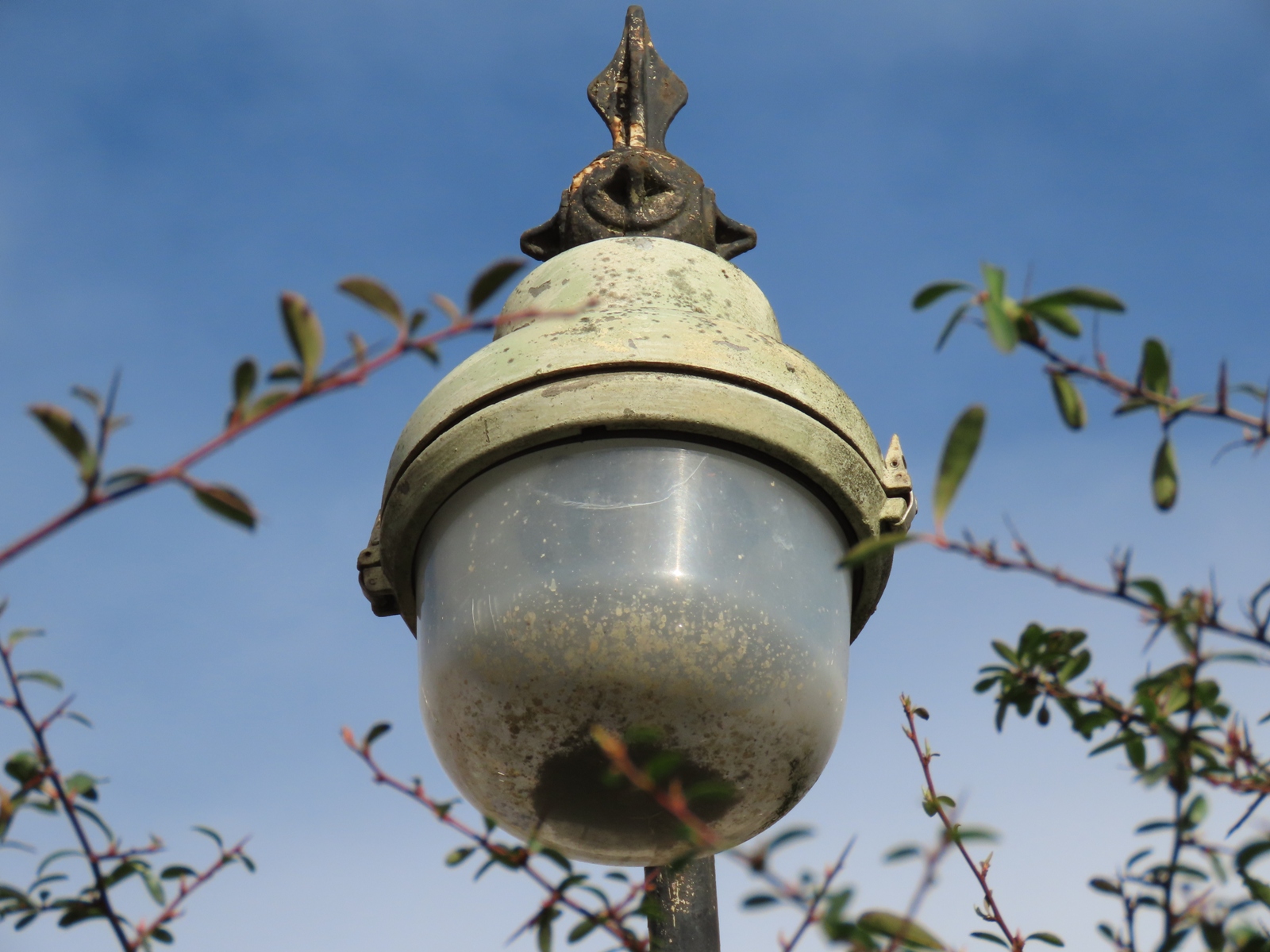 The final lantern was also (possibly) in working order.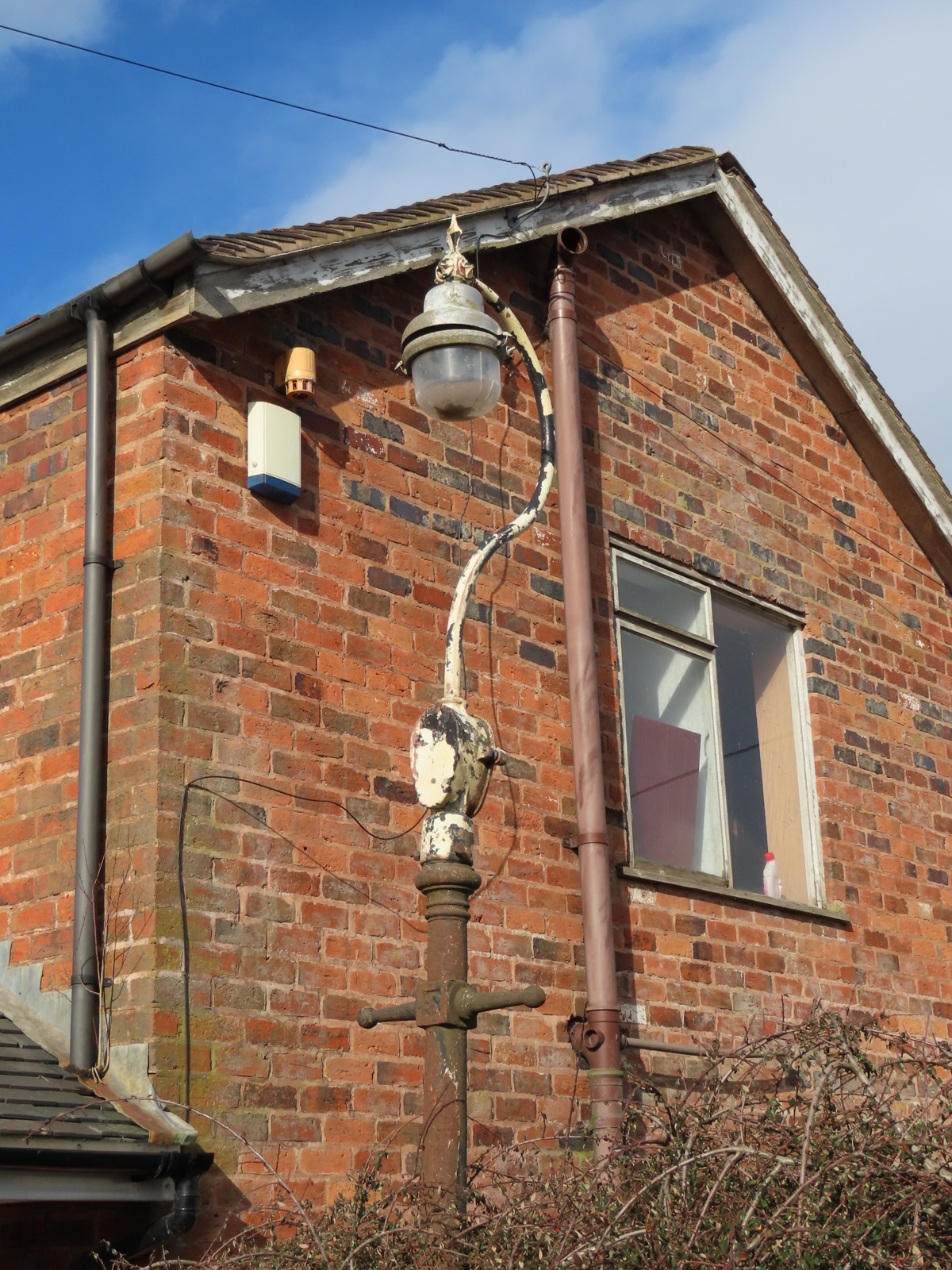 A few cracks have formed in the lantern's Perspex bowl - this is likely to have been an in-service replacement; the original glass bowls being notoriously fragile.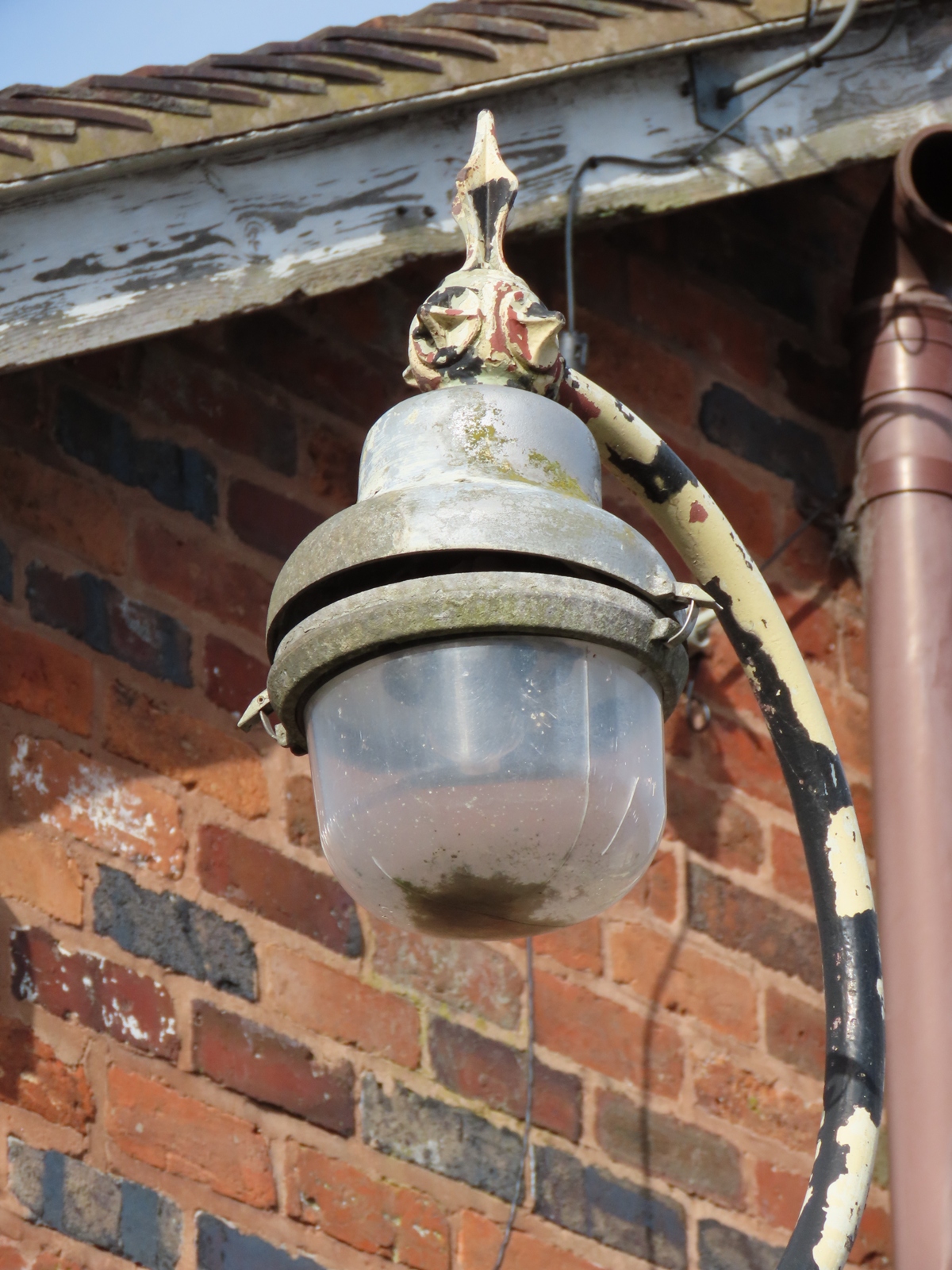 The swan neck features an unusual wedge-shaped fuse / time switch box, though as the Moseley column design incorporated a base compartment, where these items could be fitted, there may not be anything installed in the boxes anyway.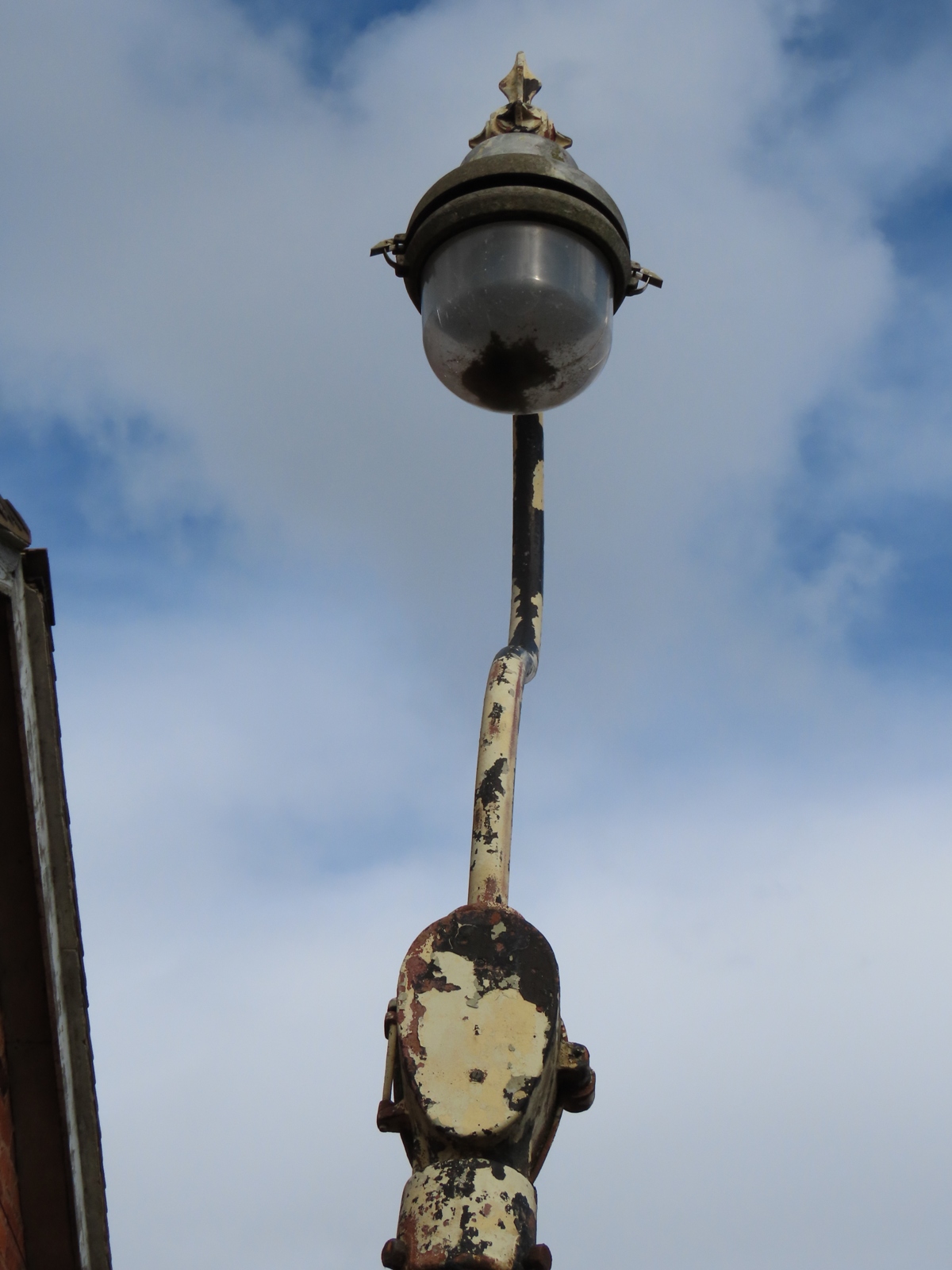 This swan neck bracket retained about the most paint out of all of the four, with (at least) three different colours being visible.
The two retaining clips that hold the bowl retaining ring securely require refastening against the lantern body. One of the clips acts as a hinge, and is attached to the ring, whereas the other will detach, allowing access to the lantern's innards to be gained.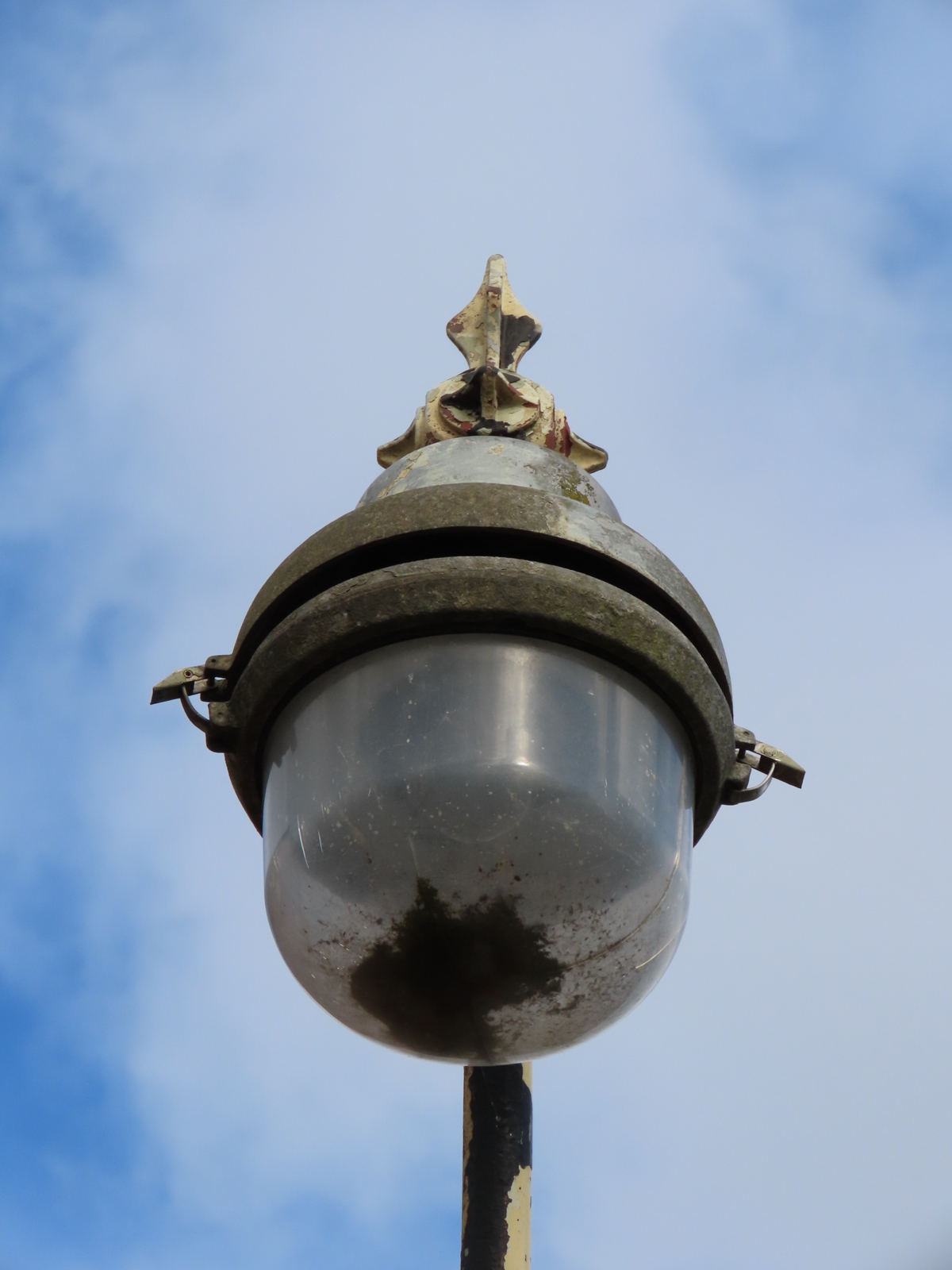 ---
CLICK HERE TO MAKE A MONETARY DONATION
© 2002 - English Street Lights Online