Thorn Alpha 1
Despite already owning two Alpha 1s at this point, I was keen to acquire this third example due to it being the final Alpha 1 in public service in Mickleover by the end of March 2010...six years prior to this, there were over 50, thanks to Station Road. Naturally, I was concerned that this sole-surviving lantern would disappear without a trace, and so I enquired as regards the possibility of my saving it for posterity. Shortly after this, on Tuesday, 11th May 2010, the Alpha 1 was removed; a second-hand, gear-in-head Philips MA 90 replaced it, bringing to an end over forty years of Alpha 1 operation in Mickleover. Thankfully, the lantern was saved into the collection; pictures can be viewed below. This particular Alpha 1 was a throwback to the days of 90 W SOX lanterns along Etwall Road - up until the late 1980s, Alpha 1s and GEC Z9454s were installed along here, attached to Stanton 8F unsleeved 25 ft concrete columns. Following sleeving to increase the column heights to 10 m, remotely-geared Philips MA 50 135 W SOX lanterns were fitted; the 90 W lanterns presumably being scrapped.
This lantern was installed on column 97880, on Hedingham Way. The following is the inventory record for this installation. This record is as it was in 1997, when Derby City Council took control of its own street lighting repairs from the County Council.
Unique Number:
97880
Location:
ADJ NO 55
Postcode:
DE3 5NX
Road:
HEDINGHAM WY
Road Number:
Parish:
MICKLEOVER
Sequence Number:
21
Patrol:
Y06
Lamp Type:
SXPL3
Wattage:
90 W
Control Type:
PE1E
Lamps/Lantern:
1
Lanterns/Unit:
1
Control Setting:
4
Lantern Type:
SE
Lantern Manuf:
Control Gear:
Height:
8 m
Support Type:
TS
TUBULAR STEEL - PAINTED
Bracket Proj'n.:
m
Support Finish:
P
PAINTED COL/SIGN/PILL/GANTRY
Bracket Type:
U/G or O/H:
Board Code:
E76
Status Code:
0
USUAL / NORMAL
Service Owner:
A
Is this lamp/sign an Isolation Point ?:
N
EB Order number:
No-supply sheet:
0
Isol Pt:
/ Circuit:
/ Seq:
CONTROL LOCATION S102252 ETWALL RD
The first three pictures show the lantern whilst still installed. Notice the cable tie securing the Opticell in place...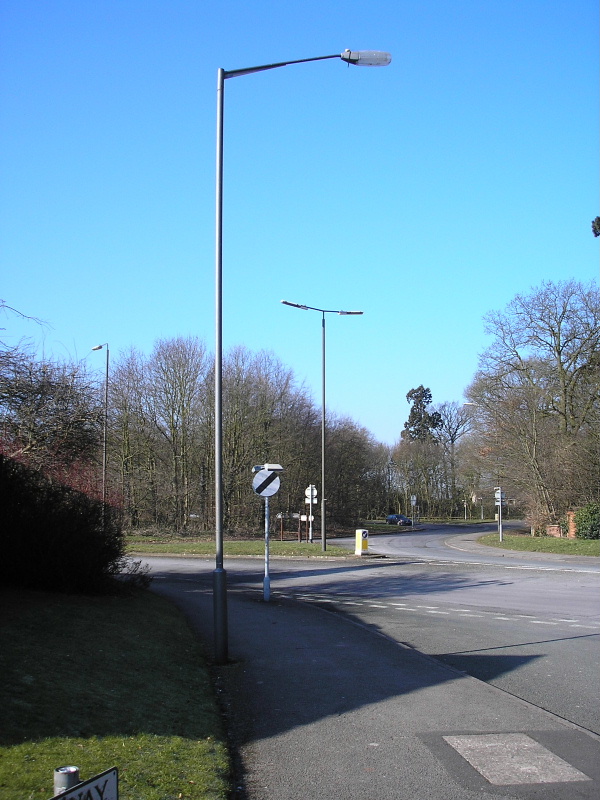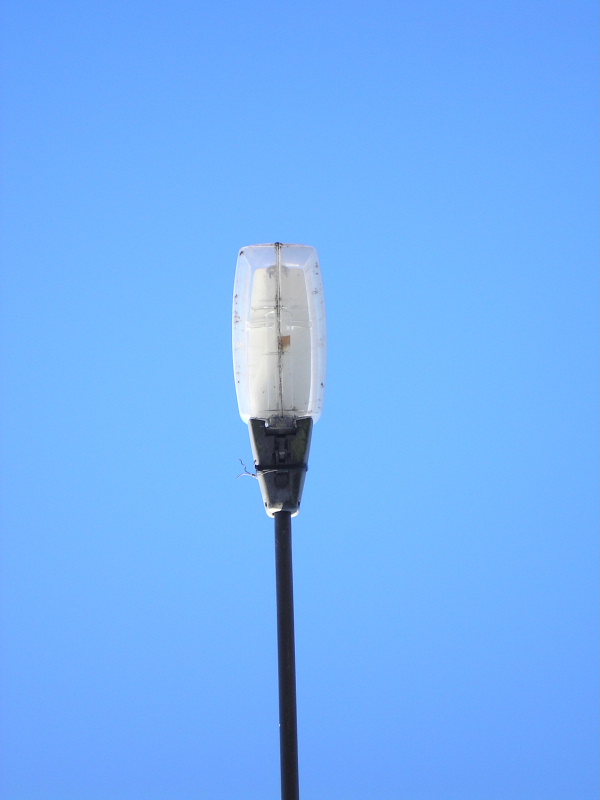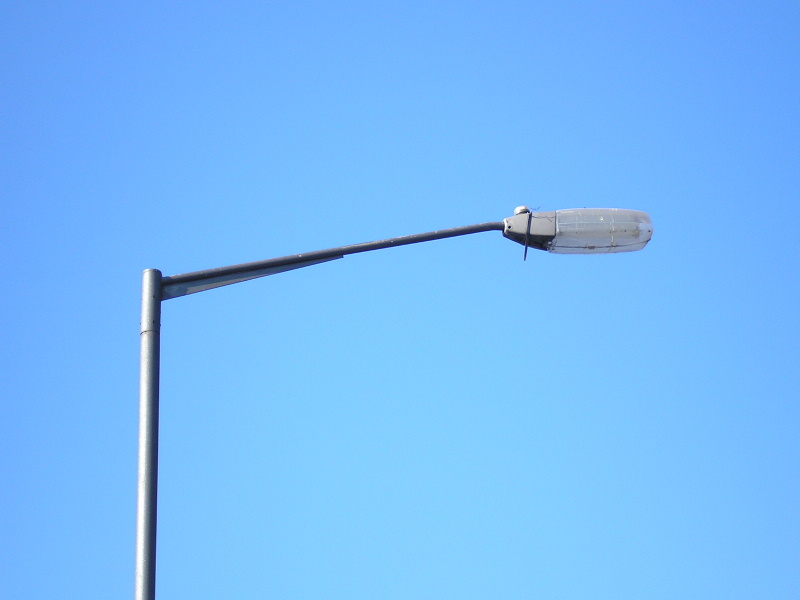 The lantern entered the collection on Friday, 16th July 2010:
The lantern shares a similar style of shoe to that seen on the EMI version of the Alpha 1, in that a NEMA photocell socket is incorporated, and the grub screws are in a revised position in comparison to older versions. Unfortunately, the grub screws on this lantern are seized, and a small section of the bracket remains within the shoe. The cable tie that secured the Opticell in position during the lantern's life on the road is gone, but its imprint can still be seen on the shoe. I suspect that the Opticell may have been damaged, and that what is fitted here is a replacement from another lantern, hence there being no need for the cable tie any more.
As always, the Opticell incorporates an over-lamp reflector in order to reduce upward light spill.
The Alpha 1 identification label within the Opticell contains very little information in comparison to labels attached to other Opticells.
The streamlined design of the shoe must have proved somewhat fiddly to engineers wiring these lanterns up for service, particularly when fitting the lanterns to brackets already installed along a road. One of the securing pins on this lantern (that would ordinarily retain the Opticell in its 'unclipped' position) is missing, although when the lantern is correctly assembled, this does not pose a problem.
---
CLICK HERE TO MAKE A MONETARY DONATION
© 2002 - English Street Lights Online