Local Philips MI 55s
The MI 55 - a lantern more commonly seen as a wall-mounted security light (the SNK70) can occasionally be seen in Derbyshire. It was never a very popular lantern in the County due to the majority of the County's Group 'B' side roads being lit with SOX at a time when the MI 55's popularity was at its highest. Despite the popularity of SOX lighting, even its 35 W SOX equivalent, the MI 50, is not at all common.
This MI 55 is on the main road through Ticknall. The 6 m column's setback has caused the overhead line to come into contact with the bracket. Thankfully, the line is a) insulated and b) not used for power distribution, but telecommunications.
A SELC / Westire AcRo photocell rated at 35 Lux was fitted in early 2015; replacing the failed (dayburning) 1990s' Hy-Lite 70 Lux photocell that was fitted previously. A 70 W SON-E internal-ignitor lamp can be seen within the lantern.
These earlier photographs, taken in February 2007, shows the installation with the previous photocell fitted.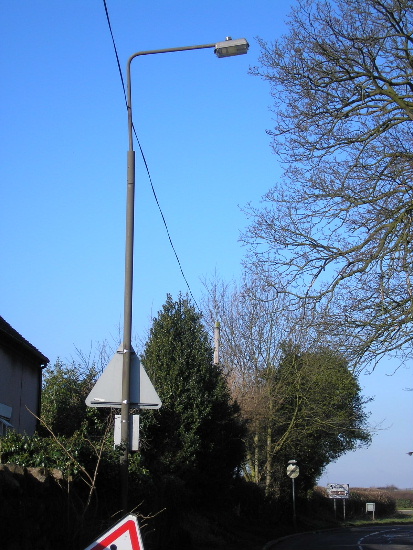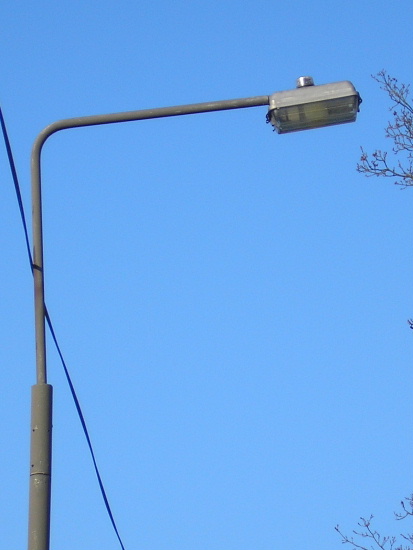 ---
BACK TO LOCAL SIDE-ENTRY LANTERNS PAGE
CLICK HERE TO MAKE A MONETARY DONATION
© 2002 - English Street Lights Online