Piccadilly line - Knightsbridge Station Tiles
These two tiles were purchased through the London Transport Museum in July 2022, following their removal from a passageway at Knightsbridge Station, which last saw passenger use in 1934, when escalators replaced the four lifts that had served as the sole means of access to and from the platforms from the station's opening on the 15th December 1906. In order to enable step-free access, much of the disused area is set to be re-opened in 2023, with the original tiles replaced with replicas, and lifts reinstated into the original shafts.
The popular "Hidden London Hangouts" YouTube series discussed Knightsbridge's tiles in three episodes; the first is shown below, with the video set to start at the section where the disused passageway is visited.
The second video also features the original tiling, along with an insight into how the passageway will be transformed in preparation for its re-opening.
The final video shows work progressing to remove the old tiling, along with two tense moments detailing the removal of the makers' tiles by the lift shaft.
Four colours were selected for the tiling patterns at Knightsbridge - teal, white, green and cream, with my tiles being the two former types. Both measure nine inches (228·6 mm) in width, three inches (76·2 mm) in height and half an inch (12·7 mm) in depth. Given that the tiles are over 120 years old, and haven't been seen by the general public for 88 years (both facts of which are utterly mind-blowing!), slight crazing has occurred within the colour glazing. The white tile has been painted cream at some point in the past, though as the paint is flaking, the white is visible through it, and I will attempt to restore the tile to its unpainted condition.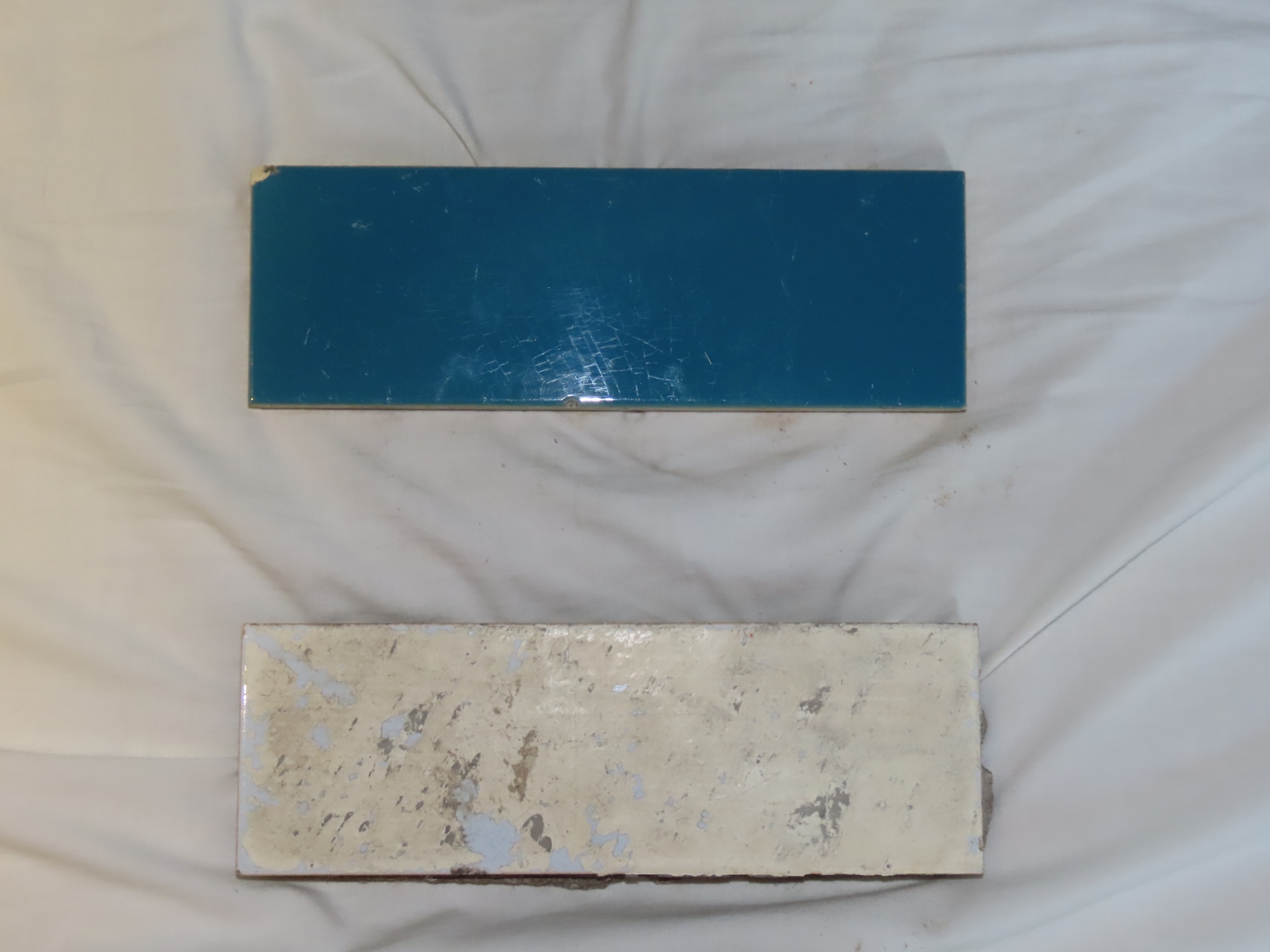 The tiles were manufactured by Maw & Company, and affixed by W.B. Simpson (a company that still supplies tiling to the Underground to this day). The Maw products employ a distinctive backing that makes the tile especially well secured once it has been cemented into place - Doug Rose's website describes the process as such: "Two rubber rings were fixed in the bottom of the press die and, as the clay was compressed under the pressure of the press, the rings flattened slightly, creating an undercut 'dovetail'. When the pressure was released, the rubber rings were easily removed." The white tile retains a large amount of the cement that ensured that it remained in place throughout its life in the passageway.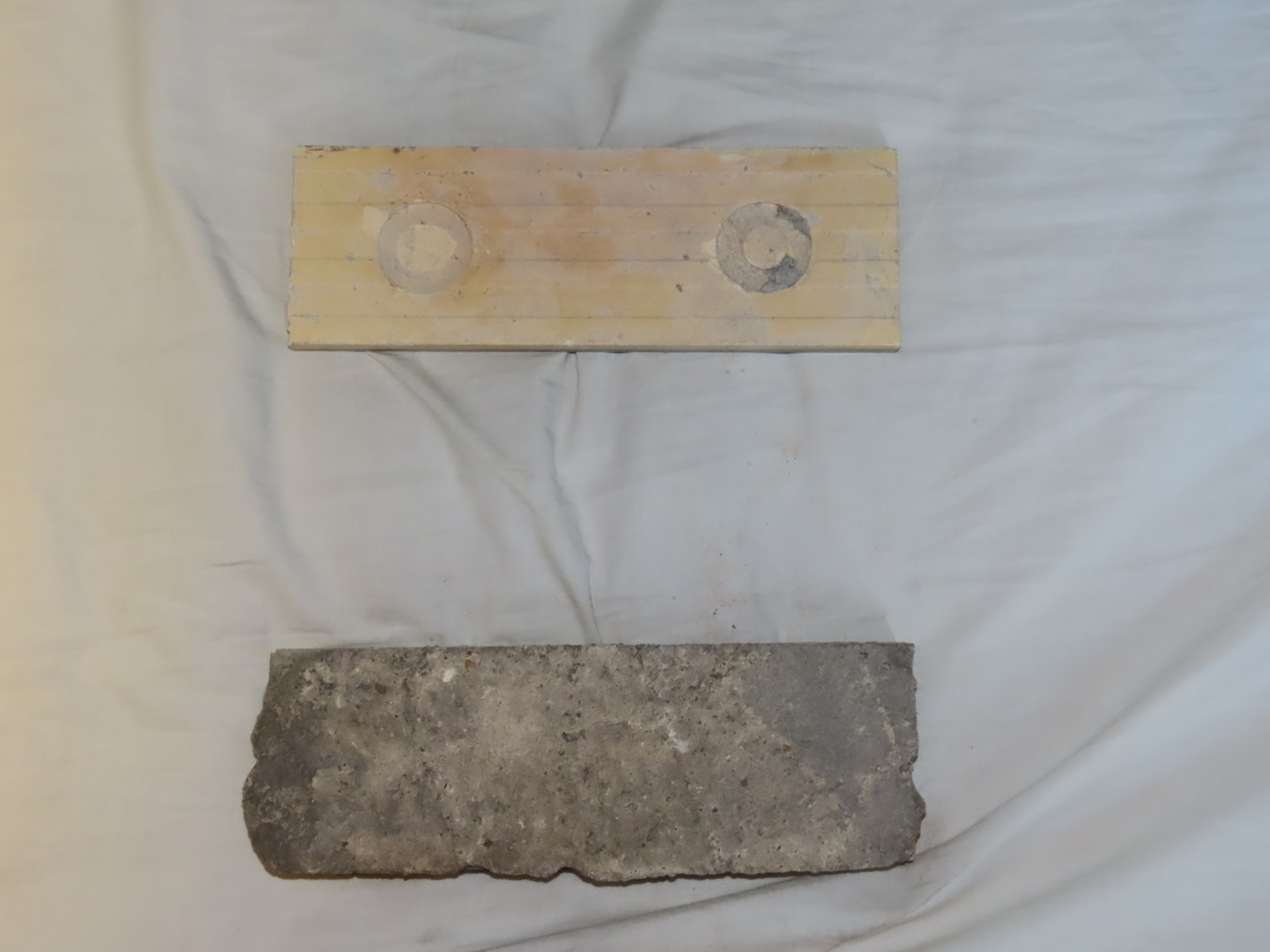 Such was the strength employed by this method that the tiles can be difficult to remove in one piece, and indeed, the left-hand ring of the teal tile is damaged, but it does not detract from the appearance of the tile.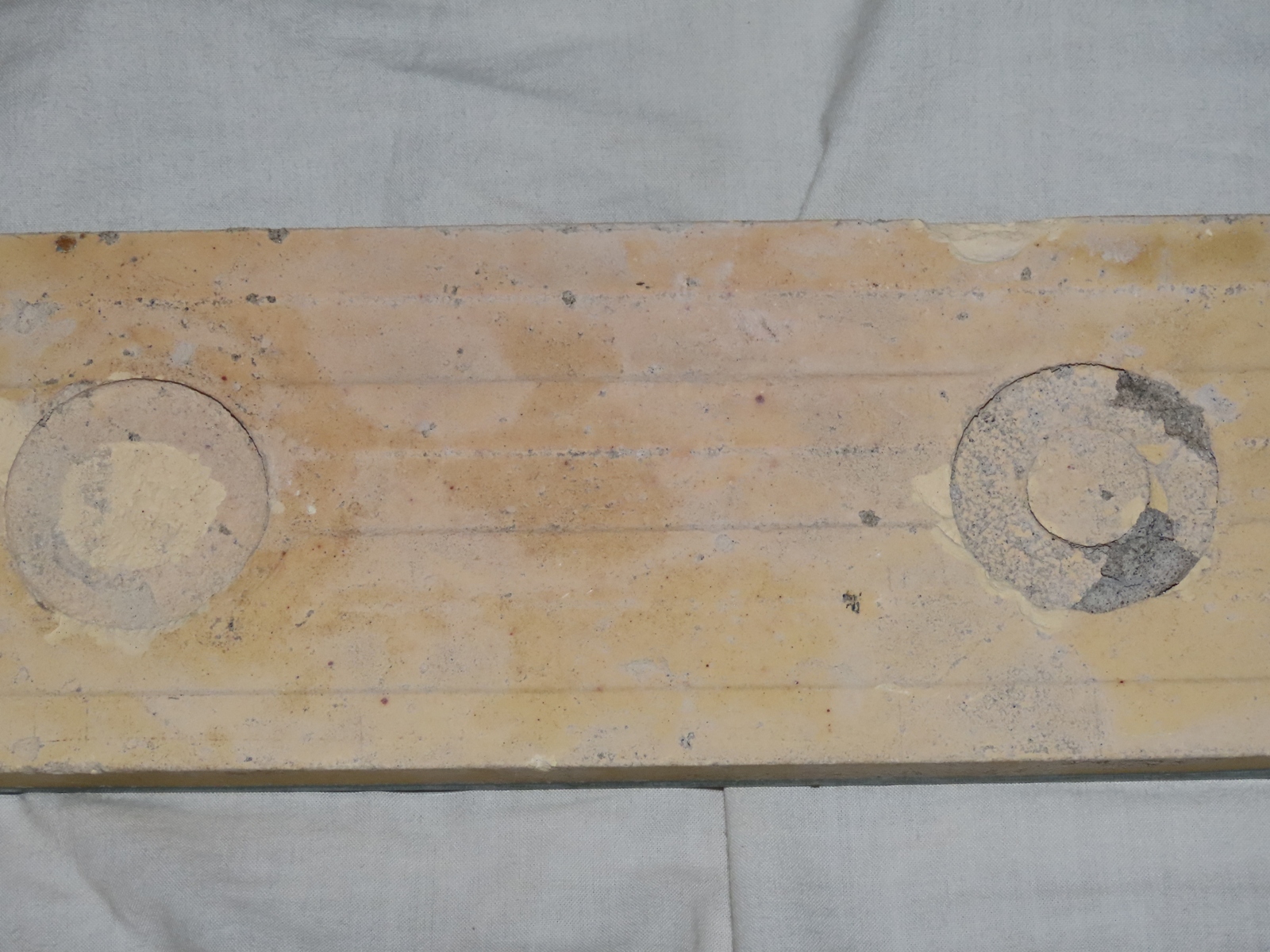 ---