12f. Off Forest Road, Walthamstow, London. Situated in the staff car park for Blackhorse Road Underground station are two 25 ft (8 m) sheet steel columns supporting GEC Z8270* 5 ft (1.52 m) linear fluorescent lanterns. The installations are likely to date from around 1968, when the Underground station opened. 51 years later, linear fluorescent lanterns of any size are extremely rare, meaning that these veterans are, quite easily, some of the last to be seen in a publicly-accessible place throughout the UK. At least one of the two lanterns was operational when photographed, although a Thorn SONPak 150 Watt SON-T floodlight supplements the two original lights these days. How the lanterns are switched is unknown, although they may be, simply, operated manually from within the station building.
*Alternatively, the lanterns may be Z8370s or Z8470s - the Z8270 accommodated two lamps and the latter two accommodated three and four lamps, respectively. Owing to clouding of the lantern bowls, the exact lamp quantity per lantern is unknown.
The first of the two installations is positioned alongside Forest Road itself.
The four lantern bowl hinges are visible in this close-up shot.
The installation looks wonderfully anachronistic with modern apartment buildings being under construction in the background.
The lantern canopy is aluminium, whilst the bowl is Perspex.
A small break at the front of the bowl revealed at least one operational lamp. Judging by the amount of dirt that has gathered inside the bowl, the lantern would produce very little useful light after nightfall.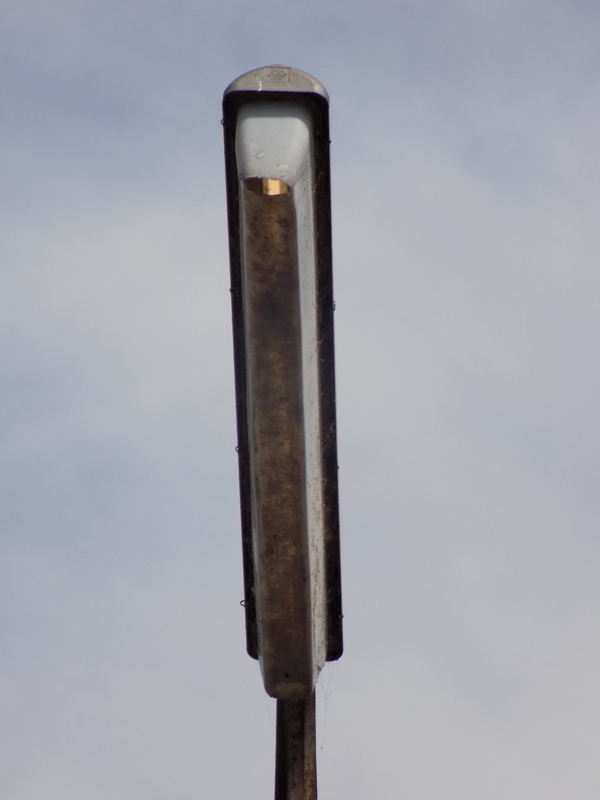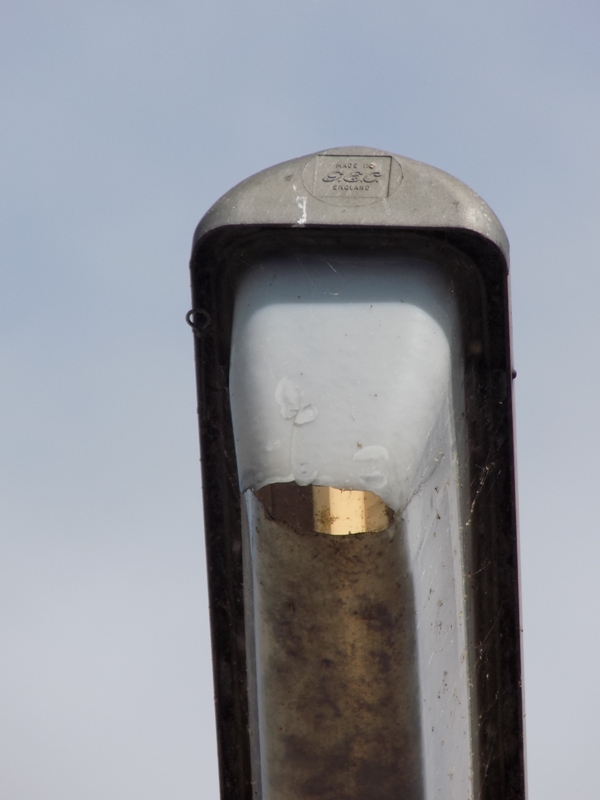 The GEC logo is cast into the front of the canopy.
The other column is situated at the back of the car park, alongside London Overground's Gospel Oak to Barking line (known colloquially as the 'GOBLIN').
I had thought that the lanterns were attached to concrete columns when I saw them originally; the surface rust giving the appearance of brown concrete.
There was damage to the rear of this lantern's bowl, but the lantern itself didn't appear to be working.
The inspection door was missing from this column, revealing the internal supply cable termination and a switched fuse spur (it was on - I did check!) allowing isolation of the lantern circuit.
A smaller amount of dirt had settled on this lantern's bowl.
From the front, the slim profile of the installation is appreciated.
Having never been able to appreciate a street lit with any sort of linear fluorescent lantern, these installations were a sight to behold for me.
The front of the bowl looks to have developed a hairline crack. The four securing toggles are just visible beneath the canopy's overhang.
Sadly, these lanterns were replaced in 2020. Despite the best efforts of other Collectors to try to save them, I do not believe that this happened.
---
CLICK HERE TO MAKE A MONETARY DONATION
© 2002 - English Street Lights Online