140c. Thornsett, New Mills, High Peak Ascending one of the roads out of this town and heading towards Hayfield could be seen a variety of 55 Watt SOX lanterns; all attached to the overhead electricity supply support poles by means of combined bracket / control box aluminium units believed to be made by GEC. This text is in the past-tense as the overhead line was, at the time of photographing in March 2014, apparently somewhat imminently due to be decommissioned, and the electricity supplies diverted underground; this being evidenced by the presence of new 6 m tubular steel columns installed alongside each of the existing lighting positions. The new columns are all fitted with Thorn Celest 55 Watt PL-L lanterns (a rather appropriate choice of manufacturer, given the name of the road!) - these will become operational once the new underground supply cable is installed and connected.
The first installation affected by the removal of the overhead supply ended its days running the Celest's older sibling - a Beta 2.
The Celest is fitted with a Zodion SS9-DLS part-night photocell; the Beta 2 with a 1990s' Hy-Lite all-night photocell of some repute.
The next installation ran a veteran GEC Z9484 lantern. These are probably the original lanterns from when these brackets were installed.
The Z9484 ran a Zodion SS55 two-part photocell; the Celest here runs a Zodion SS6 all-night photocell. Notice that the Celest's lamp has become detached from its lower internal support, and now hangs partially into the bowl area.
A longer outreach was supplied with the next pole box; the reason being that this support pole was set back some distance from the carriageway edge, in order to clear the path of the adjacent overhead BT apparatus.
A Philips MI 80 was fitted here.
Another Beta 2 was fitted to the pole located on the bend. Here, the bracket was separate from the box. Once again, the long PL-L lamp had become detached in the Celest lantern.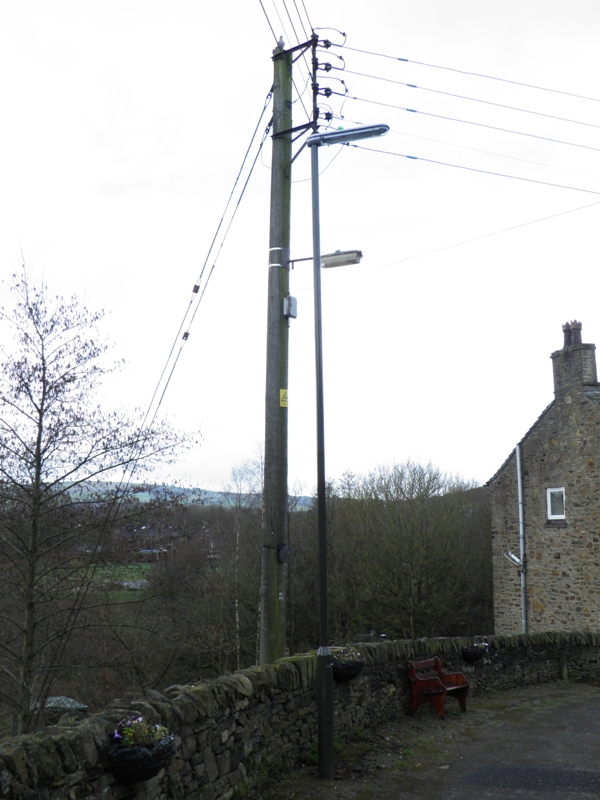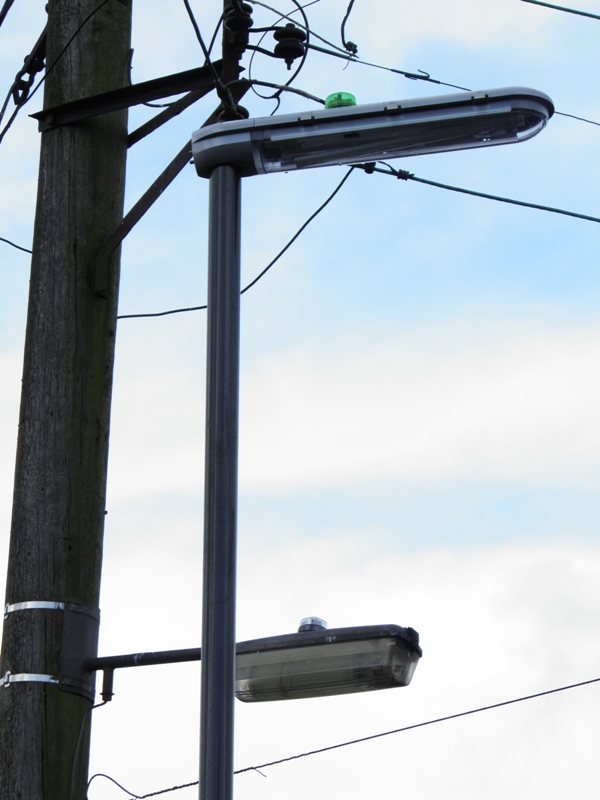 The pattern repeated for the final installation - a Z9484 was still fitted here.
The Celest's curved design is apparent here.
---
CLICK HERE TO MAKE A MONETARY DONATION
© 2002 - English Street Lights Online