3. Little Eaton/Duffield. Running along a private driveway are several Concrete Utilities Avenue 2D columns with Arc 2D brackets. The lanterns are unknown top entry 35 W SOXs, but they are believed to be made by Phosware. The lanterns may still work, and they may well run on time switch control.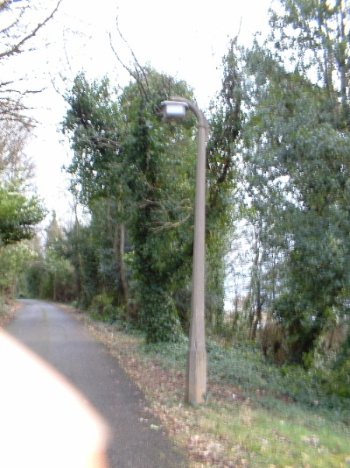 Also in Little Eaton is an old Revo concrete column. The strange thing about it is that the bracket is a cast iron swan neck! I have seen this in other places around Derby, where the bracket is made of metal but the column is concrete. The concrete is not in the greatest of conditions, but considering that this column must be one of Derby's oldest concrete columns, it has stood the test of time very well indeed. I don't think a Beta 5 really does a column as old as this justice.
The column was later replaced; a 6 m column supporting a spigot-mounted Philips XGS 104 replaced it.
---
CLICK HERE TO MAKE A MONETARY DONATION
© 2002 - English Street Lights Online