32. Mayfield Rd, Ashbourne. In a (seemingly) disused compound in the outskirts of the town is a Stanton concrete column with the remains of an Atlas/Thorn Alpha 2 fluorescent lantern still installed on the bracket. The lantern has clearly not been in use for some time, as the bowl and tubes are missing, and the gear cover is loose, exposing some very rusty ballasts. Another column is on the opposite side of the compound; however, the lantern has been removed and a SON floodlight has been (badly) installed in its place. This column set up was popular around Derbyshire in the days of fluorescents - the very short outreach bracket being useful when a very long lantern is installed!
I had another look at this lantern on the 16th April 2005 - it is just about still there; however, something has happened to it, which has left the canopy looking bent and buckled - a sad end to what must be one of the last Alpha 2s in the UK.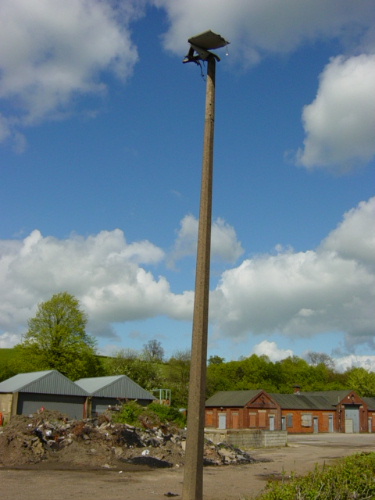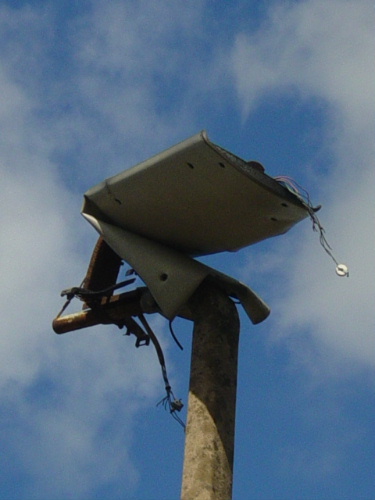 The entire column had been removed by the 5th November 2005 as the site has been brought back into use as a recycling centre - new 10 m steel columns are installed in the complex, and WRTL Arcs are fitted post top to them.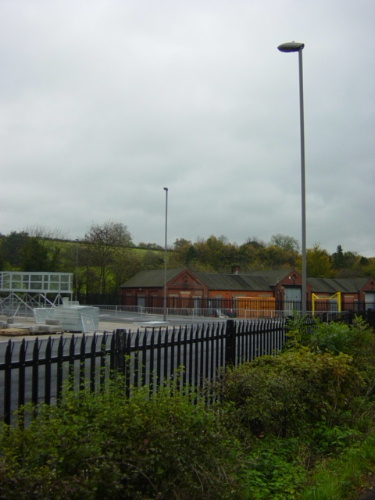 ---
CLICK HERE TO MAKE A MONETARY DONATION
© 2002 - English Street Lights Online