Local Philips FGS 224s
The FGS 224 (Residium) lantern is uncommon in Derby - the majority can be seen in the so-called "Home Zones" created in the early 2000s; however, they also appear in small numbers elsewhere in the City as well.
The Residiums pictured here are on Napier Close in Mickleover. The lanterns run 36 W PL-L lamps.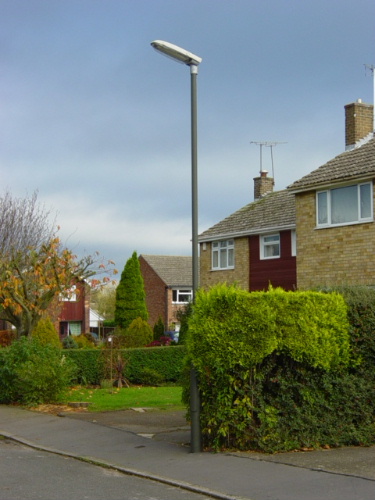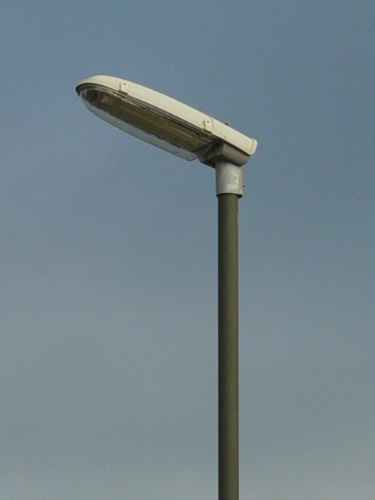 And again at night...(the large circular blob on the left hand picture is a raindrop - it was just starting to rain!)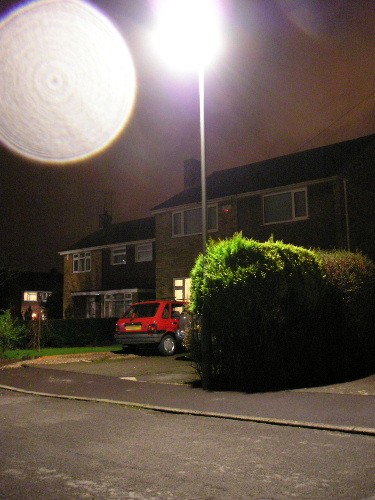 Randolph Road in Normanton became part of a designated 'Home Zone' in 2004. As part of this work, new 5 m columns supporting Residium lanterns were installed, with columns installed on both sides of the road in an 'opposite' configuration.
These lanterns are fitted with one-part NEMA photocells. The tilt of the lantern causes the moulded turret supporting the NEMA socket to be positioned slightly off-vertical.
The columns are situated almost up against walls where houses are situated right up against the pavement.
A Royce Thompson Monostar 1000 photocell is fitted to this lantern.
Some of the lanterns are wall-mounted to a side-entry bracket. An SC1000 photocell, again made by Royce Thompson, is fitted here.
---
BACK TO LOCAL SIDE-ENTRY LANTERNS PAGE
CLICK HERE TO MAKE A MONETARY DONATION
© 2002 - English Street Lights Online