GEC ZD10807
Lantern acquired in June 2008.
Thanks to Jon Southern for sending this lantern to me. This and several other lanterns were installed on the Westminster Bridge on Whitby Road in Ellesmere Port - not the Westminster Bridge in London! They were removed when new lighting was installed on the bridge. I am surprised that SOX lighting was permitted here, as the bridge goes over a railway line and in this situation the lighting usually requires screening to prevent the amber light being mistaken as an amber signal by train drivers.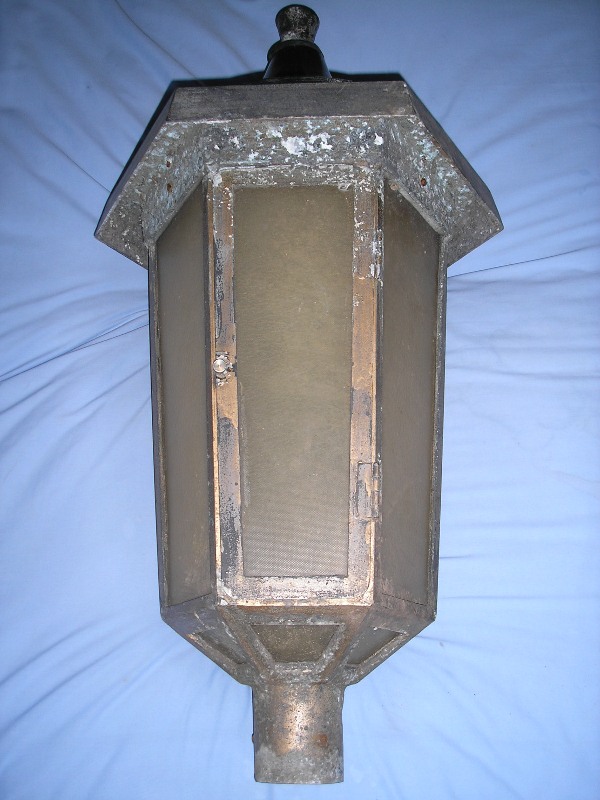 The ZD10807 is one of GEC's 'heritage' post-top designs and could accommodate tungsten, mercury or SOX lamps. A similar design, the Z8455, was designed for running two or four 40 W fluorescent lamps. The main bodywork of the lantern is meant to be gold-painted aluminium, although the lantern appears to have been painted black when first installed. Corrosion has set in to parts of the metalwork, meaning that a full restoration will be required to get the lantern looking new again.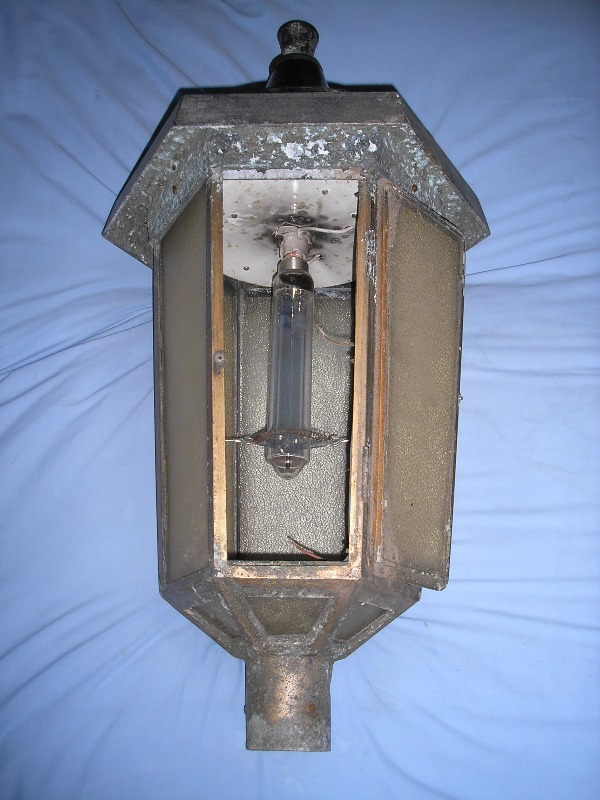 As with many ornate hexagonal post tops, the glazing panels are fixed to the lantern frame, however one panel is able to hinge open to allow access to the lamp. A small thumbscrew holds this panel in place under normal circumstances. The 35 W lamp looks lost in such a tall lantern (the lantern is not, however, as tall as the Phosco P109) - a 55 W lamp would easily be accommodated. Indeed, GEC literature states that either wattage could be used in the lantern.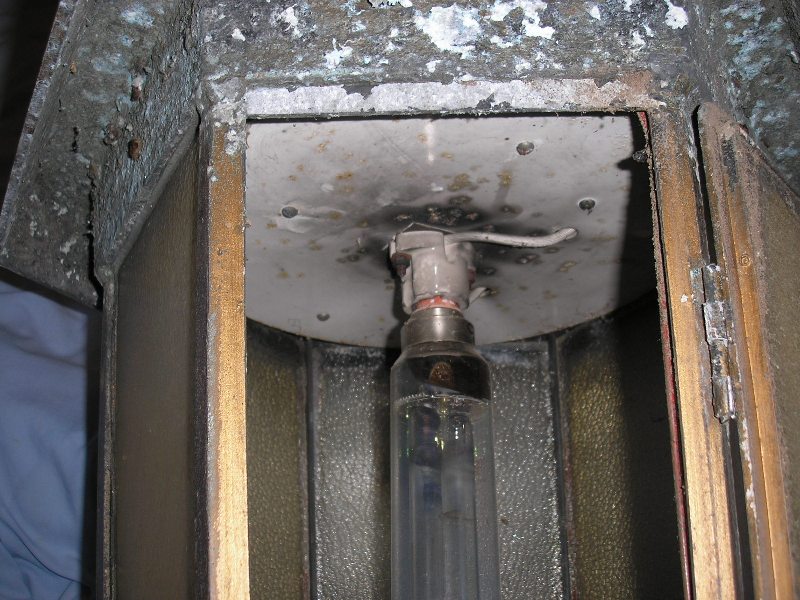 This close-up of the upper part of the lantern clearly shows the over-lamp reflector. The rusted screw above the glazing panel on the left is fastened to a bracket which holds that particular panel in place. Each of the other panels are fixed in the same way. I have yet to see how much effort will be required to remove these!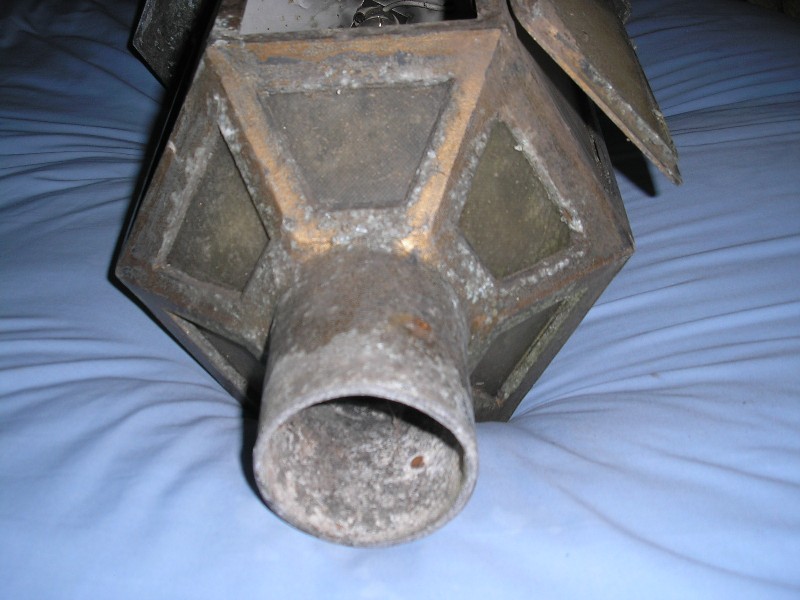 Six smaller panels surround the lantern's spigot to allow a slight amount of downward light.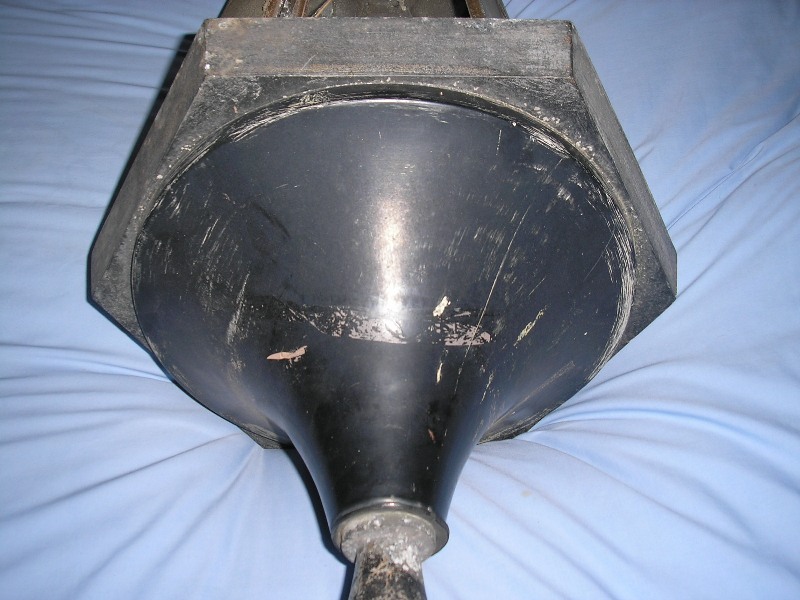 The gear is concealed beneath the canopy. In order to get to it, the finial and gasket are removed, and then the canopy simply lifts away.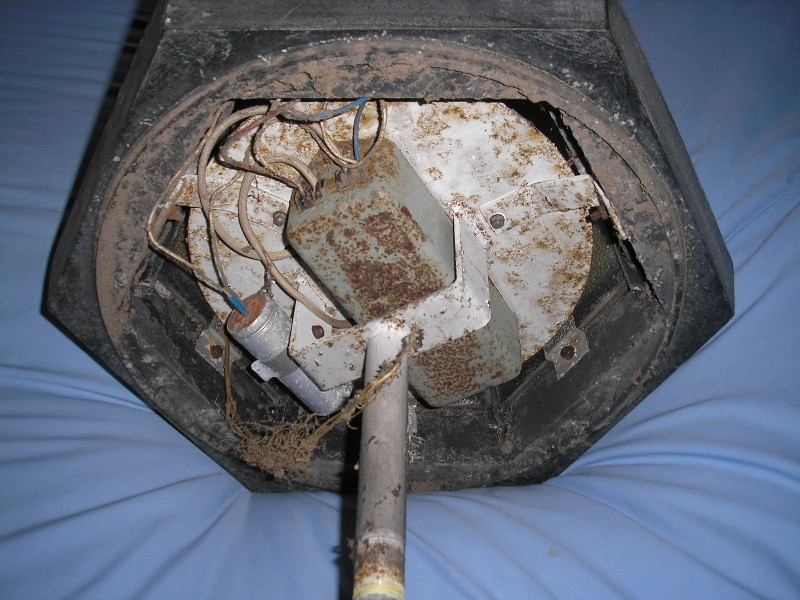 The lantern is fitted with the same type of ballast as seen in the older Z9532 and Z9539 in the collection - again, the original label has long since disappeared. The capacitor possibly dates from 1975, although corrosion on the casing means that the date stamp is difficult to read.
---
CLICK HERE TO MAKE A MONETARY DONATION
© 2002 - English Street Lights Online