Simplex Aries
Lantern acquired in February 2008.
The main differences between this and 55 Watt example are the inclusion of gear in this lantern, as well as a one-part cell. The same type of lantern was available in Kombipack form in the 1980s, with a Philips 26 Watt SOX-E lamp fitted as standard. The box which contained this version was badged with the curious name of 'Simplex Shadow Shifter Security Lantern Pack' (make sure that you have your teeth in before attempting to pronounce that!); in a similar way to Thorn referring to their Kombipack version of the Beta 5 as the 'SOXPak'.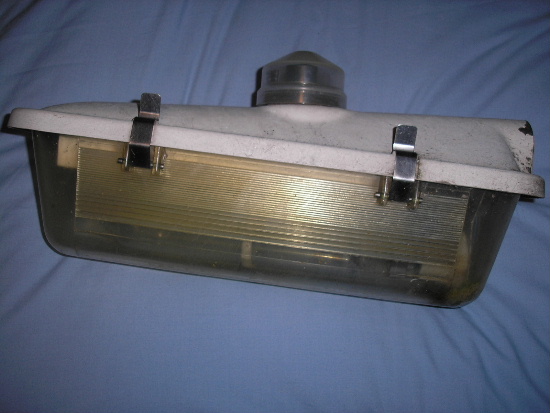 There is little difference in the overall appearance of this and the remotely-geared 55 Watt version, also in my collection; except that the gear-in-head example has a one-part cell fitted, as well as a cleaner canopy. The gear tray can also be seen inside this version.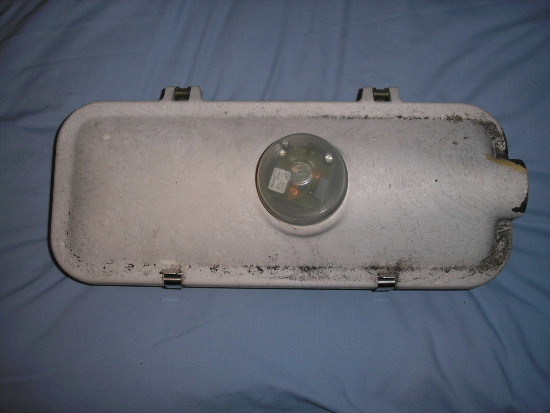 The NEMA socket in this version is is fastened to a metal support ring which is loose in the lantern - meaning that you can spin the socket around! I am not sure if this meant to happen, or if it's just due to the age of the lantern.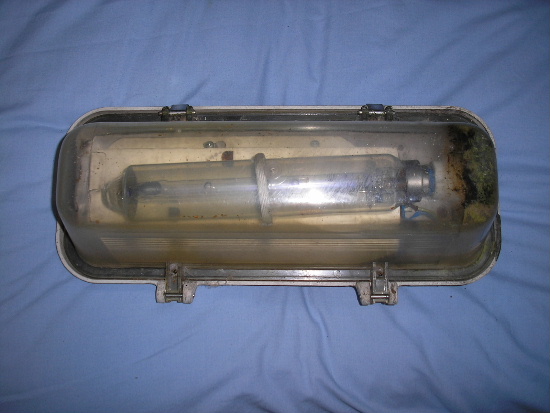 The lamp support in this version has been twisted slightly, causing the lamp to appear lopsided in the lantern.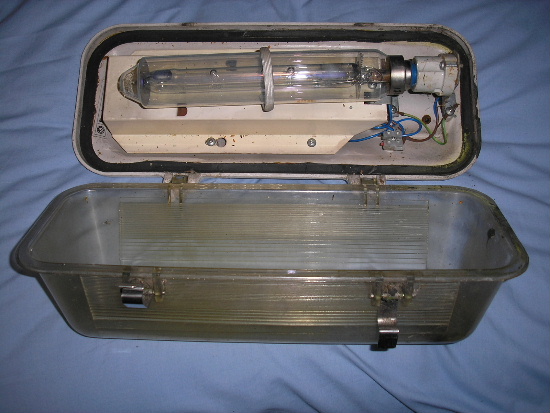 This photograph shows how the gear tray attaches to the inside of the canopy - the retaining screws in this version become the lamp support fixings in the gearless version.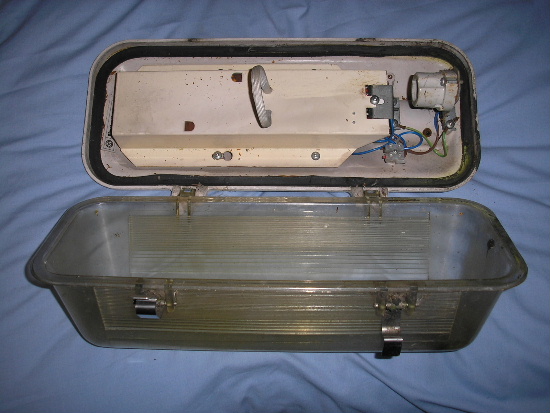 With the lamp removed, more of the insides can be seen. The lamp support is fully insulated, and I think this may be why it is rare to see Aries lanterns burning SOX lamps with blackened outer bulbs.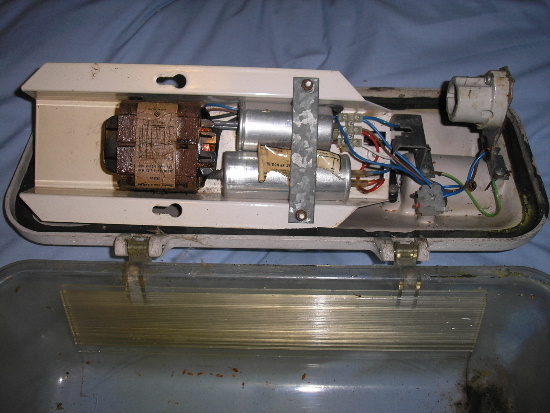 The gear is tightly packed in on the reverse of the reflector. The capacitor is dated to February 1978 - making it exactly 30 years old when it entered the collection!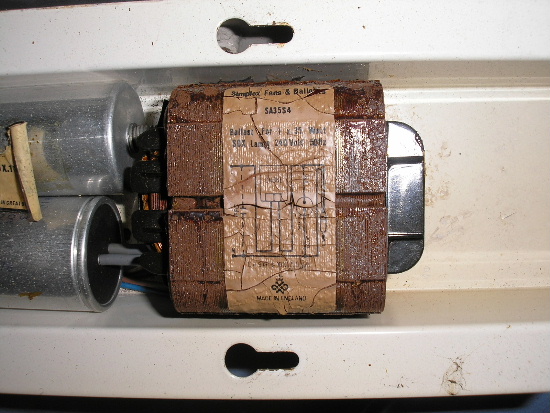 The 'standard' type of ballast used in these lanterns was this unusual open-coil type made by 'Simplex Fans and Ballasts'.
With the components all cleaned up, the lantern was reassembled.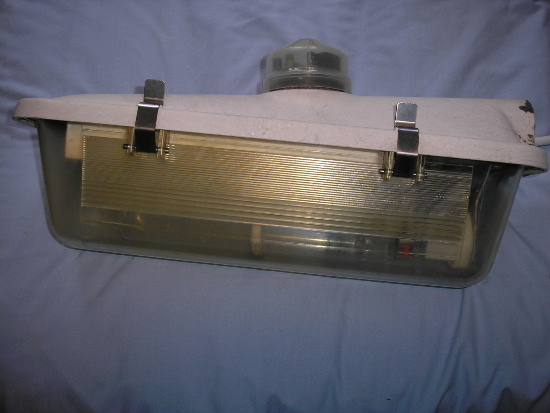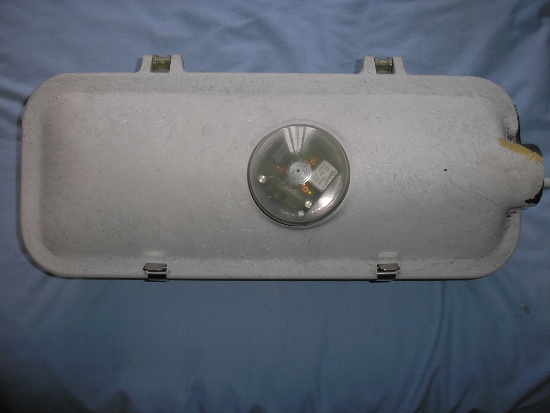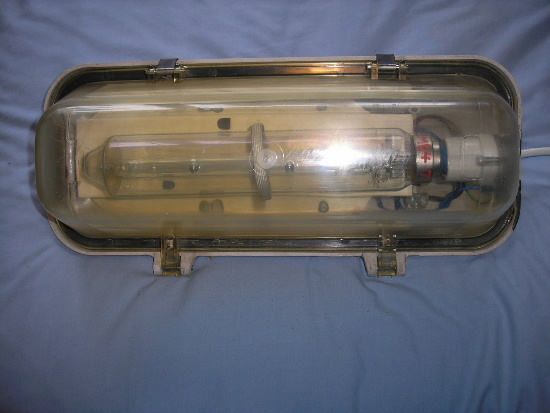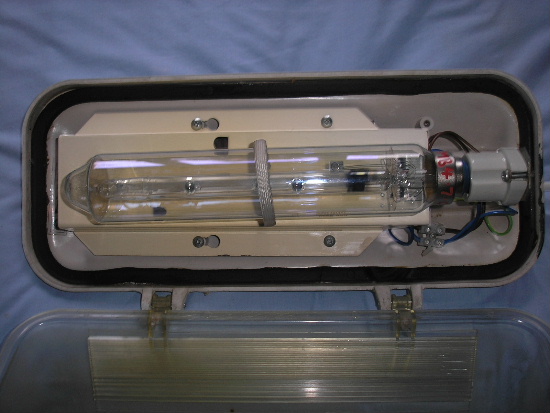 The lantern was then mounted to an AC Ford AC872 wall bracket on Monday, 7th July 2008.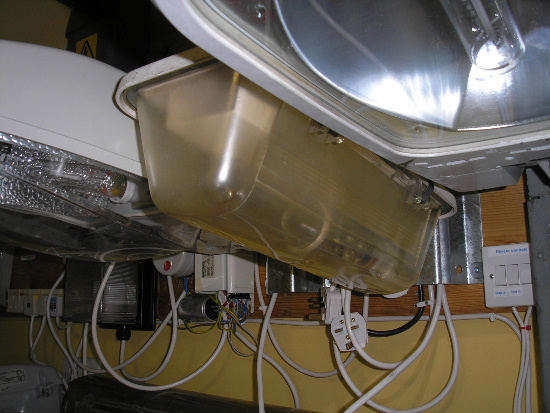 Power was then applied...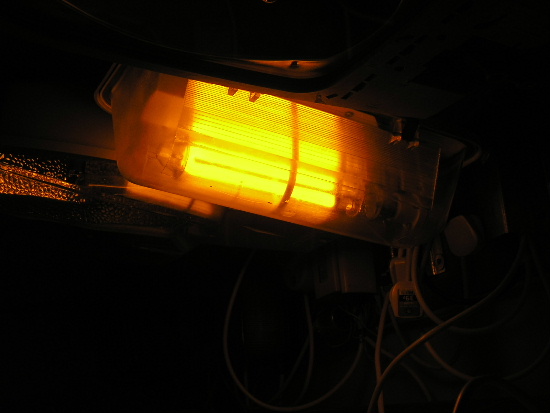 Lantern warm-up video:
GEC 'Brookvale' Z5530 | WRTL MRL 6
---
CLICK HERE TO MAKE A MONETARY DONATION
© 2002 - English Street Lights Online