Homemade Photocell Tester
This tester was, for many years, used by Derby City Council's street lighting department to test out supposedly defective cells - at least that was the theory - in reality I doubt that it was used that often! The tester is something of an old friend to me - my work experience back in 2003 took place at the Council's lighting depot, and I was asked to test a box of removed NEMA cells using this device. Most actually seemed to be working correctly when the test was carried out, although there were some which genuinely were not working properly. With the commencement of Derby's street lighting PFI, the device was no longer needed, and so I decided to adopt it - it will be useful to see which cells in my collection are working correctly.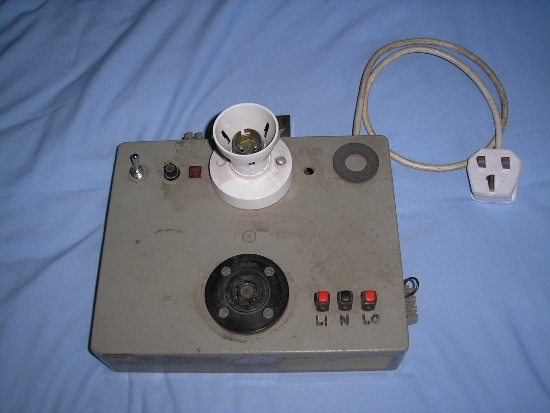 The tester is really just a collection of different photocell connectors positioned adjacent a domestic bayonet lampholder. Normally a Crown Silvered lamp is employed here - I removed it to avoid the camera flash being reflected!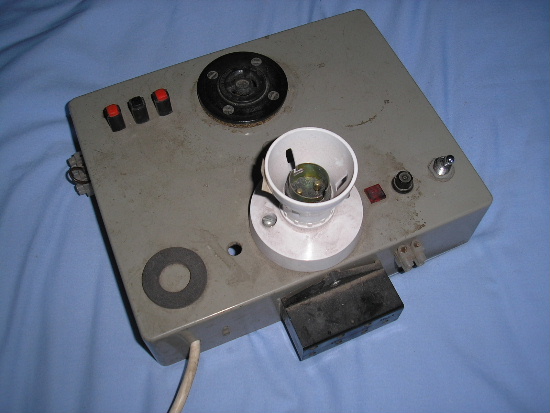 Behind the lampholder is a connector for a two-part cell. To the right of the lampholder is a neon indicator light. There is a hole to the left - this may have also had an indicator light fitted at some point. I'm not sure what the foam ring in the corner is.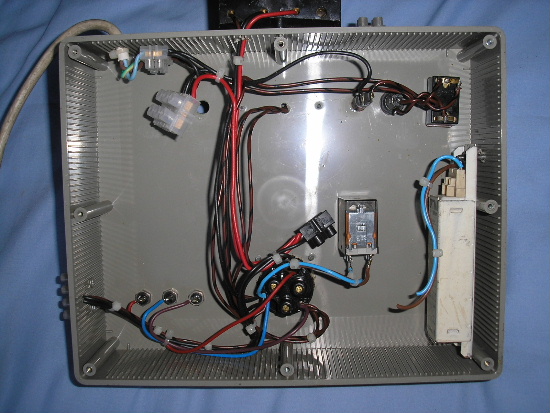 The connections can all be seen with the underside cover removed. For some reason, a disconnected 8 W fluorescent ballast is fitted, along with a relay which doesn't actually serve a purpose...presumably these did something when the tester was first put together!
---
CLICK HERE TO MAKE A MONETARY DONATION
© 2002 - English Street Lights Online