Abacus AM301
Lantern acquired in June 2006.
Thanks to Tim Luckett for identifying this post-top, which was fitted to an Abacus raise-and-lower column in the gardens at the Oakvale House warden complex. It is a curious setup - the lamp is a 110 W Iwasaki Sun-Lux running on 125 W mercury gear - fitted by Jeremy in mid-2005; replacing a 110 W GE E-Z Lux lamp. It is possible that when this was first installed, it ran a mercury lamp. The original time switch was replaced in 1997 - it was a Smiths 'immersion heater' type; switching at fixed times every day. The mains supply was a 4 mm˛ split-concentric cable and the earth wires from this were taken straight into the time switch earth terminal. There are still a small number of these fittings in use in Derby's Normanton Park but I have not seen them anywhere else.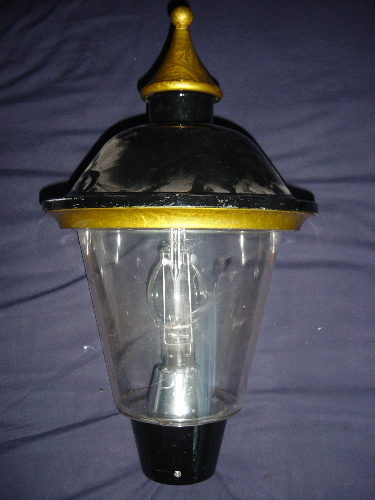 The lantern has a metal canopy but the rest of the parts are plastic. The bodywork was not originally painted black and gold - the present colour scheme was painted on whilst the lantern was in service - it was originally green.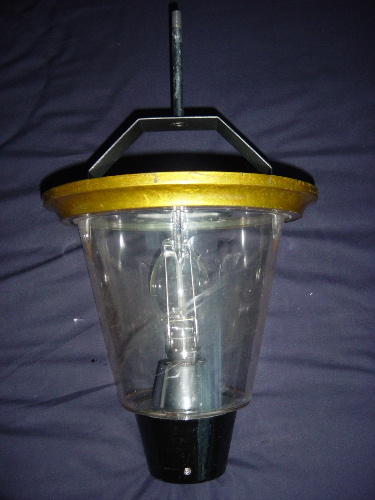 The top of the finial unscrews to allow the canopy to be removed - which then makes the lamp accessible. The lantern has to be pretty much taken to pieces when it is being connected up as the terminals are in the base casting.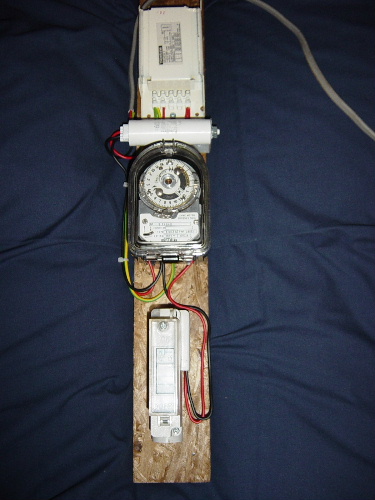 The lantern was originally operated by a time switch with fixed on and off times - this was later changed for the Horstmann K Mk 2A shown above. The 110 W SON lamp is designed to be a retro-fit for a 125 W mercury lamp; and as such, both lamps use the same control gear. The isolator consists a Hager fuse unit with a 6A fuse fitted.
The lantern was fitted to a mini-column on Saturday, 26th May 2007. It was then powered up. Although the clear lamp gave out some glare, there was not as much as I thought there might be.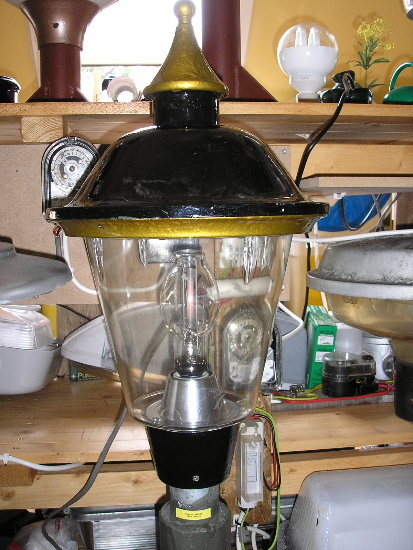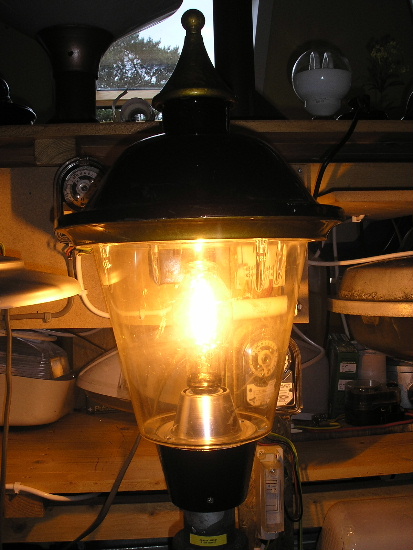 Lantern warm-up video:
Philips SGS 252 | Philips MU 80
---
CLICK HERE TO MAKE A MONETARY DONATION
© 2002 - English Street Lights Online