11b. Off Clifton Drive, Mickleover. On the footpath running between this road and Gisborne Close is another of Jeremy's 'unofficial' jobs - an unsleeved Stanton column supporting a top-entry AEI Amber Minor lantern. The lantern is powered by a modern day Sangamo time switch with a battery backup facility (the area has a lot of power cuts and so the battery backup is essential, in order to keep the time switch accurate without it needing to be reset after every power cut). As the column is not adopted for maintenance, it is in much the same way as it would have been when installed - though obviously, the time switch would have been different!
The tree next to this column made photographing the lantern incredibly difficult.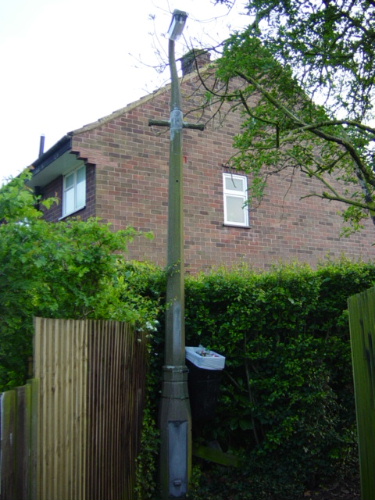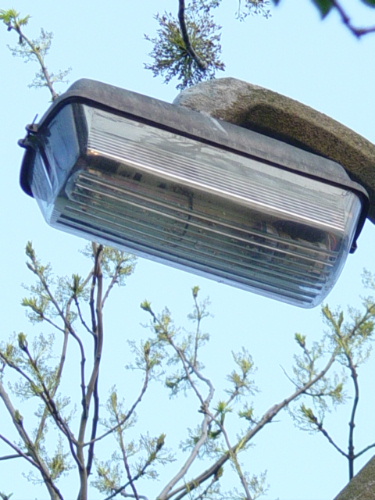 Notice the repair work that has been carried out to the column/bracket and also the lack of identification number on the column. The door has been modified slightly as someone kept removing it, so simply trying to undo the lock will not work! The lamp is an old Thorn one by the way.
---
Unfortunately, despite the modification to the door, the time switch was stolen from the base in March/April 2005, and so the unlit lantern came in as an outage. Before a new time switch could be found, plans had been drawn up to replace the column - probably due to a ladder being required if the lantern needed to be operated on. The new column is a 5 m drop-down with modern-day Beta 5 and SS3DR photocell. (The Beta 5 and bracket were removed shortly afterwards, and a WRTL Arc lantern fitted to the column spigot, owing to the rest of the lighting on the same estate being replaced at this time.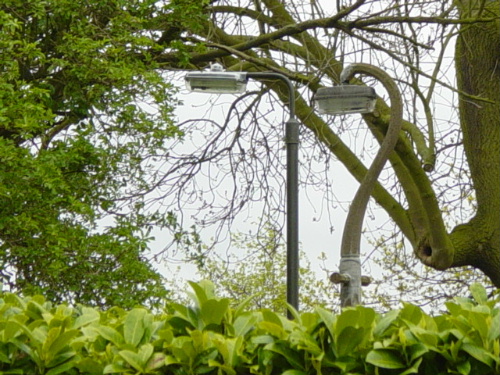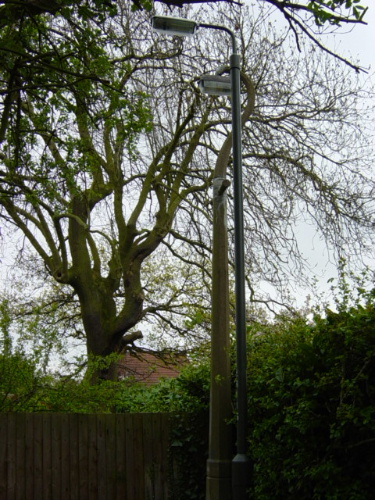 I assume that just the time switch unit was stolen, even though the casing was also missing from the base of the column when I photographed it. The gear was in an excellent condition and, hopefully, it could be re-used elsewhere.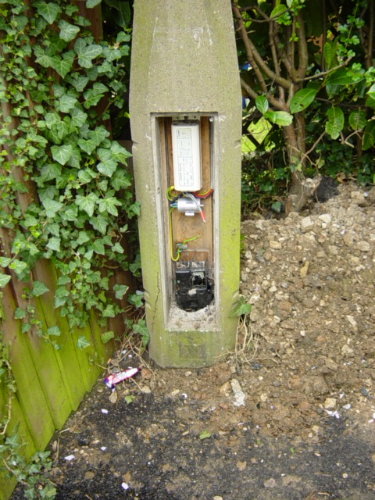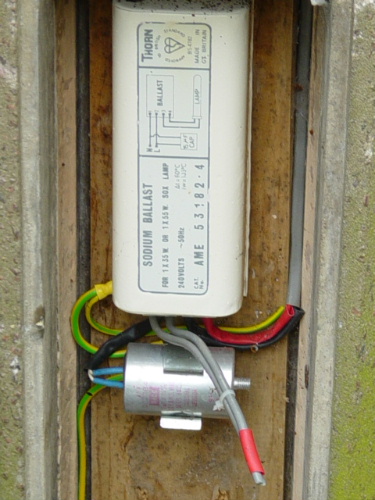 The lantern was saved, and entered my Collection, where it remained in as-removed, and non-functioning condition, until being passed on to another collector later.
---
CLICK HERE TO MAKE A MONETARY DONATION
© 2002 - English Street Lights Online