19. Raynesway Refuse Centre. In the old part of the centre are a few Thorn Alpha 5s designed to run on 140 Watt SLI/H lamps. Their columns are very rusty, and the lanterns themselves are looking very worn out. The lamps in at least two of them are broken, however one still has a linear lamp connected (although its lantern is tilted about 45°). Unsurprisingly, none of the lanterns work anymore.
Also shown below is a gear-in-head Thorn Alpha 3 without a bowl - I assume that this may not have been put up at the same time, as the bracket is free of any rust, and the support strut is shorter.
By 2008, the installations were becoming increasingly poor in condition - the bowls had been heavily used for target practice for local airgun-wielding vandals, and one column was leaning at 45 degrees after having had an argument with a waste compactor (and lost)! The decision was taken to rescue the Alpha 5s (and an Atlas Alpha 3 nearby - not the Thorn one shown above) before their condition could worsen any further, and on the week commencing Monday, 21st July, they were finally removed and saved into collections. The following couple of photographs show the lanterns loaded onto Jeremy's pickup truck: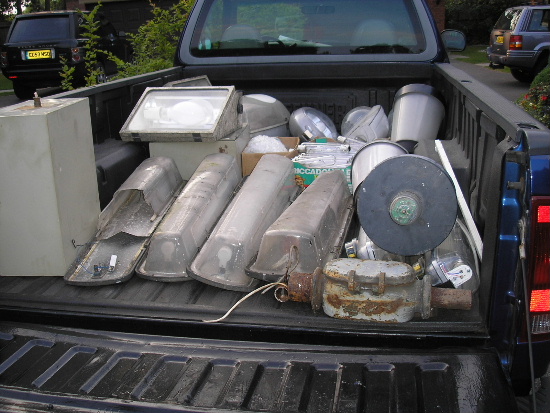 One lantern still had an intact lamp fitted; one had a smashed lamp inside and the other two were empty. According to a worker at the refuse site, the area the lanterns were installed in was last used in 1985.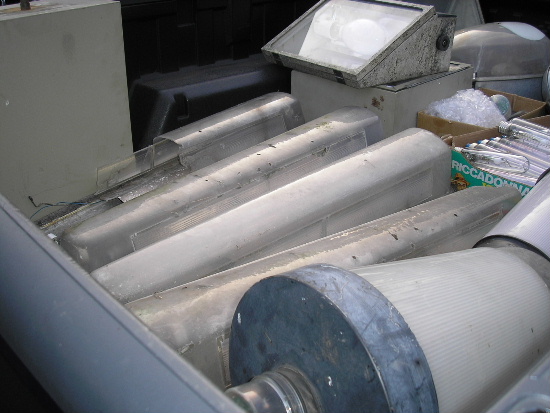 The Alpha 3 can be seen top-right in this picture.
---
CLICK HERE TO MAKE A MONETARY DONATION
© 2002 - English Street Lights Online