General Electric Pocket
This relatively uncommon bulkhead appears to be intended for the domestic market; owing to its simple and straightforward construction, and extremely basic lamp circuit.
Although boxed, the bulkhead had seen a small amount of use when it entered the Collection. Small 'windows' are cut in the cardboard, in order for the fitting to be seen inside. A great deal of space on the box is spent highlighting this bulkhead's advantages (energy saving and fewer lamp changes) over conventional filament bulkheads.
The bulkhead is made entirely out of self-extinguishing, impact resistant polycarbonate; making it suitable in areas where vandalism is a concern.
A raised section on the rear of the bulkhead contains various fixing holes for surface-mounting the unit. The ballast is also housed on the inside of this raised section, so as to reduce the depth at the front of the bulkhead. The five vertical slats that are located roughly in the centre provide some ventilation to the ballast during operation.
Removing the lamp reveals a small identification label attached to the reflector.
Two screws hold the reflector in place; with these undone, the reflector lifts out, revealing the aforementioned ballast and main terminal block. There is no capacitor fitted, and the starter would be fitted within the lamp itself. Owing to the bulkhead being constructed entirely in a non-conducting material, there is no requirement for an earth to be connected.
The bulkhead was fitted to an old street lighting column backboard, which in turn was attached to the wall, in June 2020. A Horstmann 'Y'-type part-night, spring reserve solar time switch controls the bulkhead's operation. By 2020, LED retrofit lamps were available that fitted directly into G23 lampholders and ran without needing to remove the ballast; thus, the 11 Watt compact fluorescent lamp was substituted by a 6 Watt LED equivalent.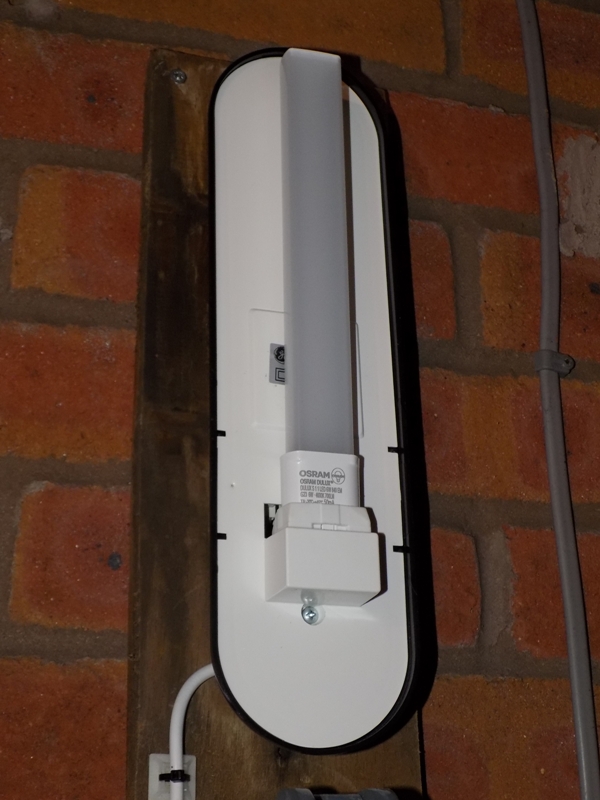 The LED lamp was rather glary without the Pocket's front cover being in place.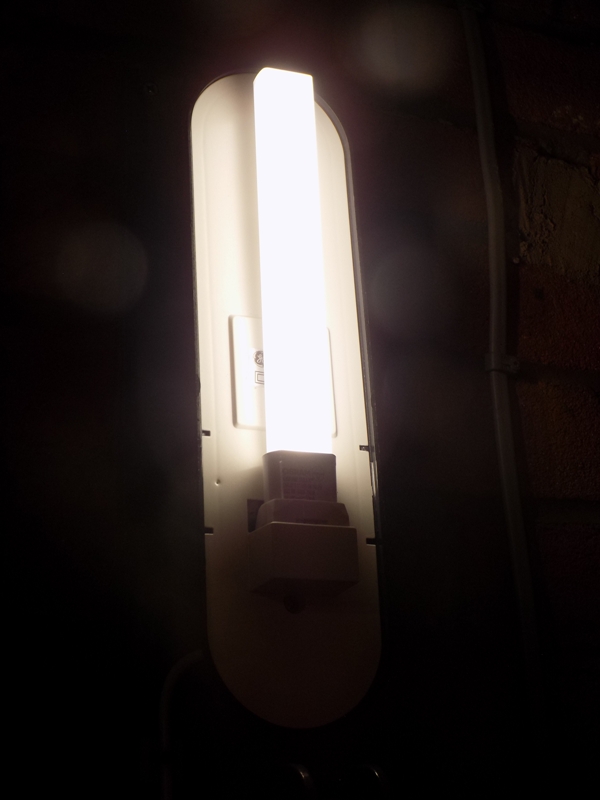 A more diffused beam was produced with the cover reinstated.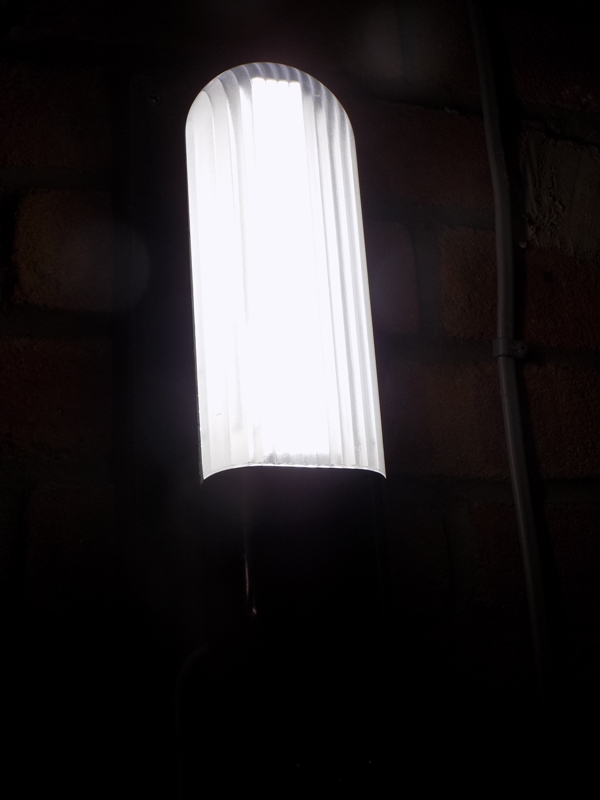 Testing with my energy monitoring device revealed the following results:
| | | | | | | | | |
| --- | --- | --- | --- | --- | --- | --- | --- | --- |
| Test Voltage (V) | Current being drawn at full power (A) | Measured wattage (W) | Apparent Power (VA) | Frequency (Hz) | Power Factor | True Power (W) | Difference to rated wattage | Percentage Difference |
| 242.8 | 0.04 | 6 | 10 | 49.9 | 0.67 | 6.51 | 0.51 | 8.45% |
---
CLICK HERE TO MAKE A MONETARY DONATION
© 2002 - English Street Lights Online