GEC ZD10606
Lantern acquired in March 2006.
This is another lantern from John - it was used somewhere in Perth, Scotland. The ZD10606 is the Z5680's big brother - 'big' being the key word! I have not seen one in use before; but I imagine that the light output would be fairly good, despite the translucent bowl.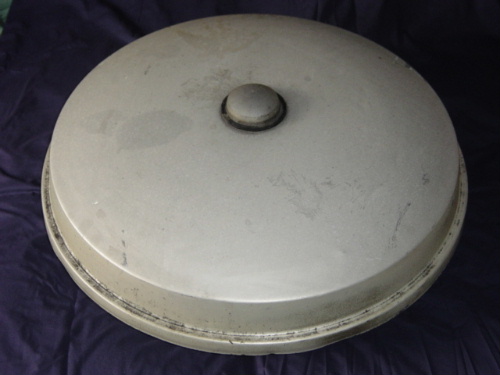 Unlike the Z5680, the ZD10606's canopy itself does not unscrew. Instead, there is a threaded handle in the centre of the lantern - this unscrews and then the canopy lifts off. Also, the canopy was a light metallic-green colour when new, rather than being copper-coloured as with the Z5680.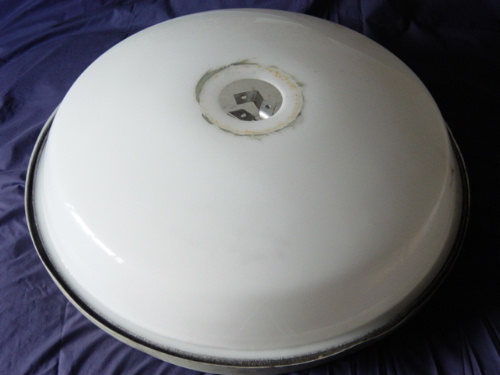 A base section was included with the lantern, however it is still fixed to a length of the column the lantern was fitted to due to the grub screws having seized, so it is currently difficult to carry around. It bolts onto the three metal strips visible inside the lantern. The bowl has a couple of bullet holes in it, but they are very small in such a large bowl!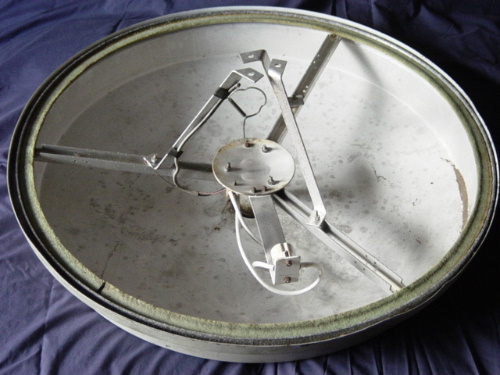 With the bowl removed, the inside of the lantern (i.e. a simple frame) can be seen.
AEC Globo Due | Thorn Beta 8 / AEI Junior Amberline
---
CLICK HERE TO MAKE A MONETARY DONATION
© 2002 - English Street Lights Online