ELECO PT1031
Lantern acquired in November 2005.
This lantern came from a column outside the toilet block at the Heanor Town sports ground. It was removed when the block was demolished. Jeremy used to maintain this lantern, as well as the lighting in the toilets when he worked for Selston Electrical for Amber Valley Borough Council. He knew the column was being removed early in 2005 and asked the removal team to save the lantern and backboard for him. Unfortunately they removed the gear, time switch and 'cutout' and didn't save the backboard complete. The time switch was a Horstmann K Mk2 A part-night time switch, which was fitted back in 1995, replacing a 'Square Sangamo' 610. The gear was then replaced in 1997 - the original ballast being a black 'rounded corners' B.L.I. type. As far as he knows, the old Philips lamp could be original - its 'Powerwhite' name dates it to 1981 or before! The 'cutout' consisted of an old 1-way Wylex unit with a 5A BS3036 rewireable fuse; fed from the mains cupboard in one of the toilets using 'Hi-Tuf' cable.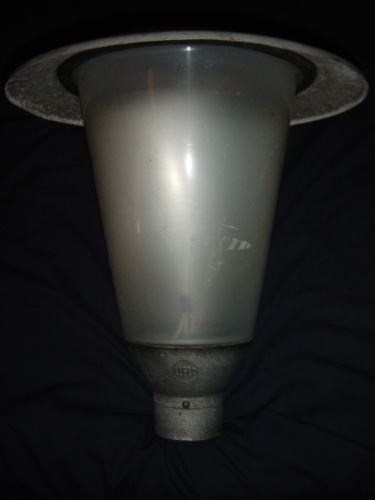 The canopy and base casting are of an aluminium construction, and the bowl is perspex, which has clouded slightly over the years. Corrosion is evident to the underside of the canopy, but the lantern is in a generally good condition for its age. Even the grub screws are free.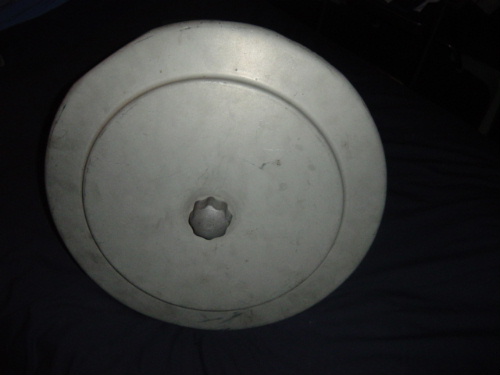 The lantern is held together in the traditional way - where a component above the canopy screws down onto a thread inside the lantern.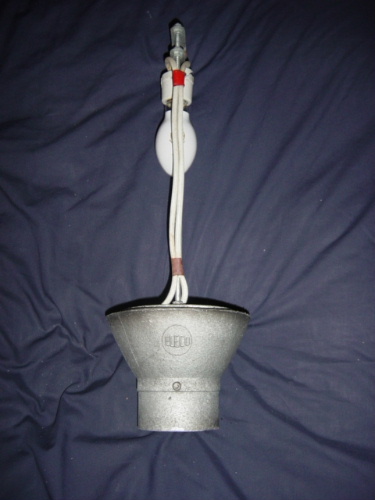 With the canopy and bowl removed, the frame supporting the lamp can be seen.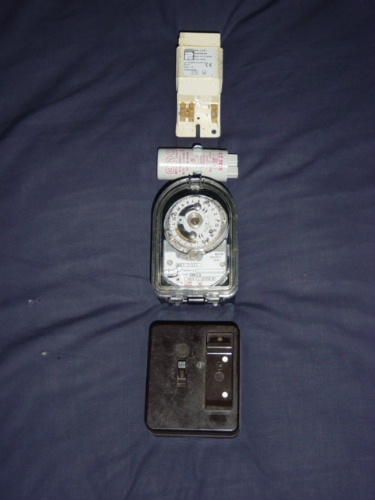 When in use, the components were arranged like this in the base. (Top to bottom: the ballast, capacitor (both installed in 1997), Horstmann KMk2A time switch (installed in 1995), and 1-way Wylex isolator (original).)
Restoration of the lantern took place on Saturday, 19th May 2007. I started by rubbing down all corroded parts of the metalwork with a sandpaper pad. The components were then all washed to remove any loose corrosion particles. The lantern could then be repainted. A chrome aluminium finish was applied to the canopy, whilst the base casting and canopy securing nut were painted hammered grey. The inside of the canopy was painted smooth white - several coats of this were required to cover up the marks left by the corrosion. With the paint dry, the next step was to wire and then power the lantern up. I decided to re-use the old Philips Powerwhite lamp - amazingly, it still gave out the familiar colour of an MBF lamp, although the output was now probably a lot less than 50 Watt. The lamp also flickers quite noticeably.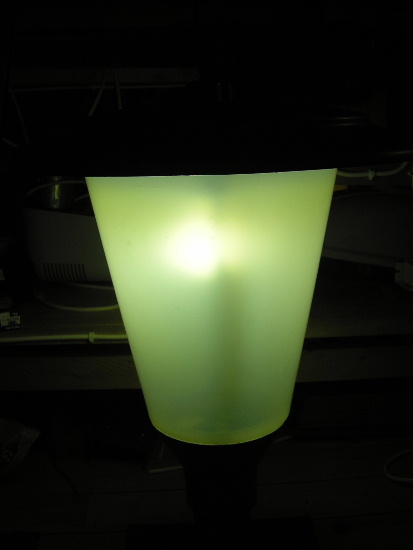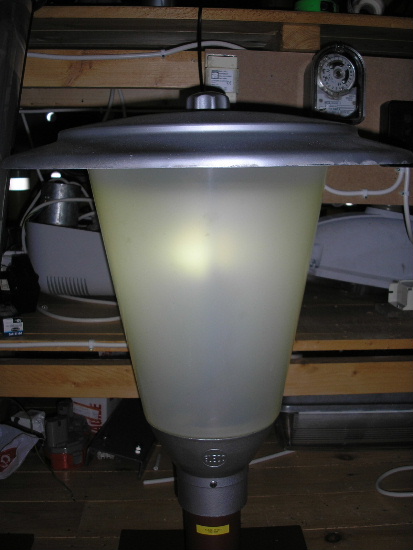 Lantern warm-up video:
Holophane Syracuse Medium | Urbis Sapphire 1
---
CLICK HERE TO MAKE A MONETARY DONATION
© 2002 - English Street Lights Online