Philips XGS 103
Lantern acquired in August 2019.
This XGS 103 was one of a number that were installed in and around the Rempstone Drive area of Chesterfield. As a trial, all of these lanterns had their 35 Watt SOX lamps and gear trays removed, and retro-fitted with an LED gear tray instead. Following feedback, the decision was taken to fit purpose-built LED lanterns instead, owing to the converted lanterns producing a peculiar light distribution, which was caused by the original refractor bowls creating a stripe effect on the carriageway.
From the side, this XGS could be mistaken for being a standard SOX version of the popular Philips lantern, with its GRP canopy and aluminium rear section, enabling the lantern to be mounted post-top to a column shaft.
The GRP is in typical condition for its age - rather grubby, with fibres beginning to shed quite mercilessly.
The NEMA socket carries a manufacturing date of December 2003, whilst the Royce Thompson Oasis 2000 photocell that was fitted to it was manufactured earlier in the same year.
Only when seen from below does the different light source begin to be apparent.
With the plastic cover panel removed, the inside of the aluminium section reveals a number of spider eggs, as is to be expected.
Opening the lantern's bowl reveals the replacement LED gear tray that is fitted in this lantern. The LED circuit board contains 72 LED chips, and is positioned in the centre of the lantern, in the approximate footprint of where the 35 Watt SOX lamp would be situated.
The inverse of the gear tray serves as the location of the small driver unit.
The gear trays are made by Harvard Engineering, with the drivers being the Company's 'coolLED' type. Notice that the project reference code incorporates 'MI 26'; the name allocated to older XGS 103s...what do you mean, "pedantic"?
The canopy and rear casting were given a much-needed cleaning on Thursday, 9th April 2020.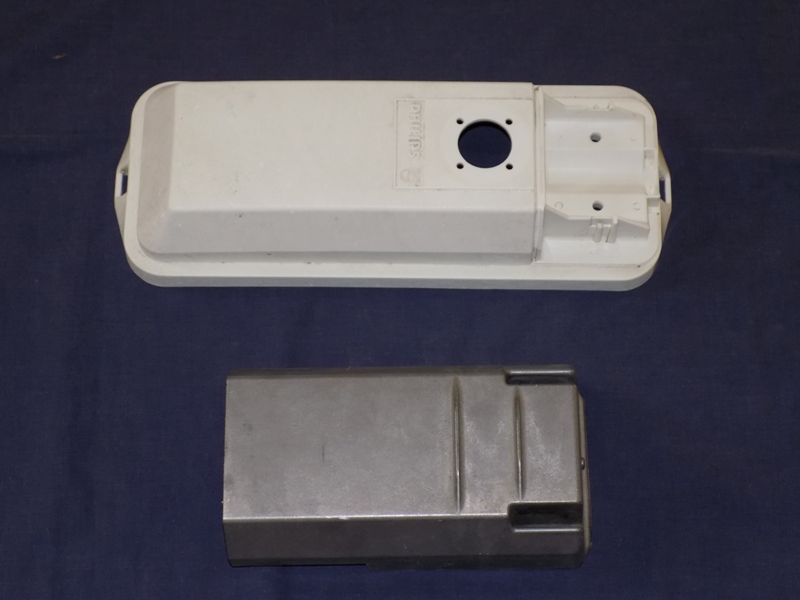 The insides of both were cleaned too, with the casting most definitely benefiting from this work!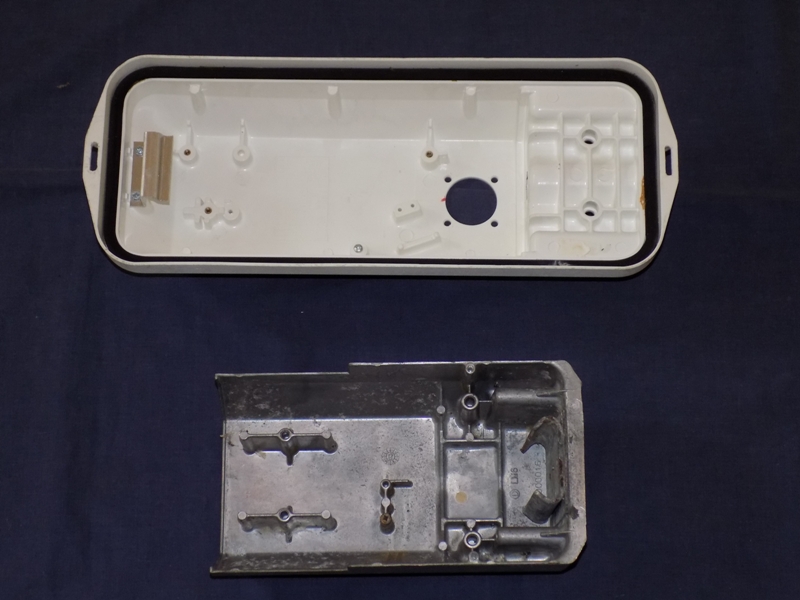 The various components were reunited a day later, with the bowl being cleaned separately.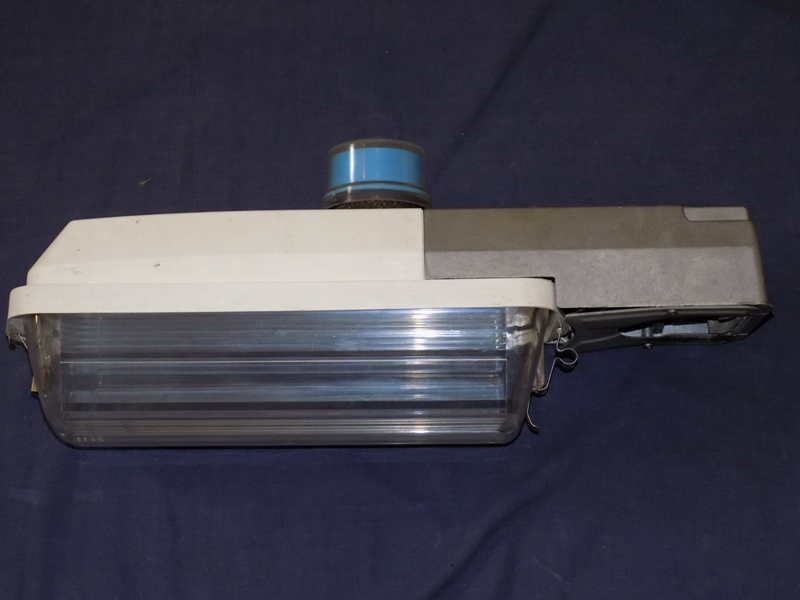 No longer is the canopy likely to shed its fibres onto anyone that comes into contact with it!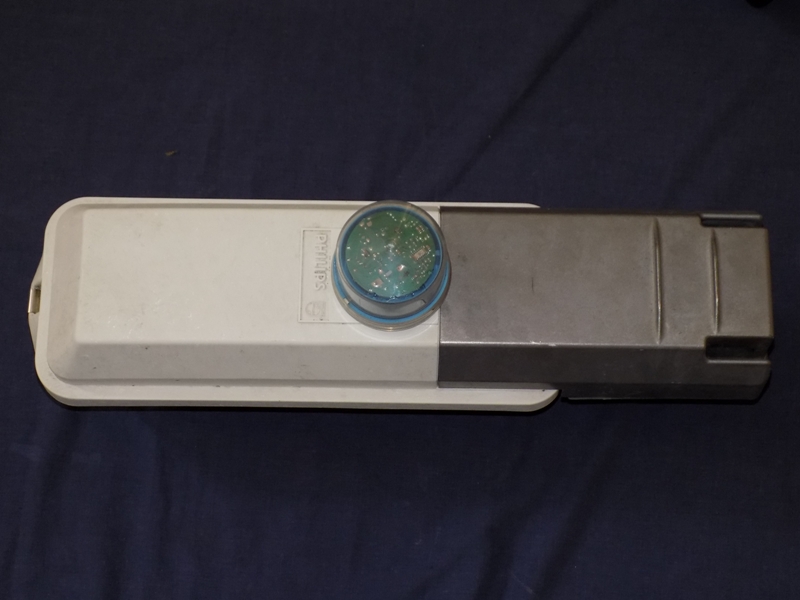 The plastic cover for the underside of the casting also looked a lot better after a wash.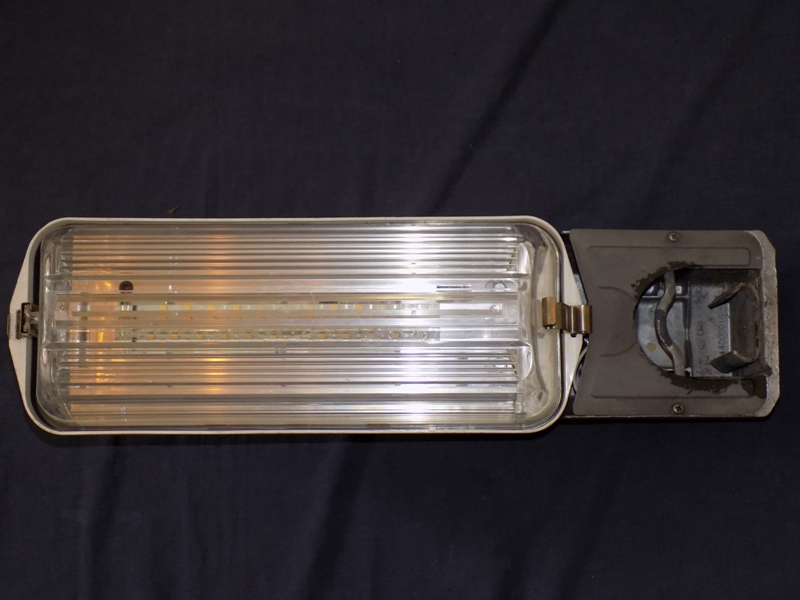 The lantern was attached to a post-top stand on Friday, 8th January 2021. Seeing an 'empty' lantern installed looked rather peculiar.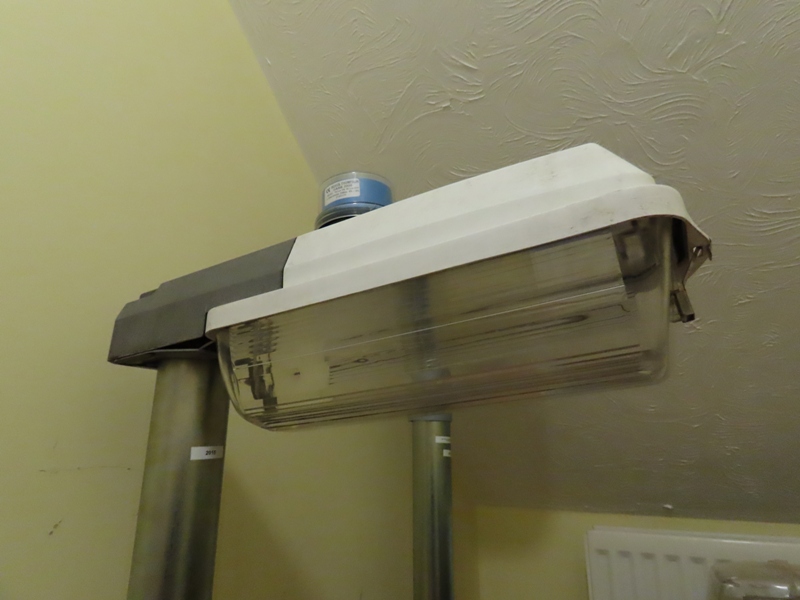 Even more unusual was the lantern's appearance during operation.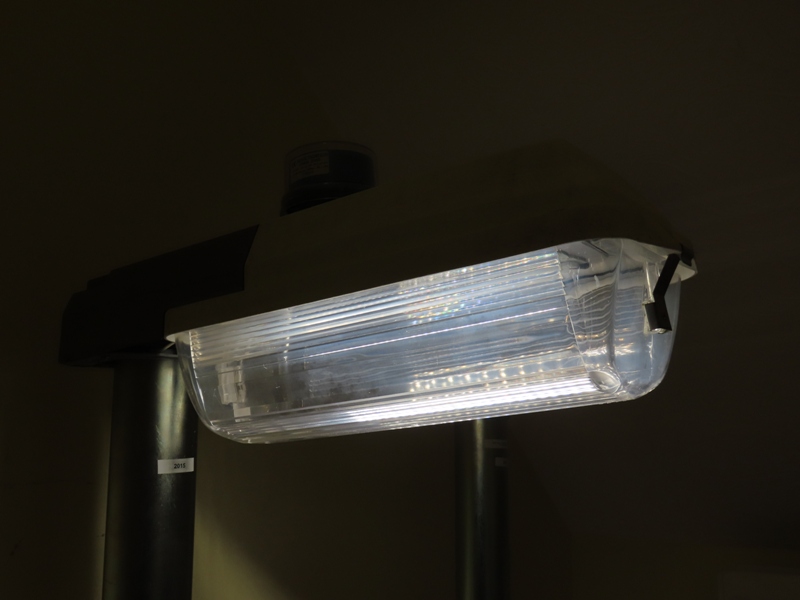 The beam distribution was, indeed, quite stripy, owing to the refractor bowl.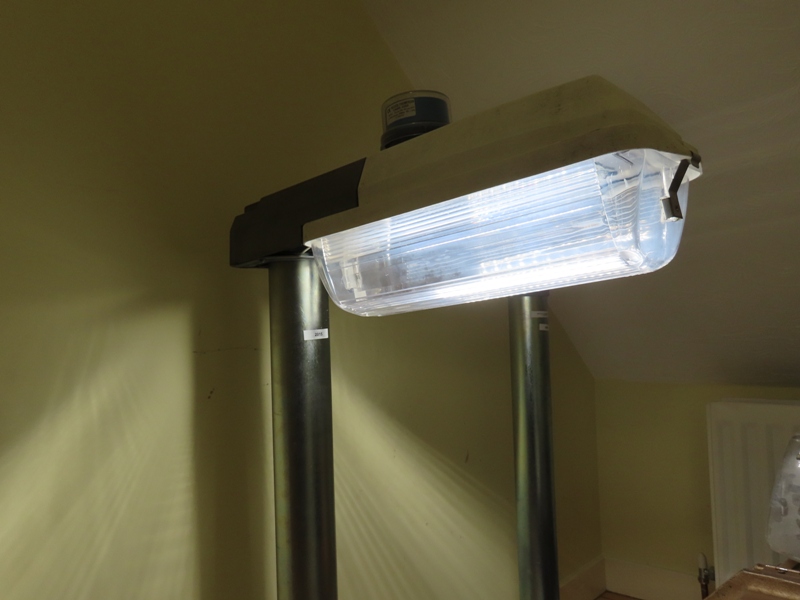 The LED array created a rather intricate pattern when viewed from below.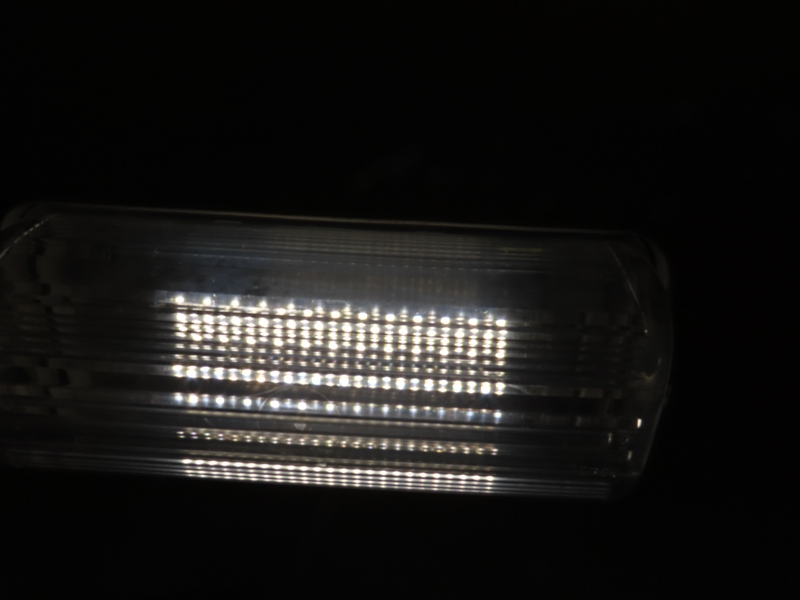 From the front, where there are no bowl refractors moulded, the spread seemed more even.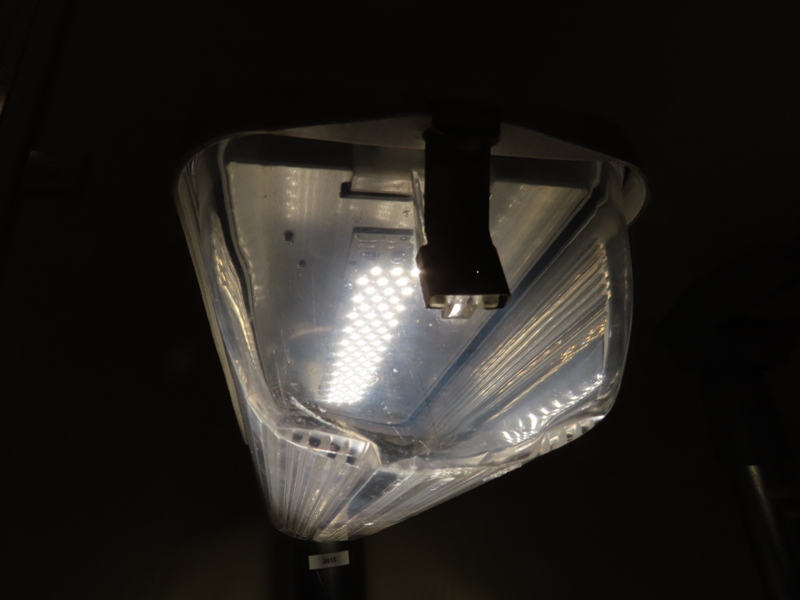 Lantern operation video:
Testing with my energy monitoring device revealed the following results:
| | | | | | | | | |
| --- | --- | --- | --- | --- | --- | --- | --- | --- |
| Test Voltage (V) | Current being drawn at full power (A) | Measured wattage (W) | Apparent Power (VA) | Frequency (Hz) | Power Factor | True Power (W) | Difference to rated wattage | Percentage Difference |
| 244.5 | 0.07 | 13 | 17 | 49.9 | 0.75 | 12.84 | -1.16 | -8.31% |
CU Phosco P111 | Thorn Beta 5 (1970)
---
CLICK HERE TO MAKE A MONETARY DONATION
© 2002 - English Street Lights Online