Atlas Alpha 8
Lantern acquired in November 2005.
Thanks to John Thompson for letting me have this lantern, which was removed from the Marble Arch area in London. This lantern bears little resemblance to the later Thorn Alpha 8 - most notably because of the twin-lamp configuration. Nowadays, this lantern is very rare, however they were used throughout Derby's city centre in years gone by - sadly, only one exists these days, and that doesn't work.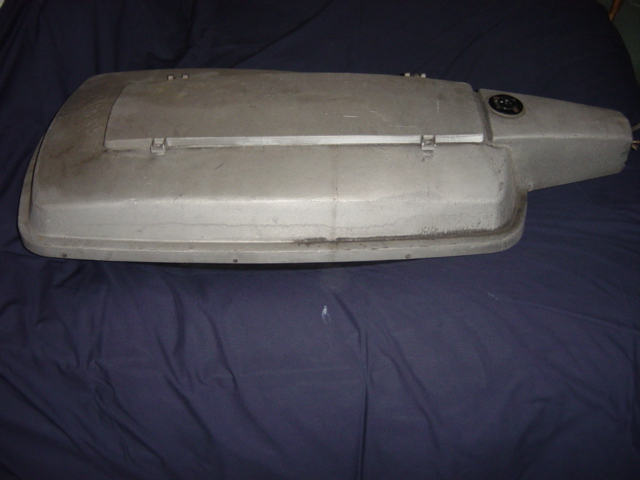 Calling this lantern 'big' does not do it justice at all - it is huge! The NEMA socket is not original - it was added whilst the lantern was in-situ, and unfortunately the Atlas logo was located on the part of the shoe that was drilled to accommodate the socket.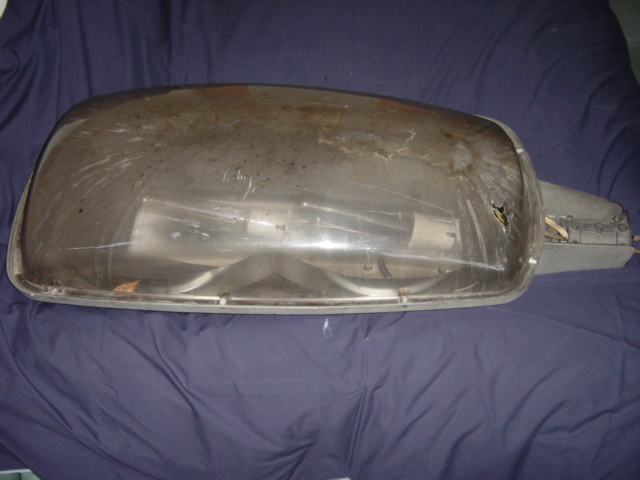 The bowl has a small break in it, but it isn't too noticeable. Unusually it is fixed in place - access to the lamps is gained by opening a hinged cover on the canopy.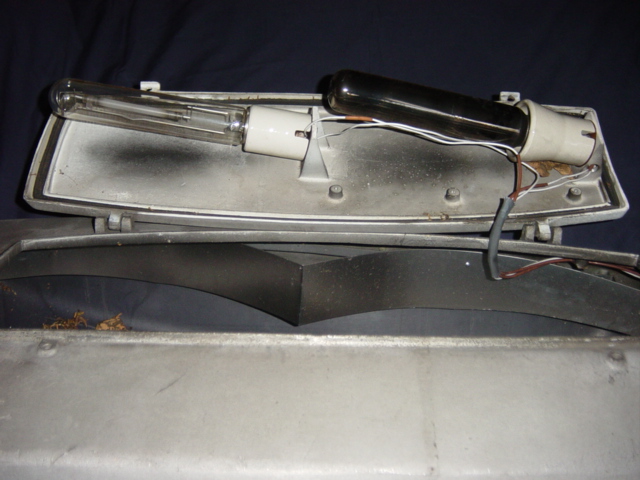 The bolts that held the cover in place have been lost through time, though I should be able to find some replacement ones. One of the lamps has gone completely black - this is actually a GEC 'Solarcolour' SON-T lamp - I wonder how long it has been in this lantern. The reflectors are curved, suggesting that the lantern is intended to be used with elliptical lamps.
I also own two Thorn Alpha 8s. Click here to see pictures of the original version, and here to see pictures of the later type, in order to appreciate how these differ from the original Atlas version, or click here to see an Atlas Alpha 8 in-situ.
WRTL Pathfinder | Thorn Alpha 2000
---
CLICK HERE TO MAKE A MONETARY DONATION
© 2002 - English Street Lights Online