39. Wheaton Aston, Staffordshire. In this village many mercury lanterns are still running on mercury lamps. I am assuming that the wattage of all the lanterns is 80 Watt. There are a variety of different lanterns, but only a couple of different Stanton columns. There doesn't seem to be any pattern to the bowls of the lanterns. With there being so many lanterns of interest, I took rather a lot of pictures. Apologies if these take a long time to download.
I revisited Wheaton Aston on the 3rd May 2004 and noticed that several lanterns have now been replaced...luckily a number still survive at this time.
I revisited a second time on the 27th August - no new major differences were seen.
My next visit took place on Saturday, 19th August 2006 - this time, a lot of replacements had taken place...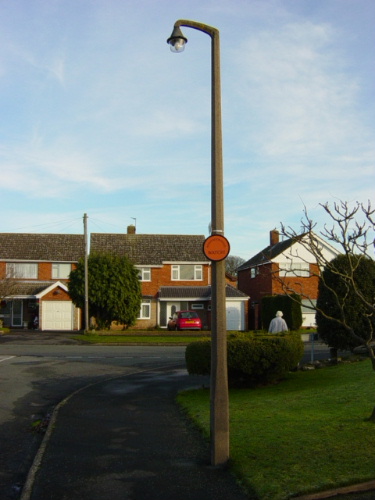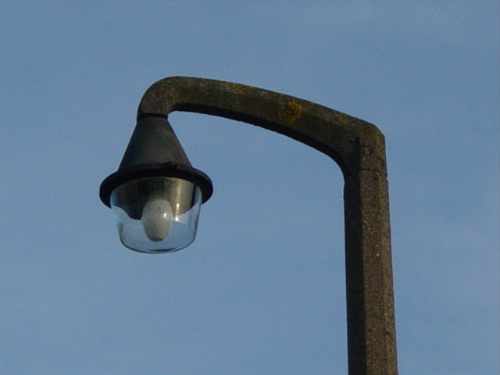 This is a Revo Prefect with a glass bowl - like the one in my collection.
Sadly, this example had been removed by August 2006 - an WRTL 2500 was now fitted; along with a sleeve.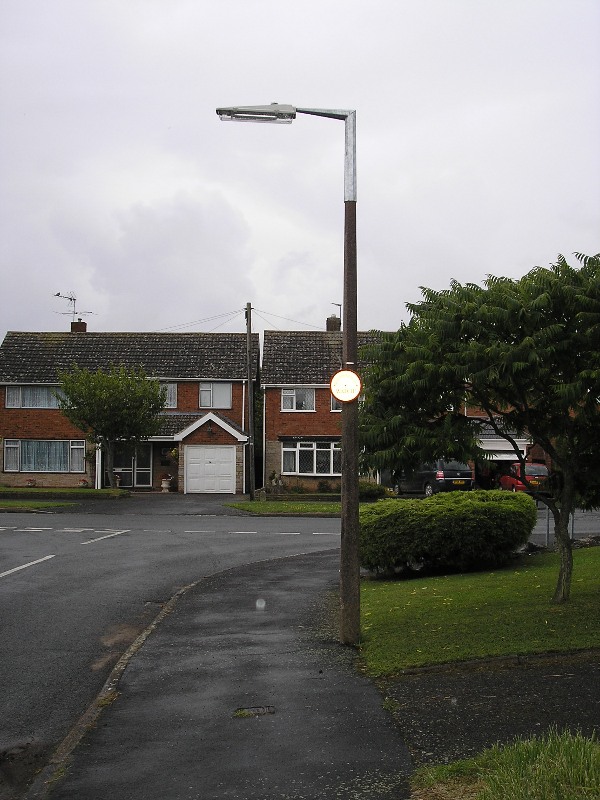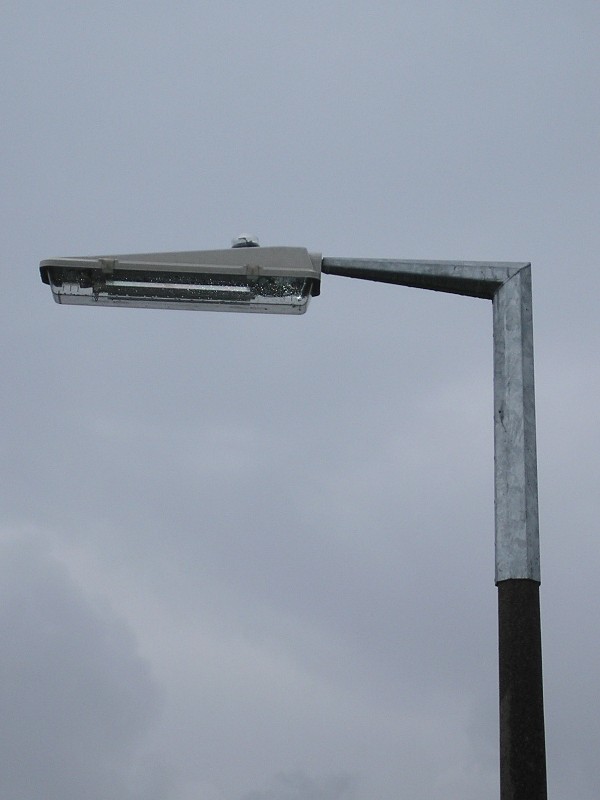 ---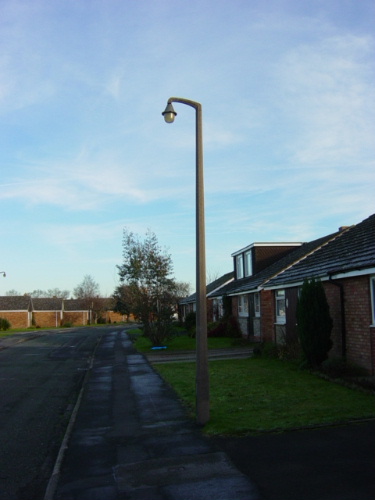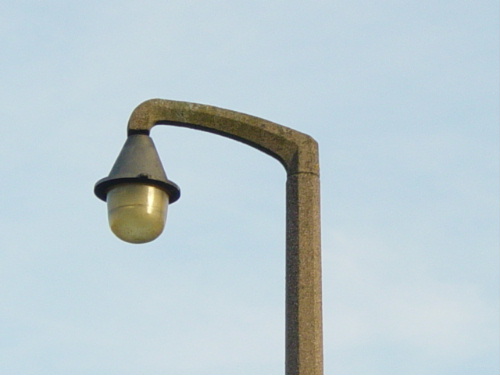 This Prefect has a polycarbonate bowl. It is on the same road as the above.
This Prefect suffered the same fate as the first one and was replaced by a 2500 on a sleeve by August 2006.
---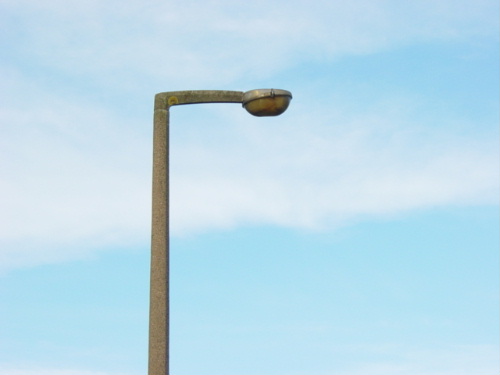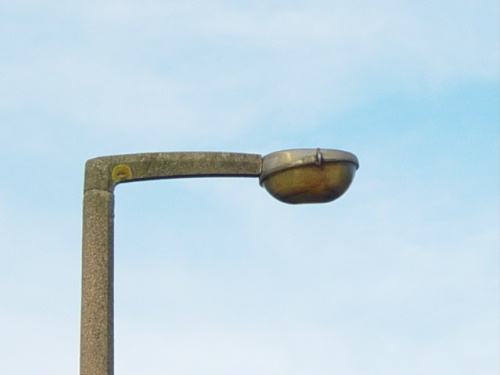 Nearby is a Revo/Simplex diadem, with polycarbonate bowl. This is similar to Survivor #33, another Diadem in Nottingham, however the bowl is acrylic in that case.
Still here; but for how long?
---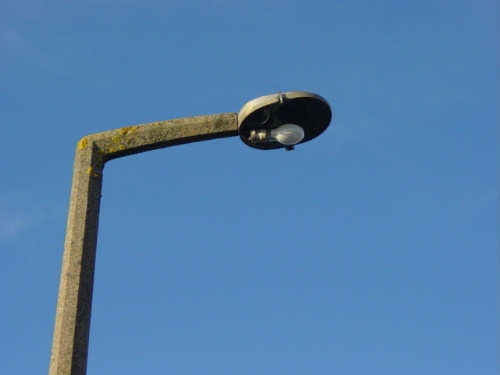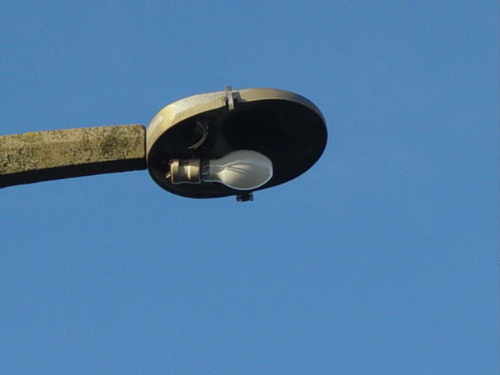 Along the road is a Diadem without a bowl. It's hard to see in these pictures, but there is a lamp shaped mark above the lamp from years of continuous heating.
This lantern has now been replaced with an WRTL 2600. The bracket has not been sleeved, but blue insulation tape has been wrapped around the end just before the lantern joins to it.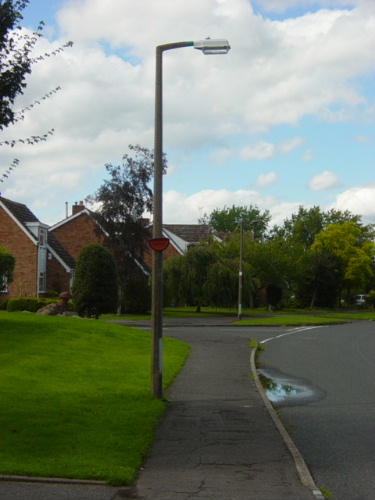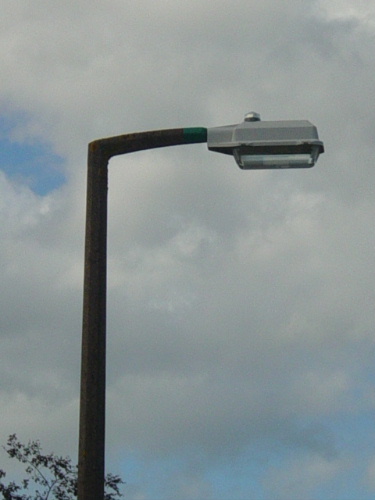 ---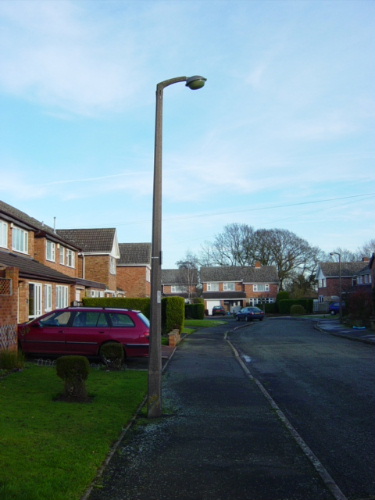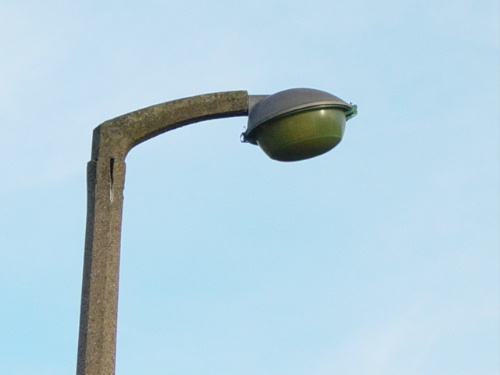 This GEC Z8591 (the forerunner of the Z8896) has a 'Diakon' bowl. The column is starting to spall at the joint of the bracket.
This lantern has now also been removed. The column has been sleeved and an WRTL Iris (36 Watt PL) has been fitted. Other nearby Z8591s are still in place luckily.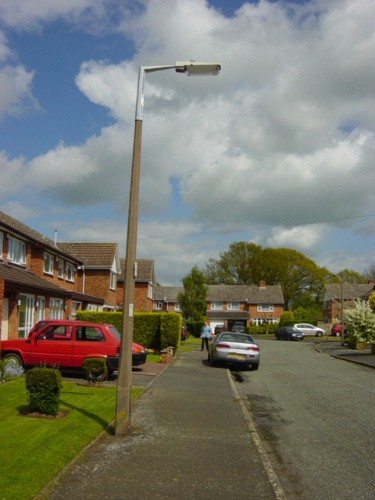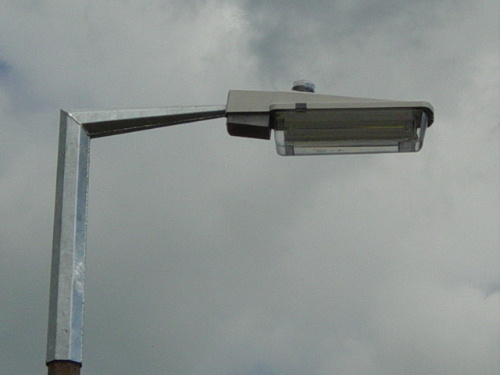 ---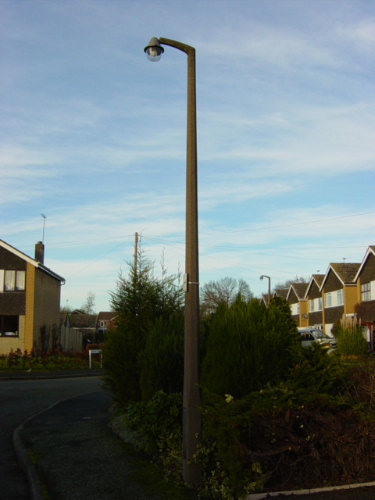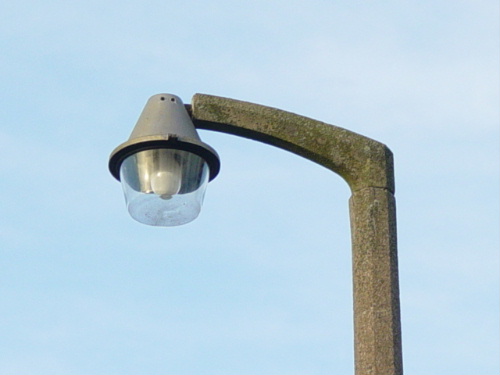 This Prefect is on the same sort of bracket as the above lantern. Yes, that is a side entry bracket!
This Prefect suffered the same fate as the first one and was replaced by a 2500 on a sleeve by August 2006: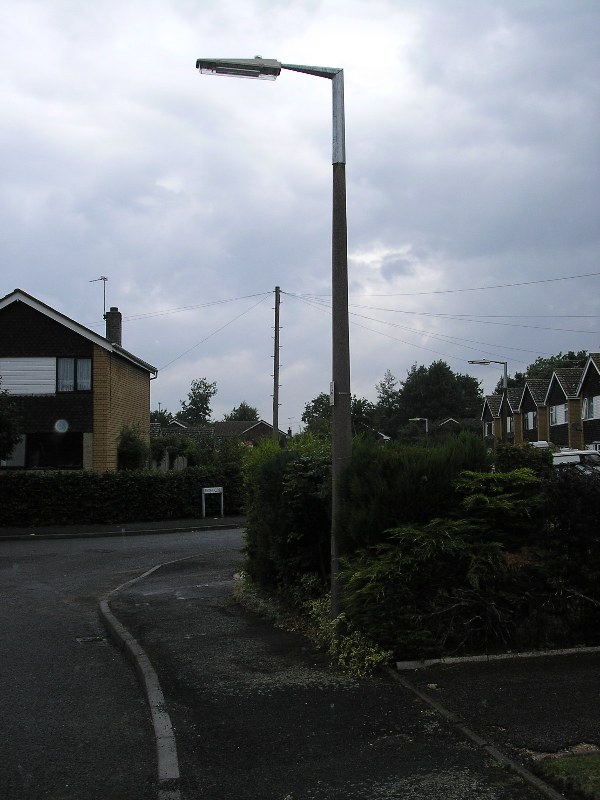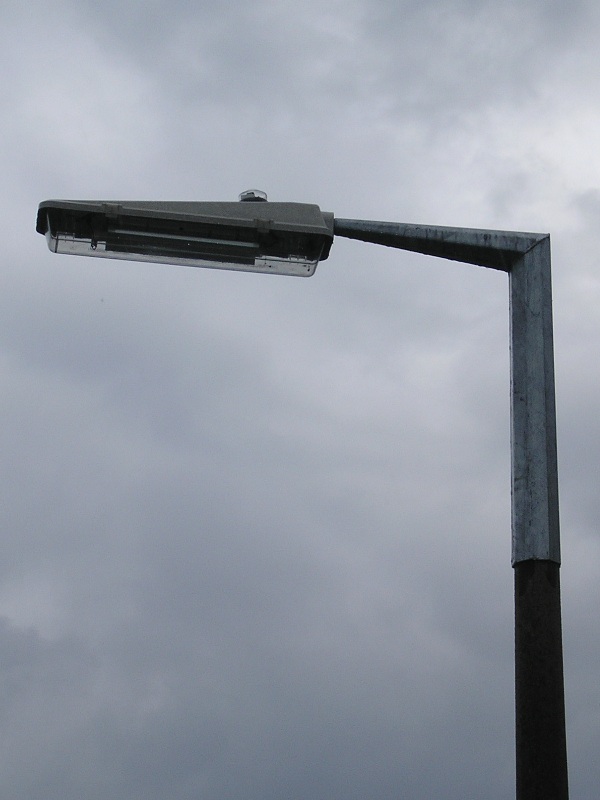 ---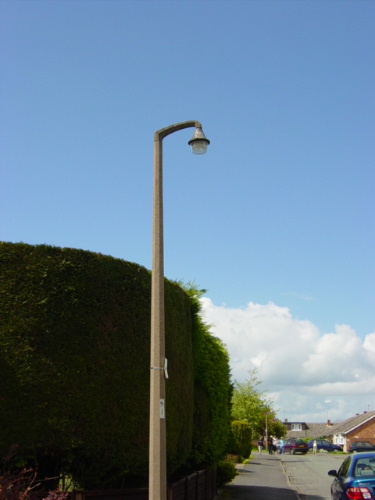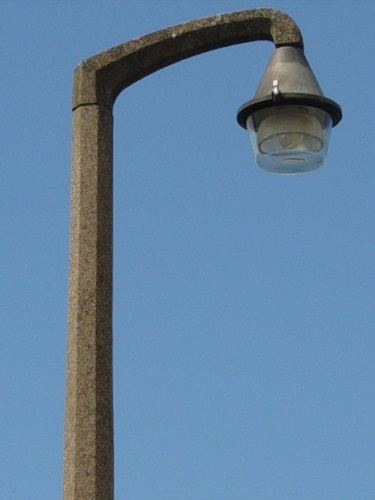 Very few of the local Prefects have refractor rings around the lamp but I managed to find at least one that did! The lantern looks as if it should be turned a little way anticlockwise, in order that the bowl clip is parallel to the kerb. The refractor in this looks just like the one in my Bell Top.
This Prefect suffered the same fate as the first one and was replaced by a 2500 on a sleeve by August 2006: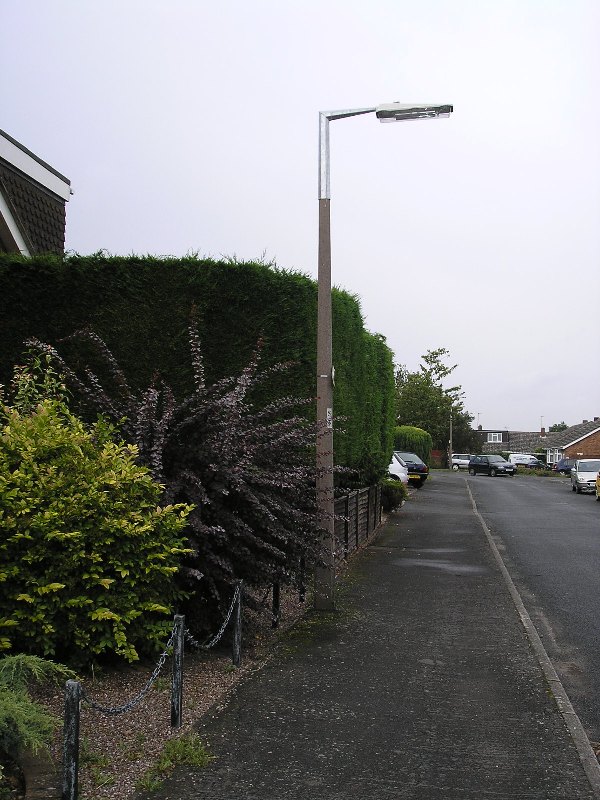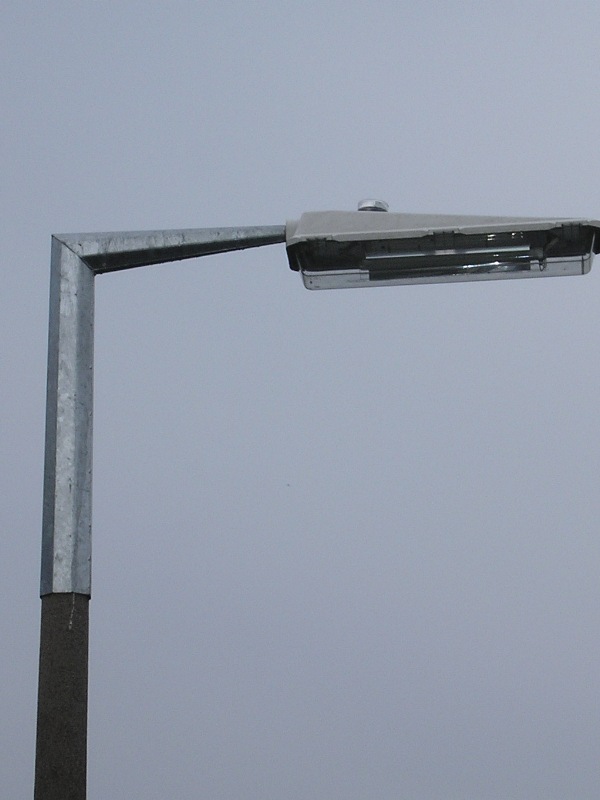 ---
CLICK HERE TO MAKE A MONETARY DONATION
© 2002 - English Street Lights Online