Philips XGC 001
Thanks to John Mitchell for sending this fitting to me. Cat Stevens once told us all to "Remember the days of the old school yard"...well, I certainly will with this bulkhead, as several of these units were fitted to a couple of the buildings at my school! I am not sure how they were controlled, as one (and later two others) were normally found to be operating all day, every day. Perhaps as a result of this, I have been after one of these bulkheads for a while, so it is good to have one in the collection at last! The bulkhead is rare in this area - I have only seen examples fixed to the Territorial Army building in Burton-upon-Trent, Allestree library and a bracket-mounted version on a (now demolished) building in Willington.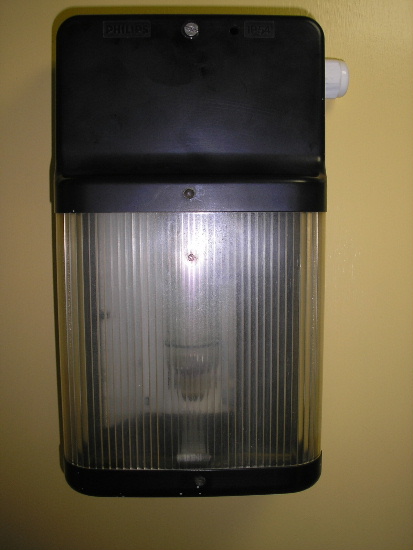 Unlike the later XWC range of bulkheads from Philips, the lamp is positioned vertically in the XGC 001. The front of the bulkhead is actually one piece of polycarbonate; with the areas directly above and below the output area sprayed black to prevent light being given off in these areas.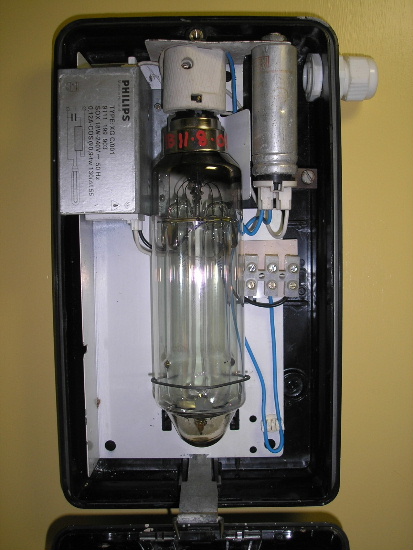 The cover is held in place with a single captive screw. Loosening this causes the front cover to hinge open, revealing the bulkhead's innards. The ballast is positioned to the left of the lamp (underneath the label) and the capacitor (dated to February 1985) is to the right. The entire gear tray can be removed by first pressing on the sprung catch below the lamp, and then being pulled outwards (without the supply cable connected, of course!). For saying that the bulkhead is only rated to IP54, the insides were virtually free of any dirt whatsoever.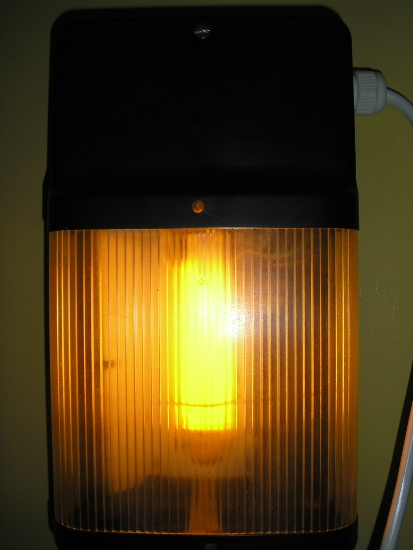 This is how I remember the XGCs at school! The design of the cover refractors makes the lamp appear much thinner than it actually is when looked at straight-on. Notice how the bulkhead has been designed in such a way that the lamp is positioned with the electrode ends of the arc tube being exactly in line with the start of the top black section.
Lamp warm-up video:
XGC 001 Bulkheads in the Collection

1985
1986
1991
Installation and Operating Instructions
---
CLICK HERE TO MAKE A MONETARY DONATION
© 2002 - English Street Lights Online