Thorn 'SONPak 7' OT 70.T
New and unused, this example of the SONPak fitting dates from 1985, and the evolution from my 1982 example (the original version) towards my 1987 example is apparent.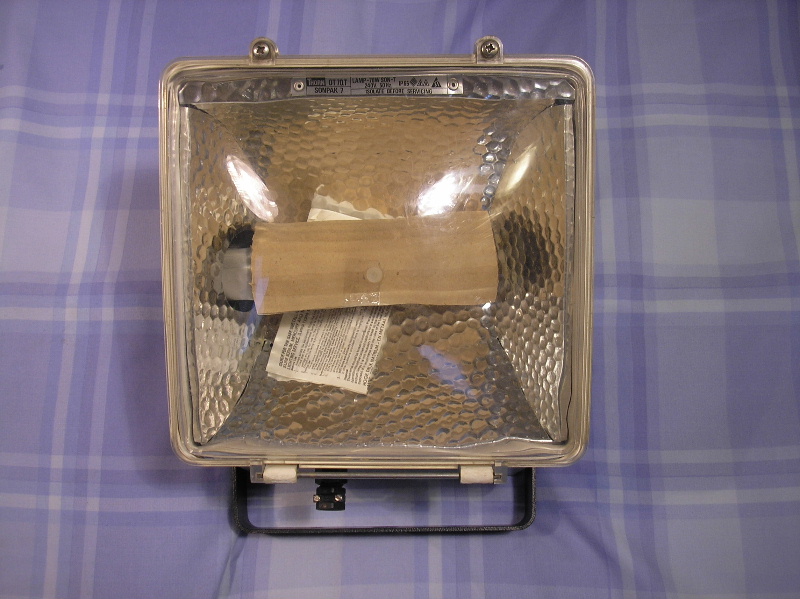 By the time that this floodlight was made, the aluminium casing of the floodlight had been replaced with GRP (indeed, the 1983 version of this floodlight also features a non-metallic casing). The single bar that the visor hinges on to, along with the information plate that is pop-riveted to the reflector, remain the same as they did on the 1982 version, however.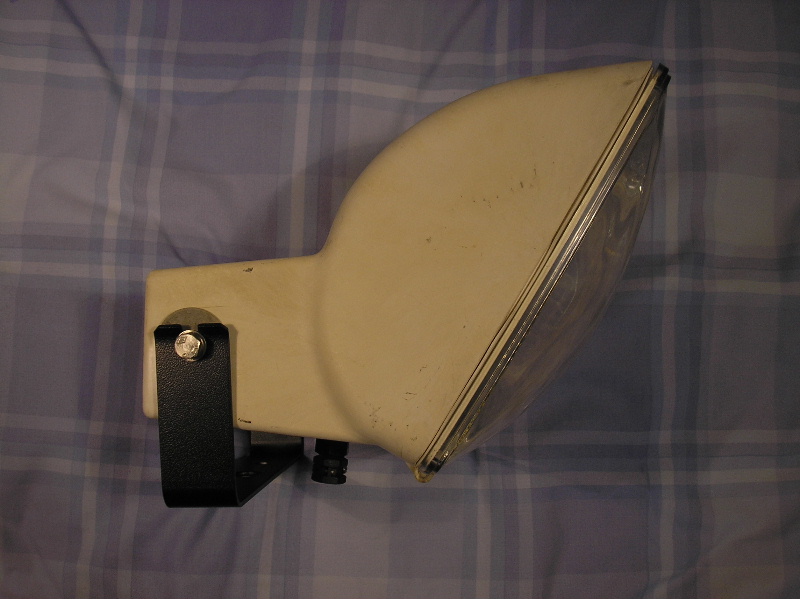 The GRP used in this floodlight's construction is of a more matte finish than the 1990 version's bodywork is.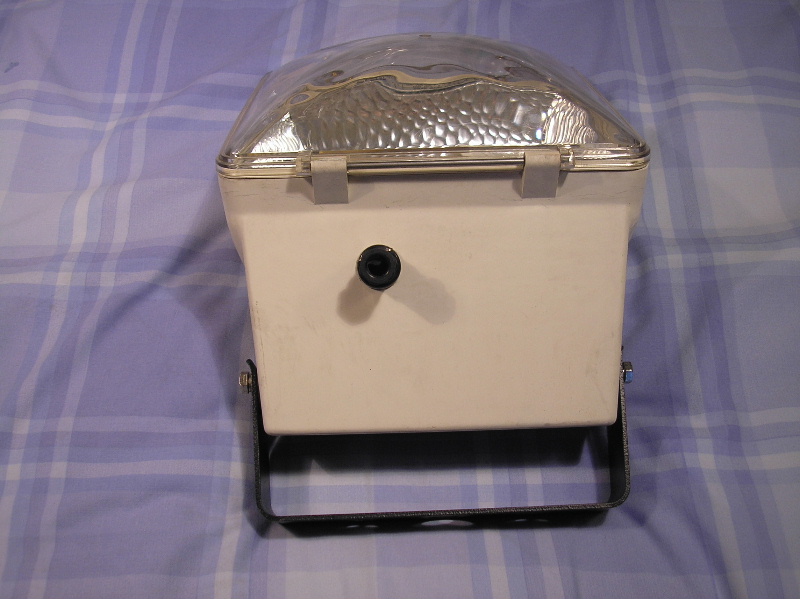 The cable entry gland is slightly offset in this version.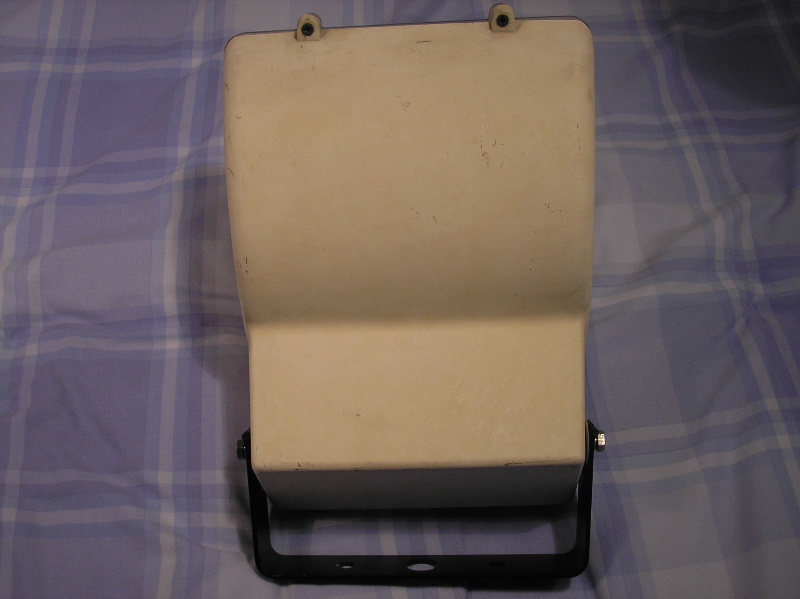 The floodlight's stirrup bracket is unchanged from the earlier version.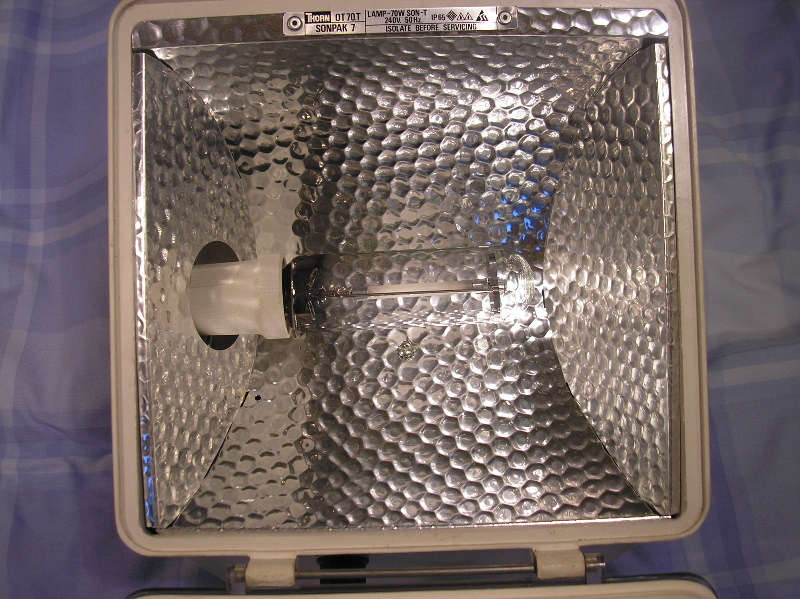 Removing the protective cardboard sleeve reveals the Thorn SON-T lamp.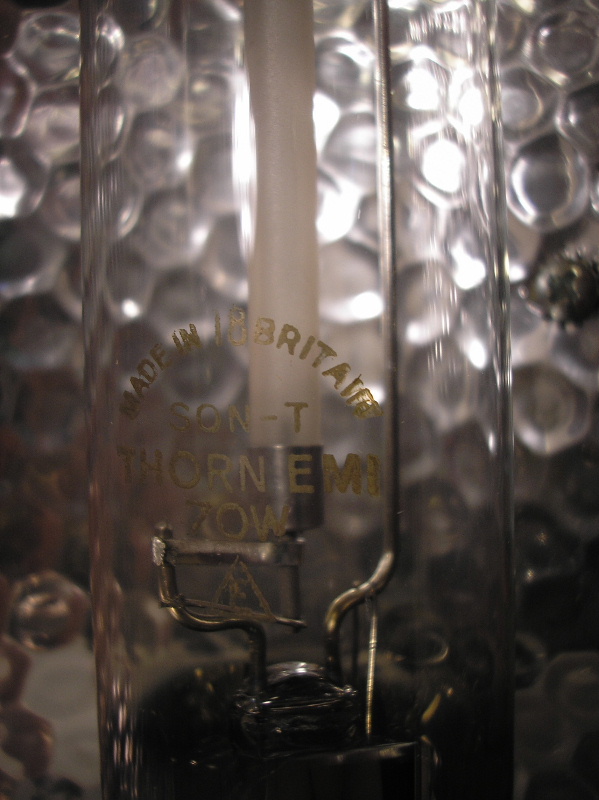 The lamp is date-coded "18", which signifies a manufacture date of June 1983. The 'EMI' suffix must have been a fairly new addition at this time, as the April 1982 lamp in the earlier version is simply identified as 'Thorn'.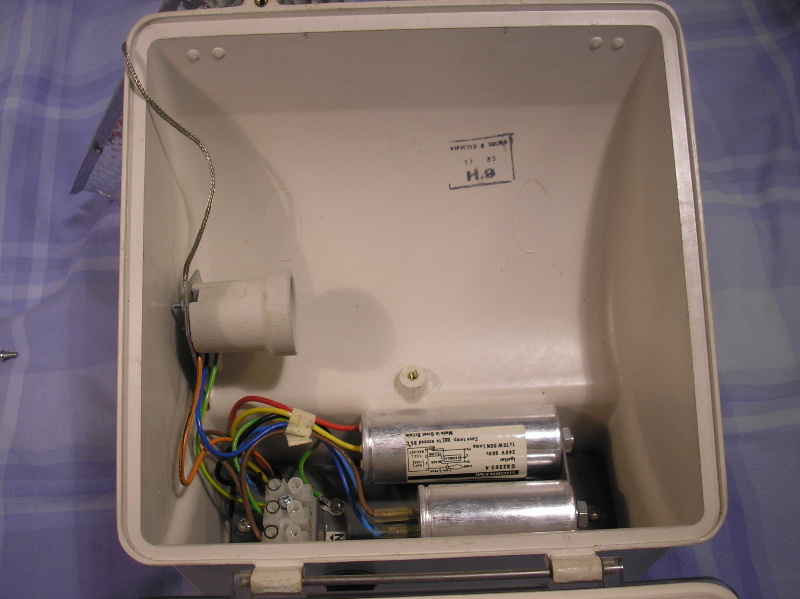 The capacitor is dated to April 1985, and the stamped inspection date on the inside of the floodlight also carries this year, along with "37" - either this is the 3rd of July, or week 37 of the year.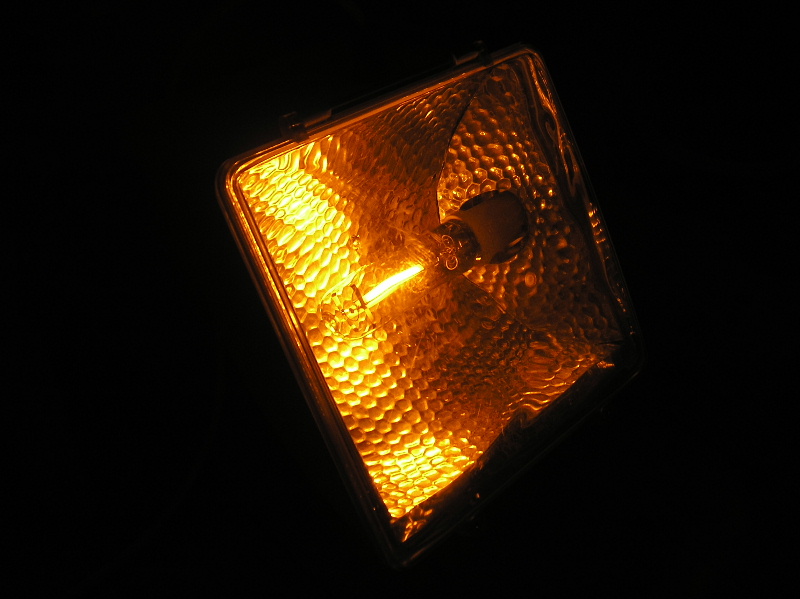 The floodlight was powered up on the same day that I acquired it - Saturday, 20th November 2010. Notice that the lampholder is inversed in this view; this is because the floodlight is installed upside-down - more out of necessity than variety!
Lamp warm-up video:
Testing the lantern with my energy monitoring device revealed the following results:
| | | | | | | | | |
| --- | --- | --- | --- | --- | --- | --- | --- | --- |
| Test Voltage (V) | Current being drawn at full power (A) | Measured wattage (W) | Apparent Power (VA) | Frequency (Hz) | Power Factor | True Power (W) | Difference (W) | Percentage Difference |
| 235 | 0.48 | 76 | 113 | 49.9 | 0.68 | 76.70 | 6.70 | 10 |
70 W SONPak Floodlights in the Collection

1982
1983
1985
1987
1990
1993
2000
Installation and Servicing Instructions
Thorn 'SONPak 7' OT 70.T (1982) | Thorn 'SONPak 7' OT 70.T (1983)
---
CLICK HERE TO MAKE A MONETARY DONATION
© 2002 - English Street Lights Online