Thorn 'SONPak 7' OT 70.4
By 2000, which is when this version of the SONPak floodlight dates from, the design had undergone significant alterations since its original inception some eighteen years previously; most notably (and visibly), the overall shape of the floodlight bore little resemblance to its predecessor.
A clear polycarbonate lens fronts this floodlight; unlike in earlier versions, the lens on this type of SONPak extends beyond the reflector. The Thorn logo can be seen moulded into the lower portion of the lens.
Owing to the control gear now being situated further up the floodlight, the widest part of the fitting is now roughly opposite the lamp compartment.
Thorn returned to an aluminium case for this version; only the original 1982 version was aluminium - the floodlights produced in-between were constructed in GRP.
Opening the lens reveals that the reflector no longer needs removing before the supply cable terminations are accessed - they have now been relocated to the space below the reflector.
When received, signs of water ingress were present in the lowest portion of the lens, despite the floodlight being rated to IP65. The date code '4300' identifies this floodlight as having been made during week 43 of 2000 - the 23rd to the 29th October.
The reflector would, ordinarily, only require removing if access to the control gear was required...well, access to the control gear IS required right now, in order that I can photograph it! The reflector, lampholder and gear components are all fitted to a central tray, which is secured by two screws installed diagonally at the lower-left and upper-right corners. The capacitor also carries 2000 as a date of manufacture.
The ballast is located on the opposite side of the plate to the lampholder. As the floodlight runs internal-ignitor lamps, an external ignitor is not included in the circuit wiring.
Despite not being in need of restoration, the floodlight was not installed until Friday, 18th September 2020.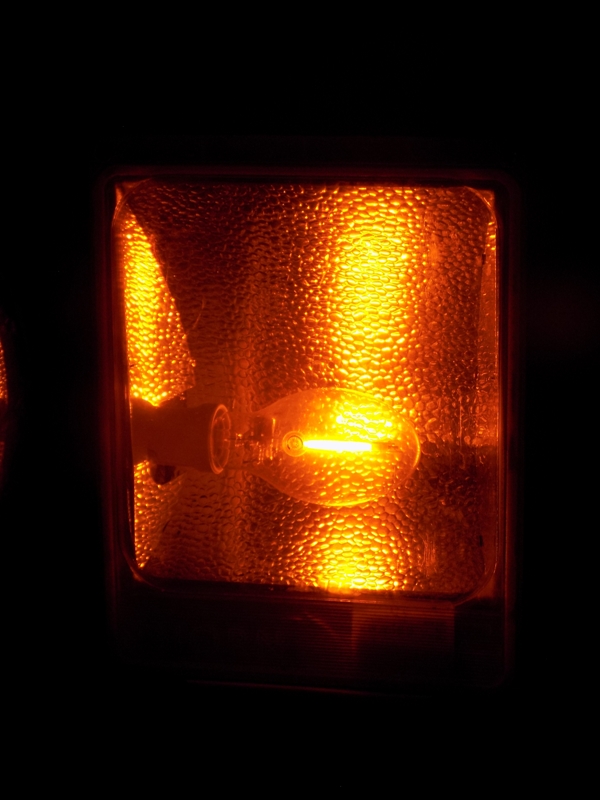 The lamp supplied must have had plenty of use before the floodlight entered the Collection - the output seemed less golden that would be seen with a newer SON lamp, and the glowbottle internal ignitor was blackened.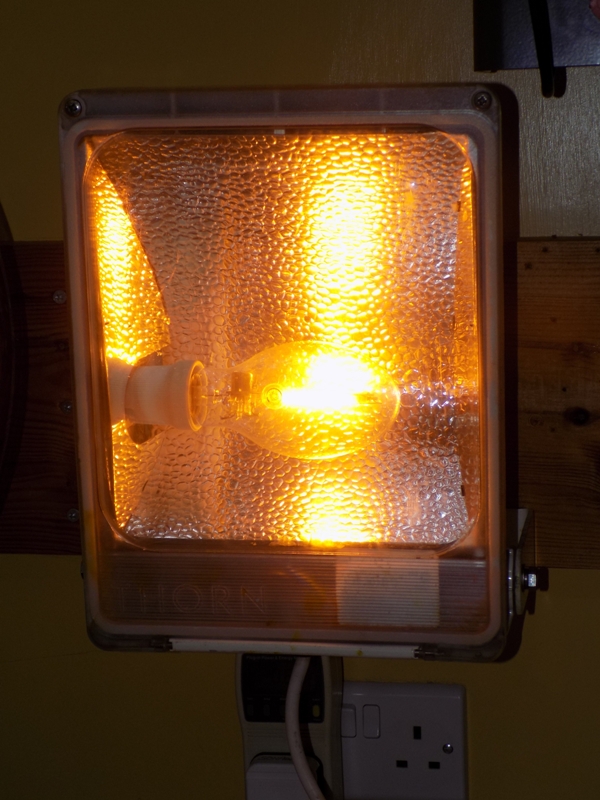 Floodlight operation video:
Testing with my energy monitoring device revealed the following results:
| | | | | | | | | |
| --- | --- | --- | --- | --- | --- | --- | --- | --- |
| Test Voltage (V) | Current being drawn at full power (A) | Measured wattage (W) | Apparent Power (VA) | Frequency (Hz) | Power Factor | True Power (W) | Difference to rated wattage | Percentage Difference |
| 245.7 | 0.52 | 85 | 128 | 49.9 | 0.66 | 84.32 | 14.32 | 20.46% |
70 Watt SONPak Floodlights in the Collection

1982
1983
1985
1987
1990
1993
2000
Installation and Servicing Instructions
---
CLICK HERE TO MAKE A MONETARY DONATION
© 2002 - English Street Lights Online