Thorn Beta 5
This lantern was given to me personally by some extremely kind and friendly workers of Tarmac's Street lighting division on Saturday 7th September 2002 who were painting columns and checking fuses on my estate when I spent over two hours talking to them, and generally hindering their progress...I spotted the Beta 5 in the back of the workers' bucket van, under some piping, and cheekily asked for it - I think they were quite happy to oblige as it was in the way in the van. Once the lantern had been salvaged from in amongst the piping, I was told that it had been removed from a street with (sleeved) concrete columns that were being replaced with new metal columns.

The men returned the following week, (Sat 14th Sept 2002) to replace a twisted metal column, and they asked if I'd managed to get the Beta 5 going - I certainly had - it was my first gear-in-head lantern, as well as my first lantern with a photocell, and so I wasted no time in getting it going! After this, I spent another two hours or so helping/hindering them with their work; the best part being when I held the bracket from the old column before it was fastened to the new one. It is not easy holding a video camera, bracket and lantern at the same time however!
Thorn Beta 5s are used extensively in Derbyshire - they are probably the most common side road lantern that you will see in the County.
This lantern uses a deep bowl, whereas the majority of the modern Beta 5s in Derby use a shallow bowl. The green eraser by the bottom-left of the bowl helps to keep the lantern upright!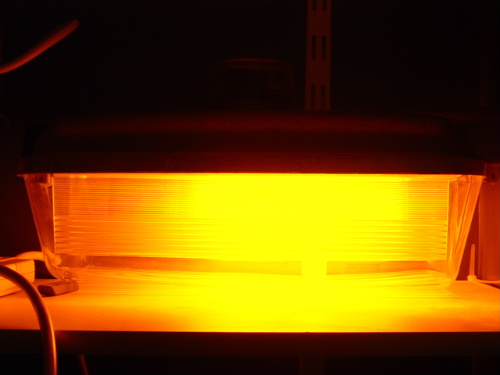 The prismatic refractors on the bowl are formed in order that the light is mainly cast downwards, as you might expect.
---
The lantern was mounted to an AC Ford AC872 wall bracket on Monday, 15th August 2005.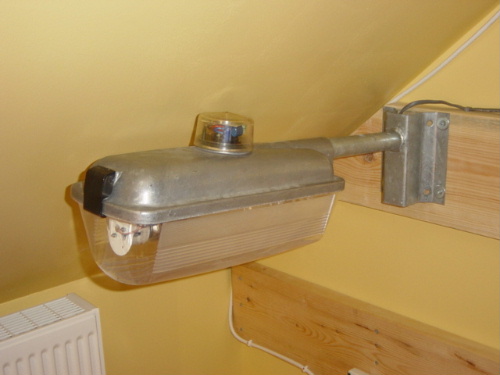 Now compare this version of the Beta 5 to the 1983 and 1989 versions by clicking here.
Lantern warm-up video:
Thorn Alpha 1 | Philips SGS 204
---
CLICK HERE TO MAKE A MONETARY DONATION
© 2002 - English Street Lights Online