GEC Z9532
Lantern acquired in October 2007.
Thanks to Simon Brown for this lantern. The 'Nightwatch' variants continue yet again with this aluminium canopied, gear-in-head version. This example was removed from Carisbrooke Road in Portsmouth on 7th September 2007, and was replaced due to ongoing lighting renewals as part of the city's street lighting PFI programme. This version of the Z9532 is seemingly non-existent in Derbyshire.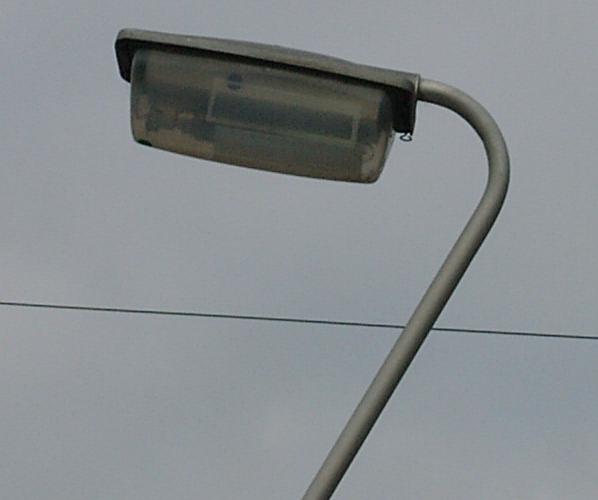 How the lantern looked in-situ. This photograph was taken by Simon Brown a few days before the column was removed.
If you hold your mouse cursor over the following photographs, the image will change for the equivalent one showing the newer GEC Z9532 - in this way, both lanterns can be compared.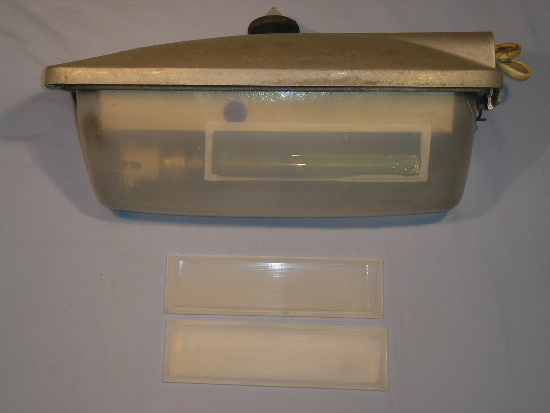 Whilst the overall design of the lantern has not changed that much between the two versions, there are some obvious differences between both lanterns - the older design has an aluminium canopy, whereas this has been changed to GRP on the newer version. The newer bowl (apart from being slightly shallower) also features moulded-in refractors whereas the older example has stick-on refractors which have become unstuck over time. Fortunately, the remained inside the bowl and so, after being cleaned, will be able to be stuck back onto the bowl.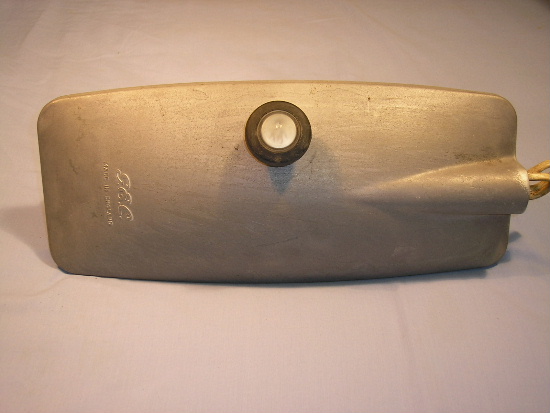 The newer canopy has been modified slightly in order for a NEMA socket to be fitted on a flat plane. I am assuming that the P42 was added to the older example as a result of being converted from time switch operation.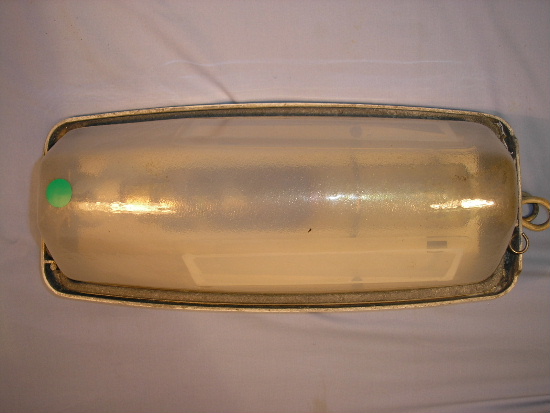 The older bowl gives the lamp a more 'diffused' appearance than the newer bowl. The older one is also supported by an aluminium frame whereas this is not present on the newer version. The green sticker relates to the clean-and-change schedule for this lantern.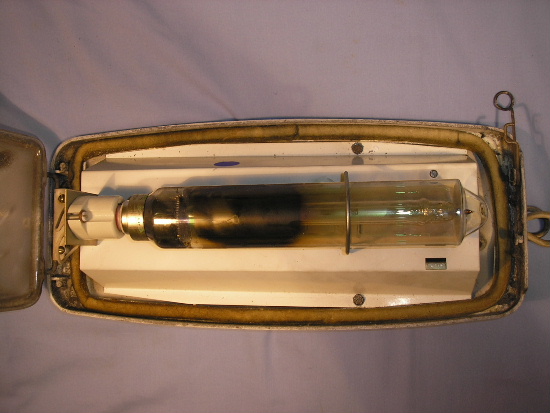 The gear tray in the older version extends for the full length of the lantern and is hinged, whereas in the newer version it only reaches to about three quarters of the lantern and lifts out.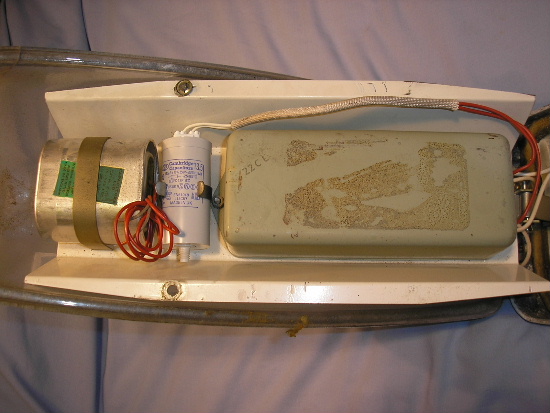 Another difference is that the gear in the older example is actually fixed to the tray, whilst it is fixed to the canopy in the newer example. The existing capacitor in the older example was found to be open-circuit and so a modern one has been fitted alongside. As with the Z9539, the ballast label has completely worn away over the years.
Following restoration, the lantern was quickly reassembled and relamped: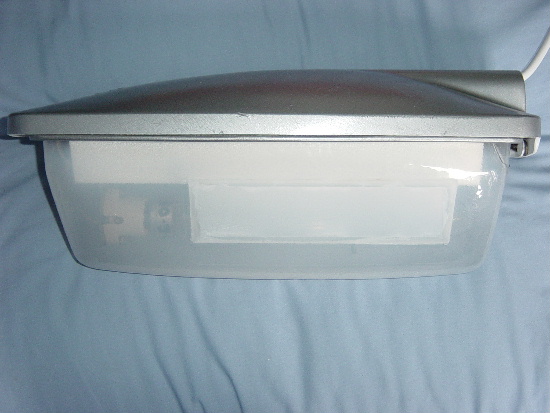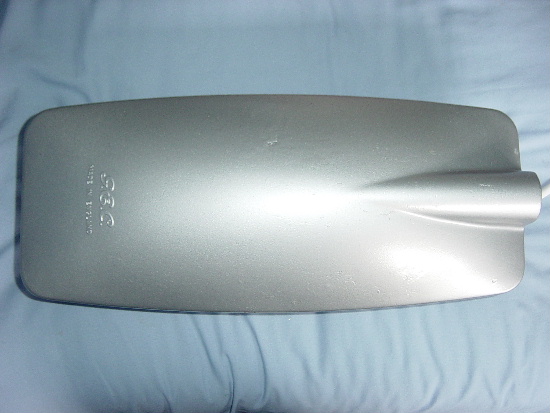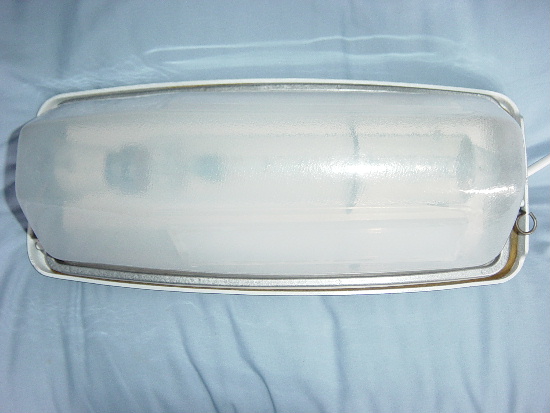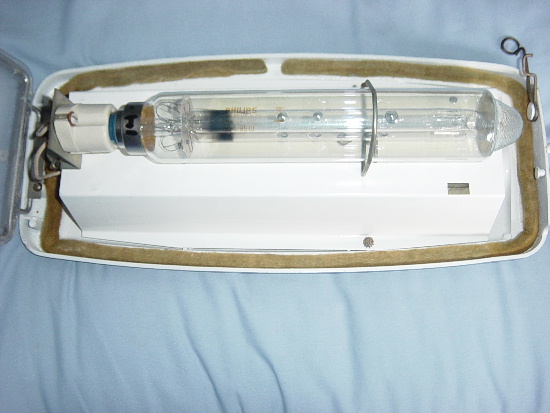 The lantern was then installed on a Davis B53 wall bracket and duly powered up: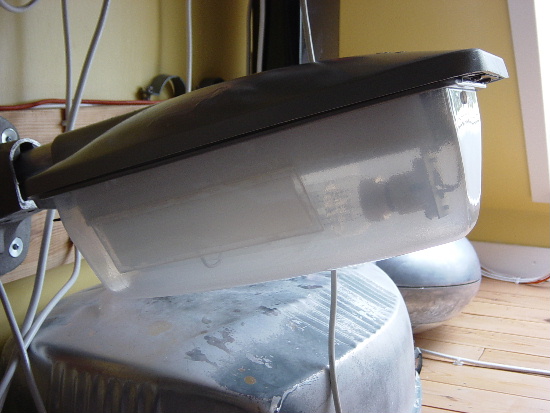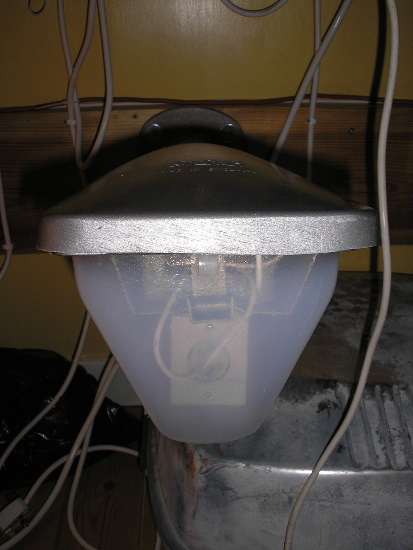 The lamp quickly warmed up to full power - surprisingly the old ballast was fairly quiet during operation.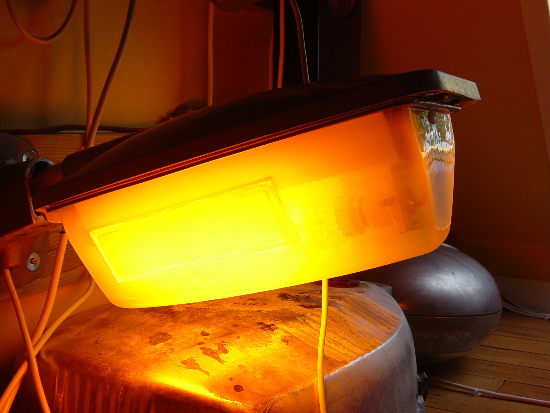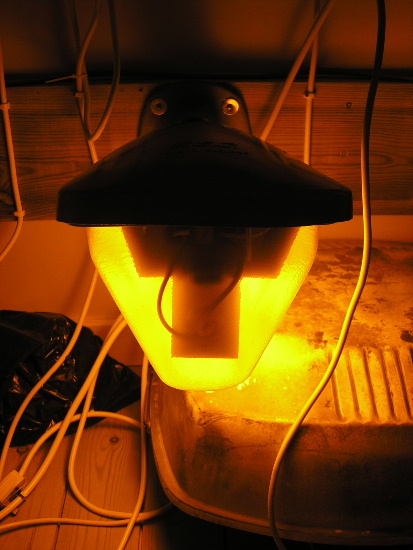 Lantern warm-up video:
Lanterns in the Z953# range in collection

Z9531
Z9532 (aluminium)
Z9532 (GRP) (1)
Z9532 (GRP) (2)
Z9536 (GRP)
Z9538
Z9539 (1)
Z9539 (2)
Atlas/Thorn Beta 8 / AEI Junior Amberline | Philips MI 80 GO
---
CLICK HERE TO MAKE A MONETARY DONATION
© 2002 - English Street Lights Online